Disclaimer: I received a FREE copy of this product through the HOMESCHOOL REVIEW CREW in exchange for my honest review. I was not required to write a positive review nor was I compensated in any other way.
Is it possible to study the Bible too much? Even though I already attend a Bible study, I was excited to review two Bible studies by Julie Polanco of Julie Naturally. I received Faith Journeys Bible Study Series: Romans bundle and Faith Journeys Bible Study Series: Philippians. I loved being able to add some variety to my time with the Lord.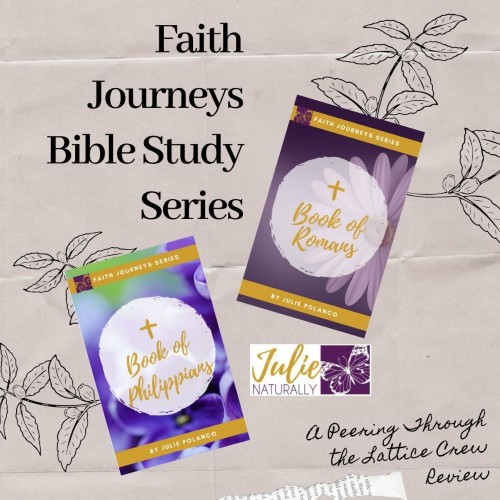 Overview of the Philippians study
During the review period, I completed the four-week study of Philippians. Near the beginning of the study guide, I found weekly Memory Cards perfect for printing.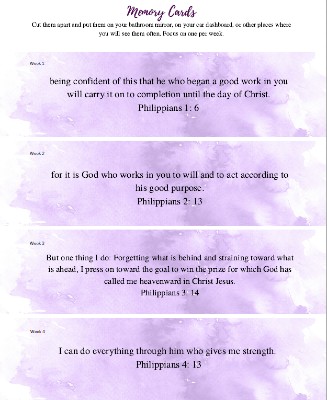 Placing them on the fridge or a bathroom mirror may help commit these key Scriptures to memory.
The Bible study covered the entire book of Philippians. After reading each day's passage, I opened the study guide to work through the accompanying questions. (To save paper and ink, I used my PDF viewer to answer the questions on my computer.)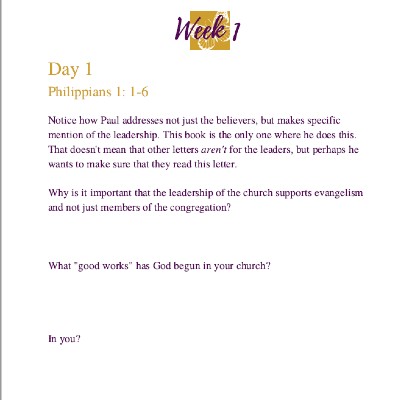 As in any good Bible study, Julie includes questions that help you observe what the passage is saying, interpret its meaning, and apply what you learn. While some questions were simple to answer, others required more thought. But since there were only a few questions each day, it typically took 20 minutes or less.
My experience studying Philippians
Julie's questions are timely. As I neared the end of the first week, the study asked, "How can you encourage other believers even when you can't be with them?" Considering the effects of the COVID quarantine, I felt a certain kinship with Paul. He, too, was isolated from the body of Christ. While he primarily prayed and sent letters to those he loved, there are many more options in the digital world we live in today.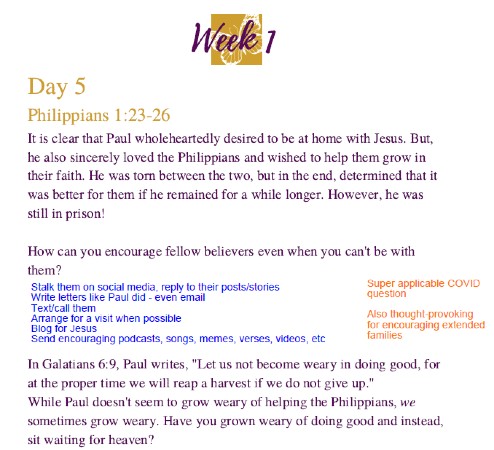 Some Bible study authors observe and interpret Scripture for you and even tell you how to apply it. While Julie occasionally shares her thoughts to explain what she's asking, her study drew me straight to Scripture. The questions challenged me to process the passage myself to come up with an answer.

Some questions weren't answered directly in the passage. To answer them, I considered what I knew from experience and from studying the Bible. Although Julie could have shared her ideas, I learned more by thinking it through on my own. These are great questions to discuss with a friend.
To keep the study short, Julie does not include copious study notes. When her questions inspired me to learn more background information, I pulled out my study Bible to dig into the context even more.
Periodically, Julie's questions directed me to related Scripture passages.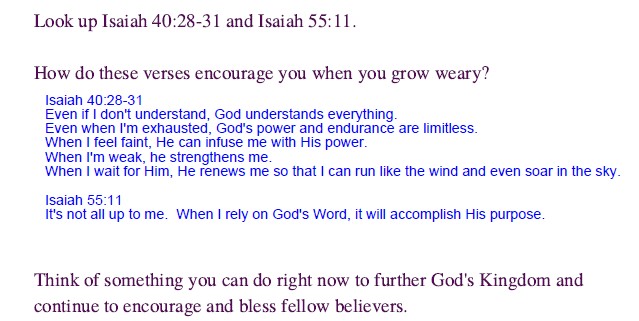 This simple Bible study was enriching on its own. Still, I was amazed at how well it dovetailed with my ongoing study of John. Referring to various passages helped me to understand the motives and conditions of people's hearts.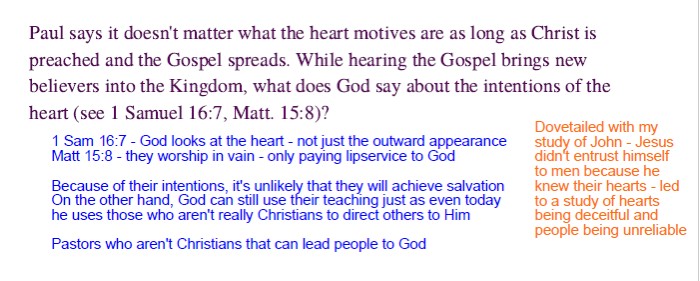 Throughout the Philippians study, some questions prompted intense self-examination as I explored my motives for ministry. The final question asked me to summarize what God revealed to me as I studied Philippians. Reflecting over the last several weeks, I realized that I need to realign my priorities to focus more on God and others.

Creative surprises
At the end of each week's study, there is a coloring page. Since Philippians focuses on loving God and others, it seemed natural for the images to be related to love.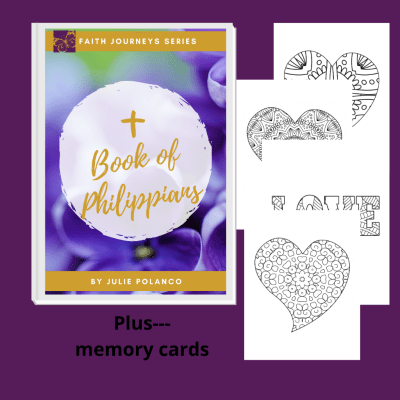 Do you enjoy coloring? Here are some ideas for using these creative pages:
Relax and color them on your own.
Print for the kids to color—or color them together.
Color while listening to a podcast or sermon.
Listen to worship music while you color.
Write the week's memory verse on the page to practice as you color.
Since I don't enjoy coloring nearly as much as my kids do, I printed them out for my teenage daughter to color as she listened to me read.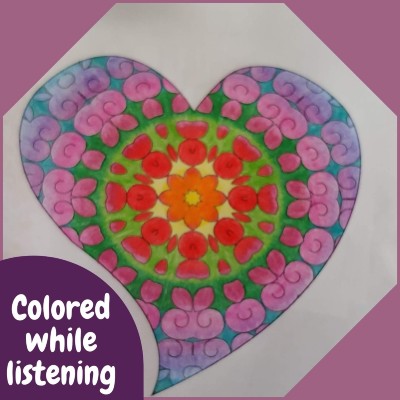 A sneak peek at the Romans bundle
Like the Philippians study, the Romans bundle includes a downloadable study guide with memory cards, study questions, and creative surprises that feature verses from Romans.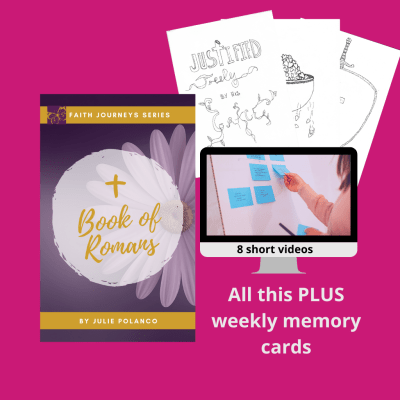 In this bundle, Julie also provides videos with additional teaching. She recommends viewing each week's video before working through the questions.
Since Romans is a longer book, the study takes eight weeks to complete. Instead of studying just one chapter a week, you cover two. Despite the longer passages, the lessons are short enough to finish in about twenty minutes.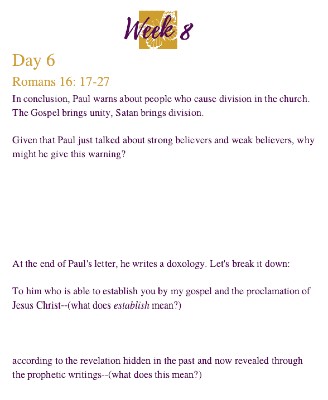 Julie describes the Romans bundle herself in this video:
Worth the investment
Has your women's Bible study has been put on hold due to COVID? The Faith Journeys Bible Study Series from Julie Naturally provides an excellent opportunity to delve deeper into Scripture on your own. Do you learn better by interacting with others? You and a friend could each purchase a copy and meet once a week to discuss what you've learned. Do you have an older teen? Print an extra copy for them to complete, then discuss the lesson together.
The eight-week Romans bundle, which includes weekly videos and a downloadable study guide, is reasonably priced at $14.99. Since the Philippians printable is only four weeks long and does not have video content, it is only $8.49. Both are excellent tools for studying and applying the Bible.
Forty Homeschool Crew Reviewers tried out the Faith Journeys Bible Study Series. Access their full reviews from the Review Crew Blog.