I have always had an aversion to arts and crafts kits because of the potential for messes or the possibility that a project will require a large proportion of my time and creativity. If I buy a kit, my kids should be able to complete the projects without much assistance, leaving me free to take pictures, documenting their creativity. When I first glanced at the Super Beads kits produced by Zirrly, my radar was up, trying to detect any potential problem before I agreed to review the product. Although younger kids may require the help of a parent or older sibling, I was pretty sure my twin twelve year olds could complete the projects independently.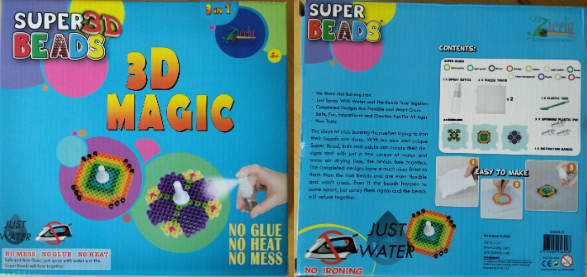 After our Super Beads arrived, I mentioned them to my daughters, using the project as motivation for them to complete their schoolwork quickly. It worked. They completed their work in record time and begged to open their Super Beads Spinning Tops kit.
Super Beads are a lot like the heat-fused beads my kids used years ago under the direction of my sister-in-law. However these beads fuse together after the child spritzes them with water—no ironing is necessary. The Spinning Tops kit came with two trays, three design patterns, three spinning pins, and ten colors of beads. There is also a small spray bottle and a tool to lift the beads off the tray.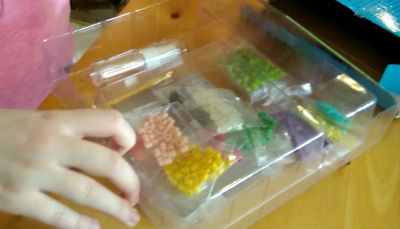 Each twin chose a design pattern and placed it under the translucent tray to guide them in placing the beads. They took creative license with their color choices. The girls noted that the beads are easy to pick up. When one twin had placed a bead in an undesired location, she had no problem removing and replacing it without disturbing other beads.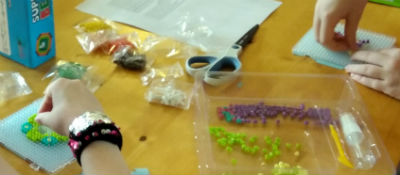 After carefully arranging the beads on the trays, the girls spritzed them with water.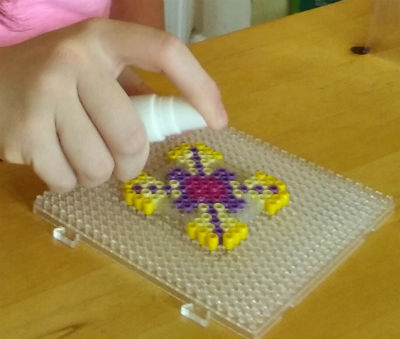 Excess water trickled out through holes in the tray, so we quickly placed each project on paper towels to protect our wooden table. Then we waited for their projects to fuse together and dry.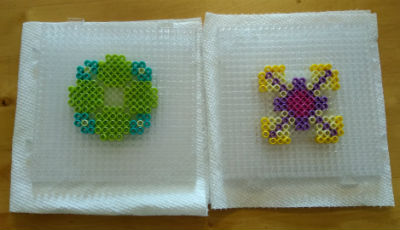 As we waited, I asked the girls how they liked Super Beads. "I like them!" replied one. "They're fun!" added the other.
After the recommended one hour wait time, one twin began to remove her beads using the special tool included in the kit. When the beads began to separate from each other it was clear that she needed to spray it again.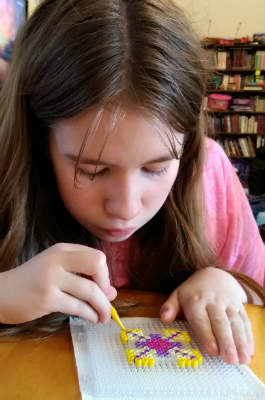 My other daughter checked her design, noticed it was still a bit sticky, and opted to wait a bit longer before trying to remove it. When she attempted to remove them the next morning, the individual beads began to come apart for her as well. She resprayed them and then worked on her school assignments while the beads fully fused.
Meanwhile, her sister was able to completely remove her design from the board. She flipped the flexible sheet of beads over, hoping the edges she bent slightly upwards while removing it would flatten out.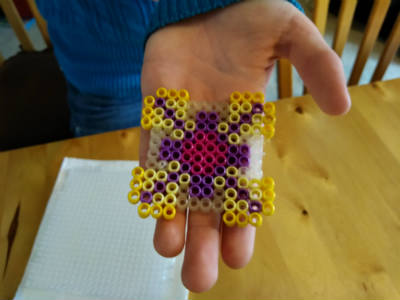 The girls finished the day's homeschool assignments then checked on the beads again. The final set of beads was ready to come off. Afterwards, both girls quickly and easily attached the spinner pieces to their bead designs.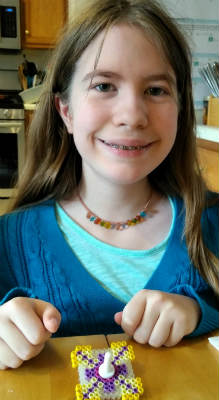 Then came the fun of spinning them!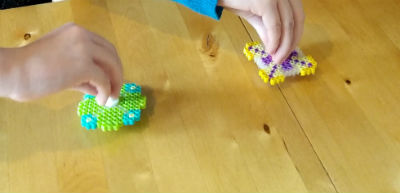 The next day I caught my eighteen year old son spinning one of them while taking a break from math.
Overall, the beads held together pretty well, though not as completely as the heat-fused beads my kids used in the past. One or two beads separated, and the girls had no interest in following the directions to re-fuse the beads by placing them back on the tray and spraying them again.
As happens with many toys, the interest in the Super Beads Spinning Tops quickly waned. Though the girls enjoyed putting the beads together, they played with the tops only for a little while. Before finalizing my review, I asked one twin for her opinion on the beads, and she gave me a thumbs up. So, why was she not playing with the completed project? "I like drawing and doing other things more than tops, but tops are very cool."
Her only complaint: "The [edges of the top] were sagging down a little bit—maybe they were too heavy, so they couldn't stay up." Her sister added, "It would be nice if they were more 3-D. The only thing 3-D is that you put the spinners on them."
Although I would probably not buy the beads for kids ages twelve and up, it really is a great alternative to the heat-fused beads that require ironing to fuse. I suspect that Zirrly's kits hold much higher interest for younger children. If your kids enjoy working with beads, Super Beads are fun and easy to use, requiring far less hands-on parental involvement than similar products.
My family reviewed Spinning Tops. Other Crew members reviewed different Super Beads products. Click here to read their reviews.