I should have known better. When I saw a discounted Kindle book by one of my favorite authors, I should have checked to see if it was the first in a series. Then I could have avoided being drawn in and then left hanging on the last page of If I Run.
Why, oh why, did I read the first few teaser chapters of If I'm Found? I knew I had no time to delve into a second book. After all, what if ended with a cliffhanger too? I naively assumed Terri Blackstock would wrap things up before then.
As I neared the end of the second book, everything seemed to be be coming together. Then it suddenly didn't. There was one more book—If I Live.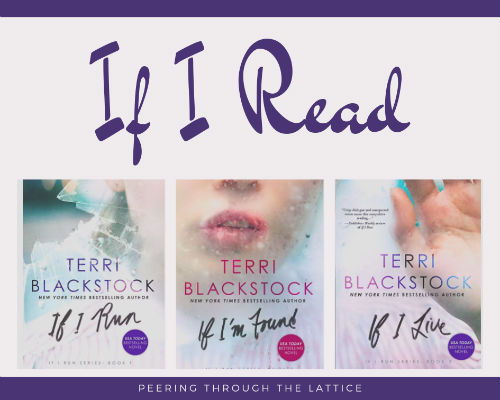 Where is God?
I loved the main character, Casey Cox, from the first page of If I Run. The story starts with her stumbling onto a murder scene. After trying without success to revive her dead friend, she flees—a fugitive from the law.
Her now-deceased friend Brent was investigating her father's death, which police had ruled as a suicide when she was twelve. It wasn't. Dirty cops had staged the grisly scene, but she could find no way to prove it. When Brent got too close to the truth, he was also murdered and she was framed.
Brent's parents hire Dylan Roberts, an experienced army investigator suffering from PTSD, to find Casey and bring her to justice. After profiling Casey, he realizes she may not be the killer the cops say she is. Should he follow his instincts or just bring her in? He decides to trust his gut. Befriending Casey, he gathers evidence to prove her innocence.
At first, things seem hopeless for Casey, who is not a Christian. Despite her own troubling situation, she begins to see evidence of God's hand at work.
"If I look for God, I'll see where He's working." ~Casey
Because of her growing empathy and compassion, she is compelled to help other victims that cross her path. But what if her selfless efforts lead to her own demise?
I must have been crazy to download the first book right before a ladies retreat…just days before a crew review was due. But I'm glad I read the series. It reminded me yet again that no matter how much evil seems to prevail, God's still in control.
If you're looking for a suspenseful and inspiring series to read over Spring Break, check out Terri Blackstock's If I Run trilogy.
Have you read any good books lately? Please share them in the comments!