One site
300 courses
All levels
Videos
Curriculum
Planning tools
Core subjects and electives
Under $100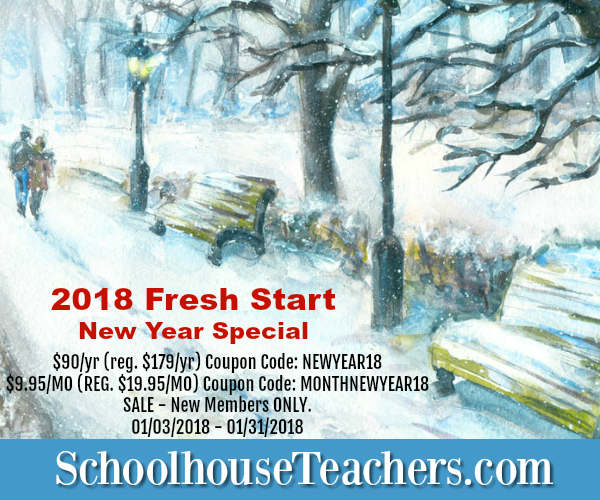 Several years ago I had an account on SchoolhouseTeachers, a site which offers a variety of homeschool classes for an annual membership fee. I used the resource sporadically but forgot about it when the new school year arrived. Eventually my membership expired.
Last year I rediscovered the site and learned they now have more than 300 courses available for their members. This includes the basics – English, Math, History, Geography, and Science…as well as electives like Computers, Art, Speech, Business, and Logic. The courses I had originally explored with my kids were still there, and new lessons have been added to most. In addition, the site provides streaming video content. When I realized that the special membership rate was under $100 for the year, becoming a member was a no-brainer for me.

While it is possible to use SchoolhouseTeachers as the primary curriculum source for the entire family, we use it to supplement our studies by selecting classes and videos related to topics we are already studying. We have used several of their courses to study missions, geography, math, English, and technology, and I have used some of the additional resources on the site to help plan lessons.
Missionaries
Last year I read aloud each day from Hero Tales to introduce my children to missionaries of the past. I was delighted to discover that SchoolhouseTeachers has videos that help kids of all ages get to know missionaries and other Christian heroes from history.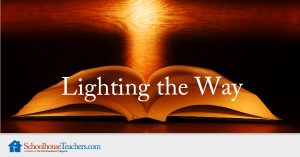 You may be familiar with the Torchlighter videos. This animated series tells the stories of famous missionaries throughout history in a way that both entertains and educates children of all ages. My kids always looked forward to snuggling on the sofa and watching an episode. My SchoolhouseTeachers membership provides streaming access to eighteen Torchlighters videos as part of the Lighting the Way course. For each video, there is also a link to free teaching resources.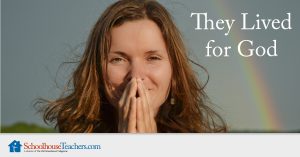 After reading about each missionary in Hero Tales and watching the corresponding Torchlighters video, we watched a video from the They Lived for God course. These documentaries take a deeper look at the lives of godly men and women throughout history. Each video has an accompanying worksheet with essay questions to challenge high school students.
Bible / Geography
Last year we also worked through a New Testament survey course as a family. I was glad to see that my SchoolhouseTeachers membership also included videos about the land of the Bible.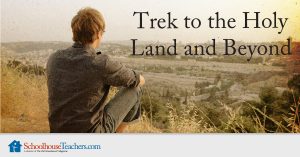 Do you want your kids understand the setting of the Bible? I sure did! Stevie's Trek to the Holy Land took my kids on a fun journey to discover the setting of stories from the Old and New Testaments. Additional videos exposed them to mission work in various countries.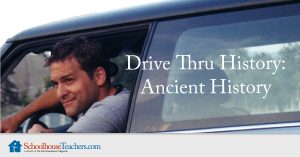 The fast-paced Drive Thru History videos are fun to watch as a family and bring the setting of the Bible to life. So much information is packed into each one that it's hard to catch it all the first time through. I recommend scrapping the accompanying worksheets, at least the first couple times you watch each video. Trying to catch all the answers and write them down takes most of the fun out of watching them.
Language Arts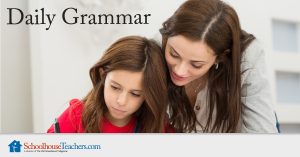 When I first became a member of SchoolhouseTeachers.com, we were not using a grammar curriculum. It was the perfect opportunity to try out the Daily Grammar lessons. The lessons were simple to use for multiple ages, but there were many mistakes that bothered me. I just took a peek at the updated lessons which are quite different now. The format is reminiscent of the Easy Grammar curriculum, offering short, daily grammar practice for grades two to nine. Have you tried the new format? Let me know how you like it.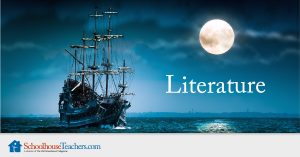 The whole family can study and analyze literature together with the Literature guides at SchoolhouseTeachers. My kids still remember reading and studying Two Eggs, Please several years ago. We read the picture book multiple times and explored a different aspect of it each day: setting, character development, conflict and plot. An accompanying chart helped us explore the rising action, climax, denouement, and conclusion of the story. When we studied The Bronze Bow, we read the entire novel together and then used the materials in the course to analyze it.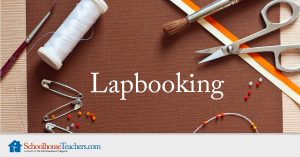 When my older kids were in middle school, they used the SchoolhouseTeachers Lapbooking lessons to learn about the life of J.R.R. Tolkien and to study a short story, "The Cask of Amontillado," by Edgar Allen Poe. Creating a lapbook really did not interest them at that age, so we ended up discussing the topic of each lapbook component, having them write down their thoughts inside that lapbook piece, and then filing those pieces away with their other homeschool work. No manila folders were destroyed in their lapbooking pursuit. Recently, a TV episode alluded to the Poe story, and the kids recognized and recalled it even though it had been several years since they had studied it.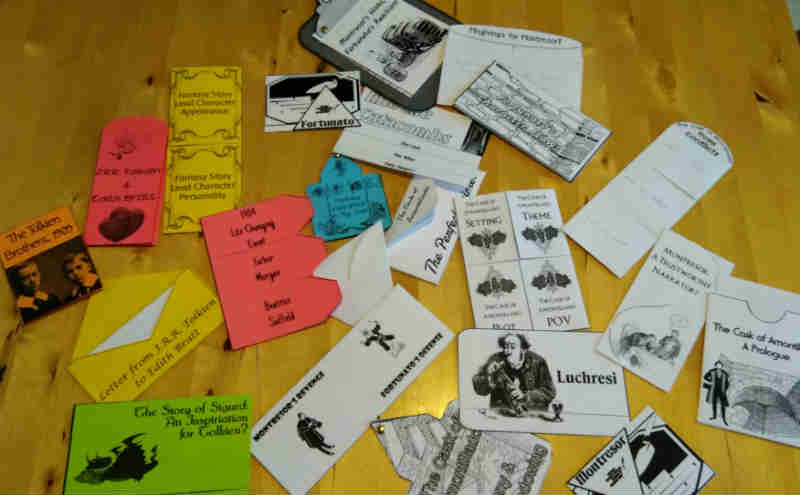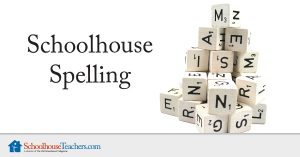 My kids do not usually study spelling since most of them are naturally good spellers. While exploring the resources on SchoolhouseTeachers several years ago, I noticed that the Schoolhouse Spelling lessons were topical, with a heavy emphasis on vocabulary. It was a fresh approach to spelling, and all my kids used the curriculum at their level that year. I loved how the worksheets incorporated vocabulary with spelling and included a variety of fun activities. At the end of each week we had a spelling bee with the words from that unit.
Math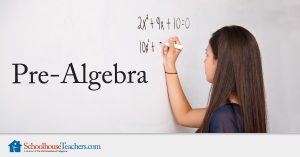 Last year my three middle school girls finished their math curriculum early, so I printed Pre-algebra lessons from SchoolhouseTeachers to keep their math skills fresh. Even though I had to do some selective printing because score keys were interspersed with the worksheets, this was a great way for my girls to continue to progress in their math skills. I particularly liked how the lessons built upon one another and included practical application of each skill.
Fun Stuff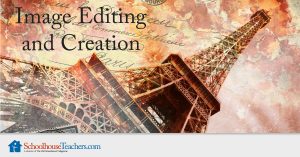 Last year all of my kids used part of the Image Editing & Creation course to learn how to edit photos. They may have enjoyed doing more, but we had too many other things happening, and this course fell by the wayside.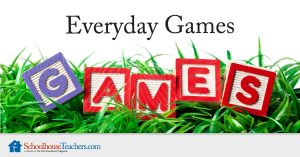 A few years ago I printed many of the games available in the Everyday Games course. They helped my elementary kids practice basic math and English skills in a fun way.
Planning
SchoolhouseTeachers provides comprehensive Schoolhouse Planners for students and parents to customize and print. There are so many forms available in them that you're sure to find the one you need for planning, keeping records, creating transcripts, or anything else you can imagine. The planners are also chock full of articles to encourage you. They also contain an assortment of reference sheets that rivals an almanac. SchoolhouseTeachers members also have free access to AppleCore, a website that helps track grades and prepare transcripts.
A Great Deal
The annual fee to join SchoolhouseTeachers and access all their material is usually $179. For access to all the courses, lesson plans, videos, and other resources, membership is definitely worth it.