I would love to have extra time in my day, but I am often skeptical of supposed "time-saving resources." Do they really save time? Is it worth spending extra money? I usually assume that there is little overall benefit, knowing that something that sounds too good to be true usually is.
A few months ago, a friend from church ordered groceries online from Walmart and took my daughter with her to pick them up. While visiting my brother-in-law in Colorado last month, he used the same service to purchase all the ingredients for our delicious Thanksgiving dinner. I heard that ordering online and picking up at the store was faster, easier, and less expensive than shopping at my local grocery store, but is it true?
My Normal Grocery Routine
I typically do most of my grocery shopping at Publix and rely on the Buy One Get One (BOGO) ads to get the best deals. I usually shop as early in the day as possible to avoid the crowds. My normal grocery shopping routine goes something like this:
Use the app to look for BOGO deals.
Make a shopping list.
Drive to the store.
Search for items on my list.
Put them in my cart.
Check each item off my list.
Go to the check out lane.
Unload my cart.
Pay.
Load the groceries in my car.
Drive home and unload.
WalMart's Grocery Pickup Process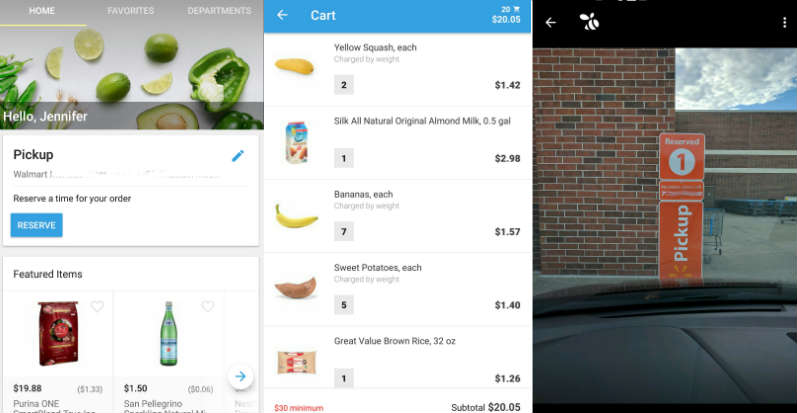 I tested out the Walmart grocery pickup service twice to see if it really did save time. Here is how it works:
Use the app to add items to my virtual cart.
Check out & pay in the app.
Reserve a pick up time.
Drive to the store.
Park in a designated parking spot.
Use the app to check in.
A friendly attendant brings the order out and loads the car.
Drive home and unload.
How much time can I save by ordering groceries online?
Planning Time
Planning grocery shopping with my Publix app takes about the same amount of time as using the Walmart Grocery app. When I use the Publix app, I create a shopping list based on the ads and my family's needs. Using the Walmart app, I load the virtual cart with items we will use that week.
Travel Time
There is a Publix supermarket less than a mile from my house, and it takes two minutes to drive there; the nearest WalMart offering grocery pickup service is over five miles away, and driving there requires about thirteen minutes. My round trip travel time to Walmart is 22 minutes longer than going to my local grocery store. Of course, I can eliminate my travel time altogether by having another family member pick up the Walmart order for me. My husband was happy to stop and pick up a grocery order on the way home from work last Thursday, and my oldest daughter has already volunteered to drive there and pick up an order sometime.
Time at the Store
Walmart's service is truly a time saver when I consider the time I spend at the store. At the local supermarket, I can spend up to an hour pushing the cart up and down the aisles, searching for the items on my shopping list, and loading them into my cart. Then, of course, I wait in line at the register, unload my groceries, and pay. When picking my my order at Walmart, however, it takes less than five minutes to park, check in, and have a friendly worker load the groceries in the back of my minivan. I can save nearly an hour in shopping time.
Time Unloading & Putting Away
When I shop at my local grocery store, I keep my cart organized. In the checkout lane I group frozen, refrigerated, or pantry items separately on the register conveyer, hoping that similar items will be bagged together. When items are bagged properly, I can put groceries away more efficiently. Often, a refrigerated or frozen item will be bagged together with items that go to my pantry, and I will lose time sorting them out all over again. In my experience so far with Walmart's service, items have been appropriately sorted and bagged, making it much easier to put items away at home. Even though the time savings in this category is negligible, the efficiency and order make me feel great.
Extra Time in My Day
I would estimate that ordering most of my groceries from Walmart can save me thirty minutes to an hour each week. I could spend that extra time completing homeschooling tasks, planning nutritious meals, reading a book for fun, working on the next blog entry, relaxing in a bubble bath, fitting in a workout, talking with one of my kids, learning a new skill, etc. What would you do with an extra 30 minutes or more each week?