In my previous blog, I shared how using Walmart's Grocery app to order groceries and then pick them up at the curb can save me up to an hour each week. But time-saving tools do not always make my life easier, and they often come at a significant financial cost. Can ordering groceries online simplify my life and save me money?
Making Life Easier
Solves in-store issues
When shopping at the supermarket, the produce section can be intimidating. I am confronted with fruits and veggies of various ripeness and face the challenge of finding the best fresh produce. Who knows how many apples, tomatoes, bananas, and avocados I sort through to find the freshest, unbruised items? When I order from Walmart, my fresh produce is hand-selected by an employee. The bananas, pears, and oranges I ordered were of excellent quality. When I order fresh produce, the Walmart app estimates the price for my order based on typical weight for those items. Once my order is filled, they charge me for the actual weight.
When shopping for a family of seven, my cart can fill up quickly. At the nearby Publix, I often find myself trying to balance the final items at the top or load them onto the lower rack of the cart. Many times I have needed two shopping carts to get my entire order to the car. I can avoid the hassle of maneuvering an overflowing cart through the store by simply ordering from Walmart.
Typically, I do all my family's grocery shopping and rarely take anyone else with me. When any of my children accompany me, shopping takes longer, and they ask the inevitable question, "Mom, can we get this?" If my husband shops with me, additional items end up in the cart whether they are on sale or not. To save time and avoid spending extra money on such impulse purchases, I have always preferred to shop alone. When I use Walmart's pickup service, I have complete control over what is in my cart even if other family members travel to the store with me or pick up the order for me. My kids do not pester me to make impulse purchases, and extra items do not mysteriously appear in my cart.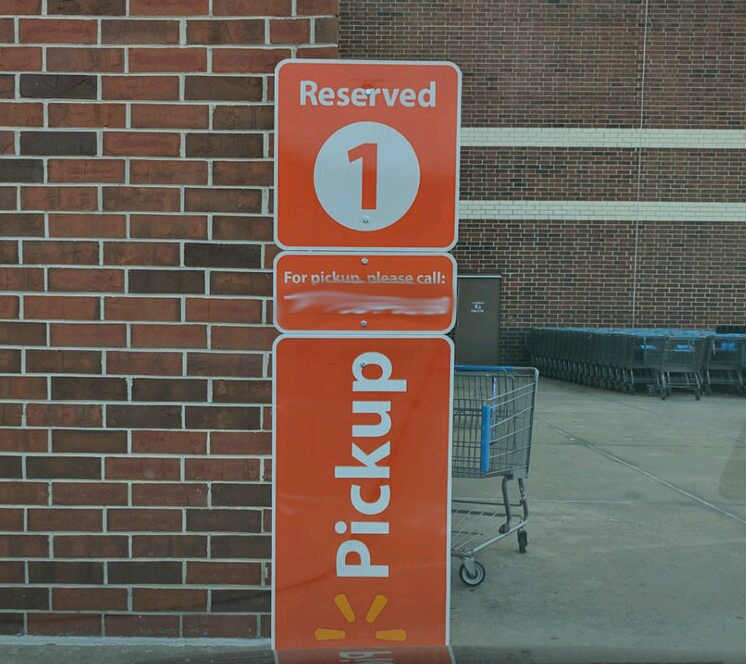 I am a serious shopper, looking for good, healthy deals and typically buying a product only if it is on my list. Walmart's program helps me involve other family members in the process. My oldest daughter, who has been reluctant to run to the local store to shop for groceries, would be happy to pick up an order at WalMart. My husband, whose health issues make it difficult for him to walk very far, has no problem stopping by Walmart on the way home from work if the groceries are delivered straight to the car. Avoiding that extra trip to the store by allowing other family members to participate is a win-win for me.
App is well designed
I have been amazed at how convenient it is to add an item to my WalMart grocery app whenever I think about it. This morning I added some food-related Christmas gift items to my shopping cart for when I place my next order.
It is also a simple matter to enter ingredients from a recipe while planning the week's meals or shopping for a special occasion. I simply use the search box to find an item, and use the dropdown menu to choose my preferred brand.
The Walmart Grocery App makes my life easier by keeping track of my past orders. Items I have previously purchased are marked as favorites so I can easily identify and reorder them. When I use the favorites tab on my app, it is like having a personalized store to shop from.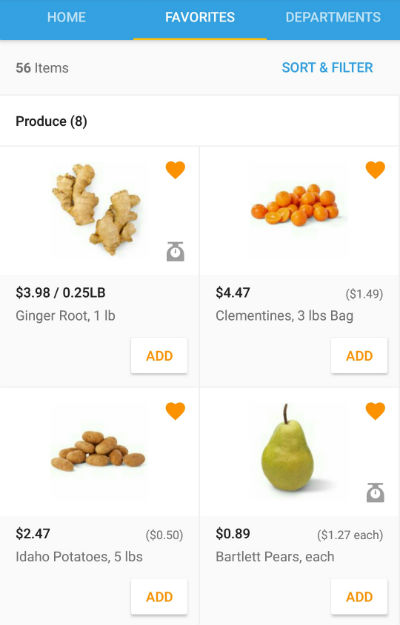 Saving Money
Because I normally shop the Buy One Get One specials at my local Publix, I was not sure that I would save any money using the WalMart app. Surprisingly, I discovered that the Great Value brand often costs less than the BOGO specials I find at Publix. I compared prices of 36 items I have purchased both on sale at Publix and for the normal store price at Walmart. I discovered that 28 of those items are less expensive at Walmart.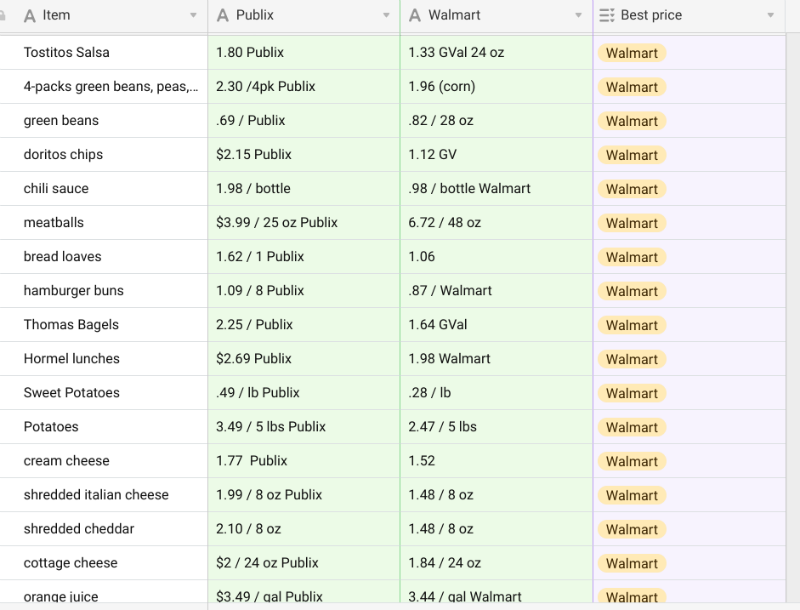 Because I have not purchased many Great Value products in the past, it is worth trying them to see if they really are the value they claim to be. My husband enjoys their breakfast sandwiches. We tried out the canned green beans, and they were just as good as Green Giant. The store brand pizzas reminded me of Tombstone, and my family devoured them quickly. I see no difference in the quality of butter, yogurt, milk, and eggs, compared to the Publix brand I normally purchase. These dairy products cost significantly less from Walmart than from my local grocery store.
When the store brand product I have ordered is unavailable, Walmart makes a substitution at the same price. I ordered a Great Value three meat pizza but brought home a DiGiorno four meat pizza. I ordered Great Value bagels, and the store substituted Thomas' bagels. When a 2-pound pack of butter was unavailable, 2 single pound packs were included. Instead of store brand sausage, egg and cheese croissants, we got the Jimmy Dean for no extra charge. I can reject any substitutions I do not want, but we are actually enjoying the opportunity to try different products without having to pay more. After I pick up the order, Walmart sends me an email with the final details of the order, showing me exactly which items were substituted.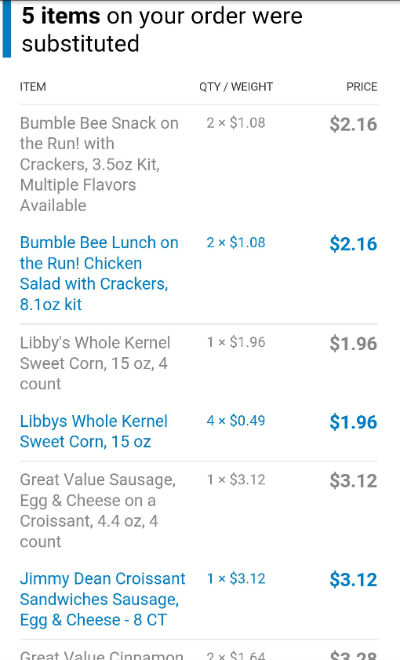 Whether particular items cost less or not, using Walmart's app to purchase groceries makes staying within my grocery budget easier. As I add items to my online cart, I see an estimated order total. Unit pricing on the app helps me to identify the least expensive product and choose the best value for my money.
Freedom to experiment
I continue to check out the weekly Publix ads to see what is on sale, but I am finding it more convenient to order from Walmart, and doing so saves me time and money. I am looking forward to trying out some weekly meal plans I never used before because I always waited for items to be on sale before I bought them. Now that I am saving time and money on my grocery shopping, it is more fun to experiment in the kitchen.