Have you ordered groceries online yet? In previous blogs, I described how ordering with the Walmart Grocery app and picking it up at the curb is a big time saver which simplifies my life and saves me money.
Has my experience been completely flawless? Not quite. I have experienced a few minor glitches while catching up with the learning curve.

Experiences to Learn From
Not Offered Everywhere
When my husband and I drove to pick up our first order, we went to the wrong Walmart. I thought I had selected pickup at my favorite Walmart. Apparently, Woodstock has more than one Walmart, and only select stores offer grocery pickup. Upon arriving, we drove through the parking lot, searching in vain for the orange signs indicating grocery pickup parking. Could the pickup area be behind the store? We checked, and it was not.
Finally, I looked at the app and realized my mistake; our order was waiting at the other Woostock Walmart, way across town. We hit the road again and arrived at the correct Walmart twenty minutes later. To avoid making this mistake again, I immediately used the app to change my preferred store to a more convenient one, but I plan to check periodically to see if my favorite Walmart is offering the service.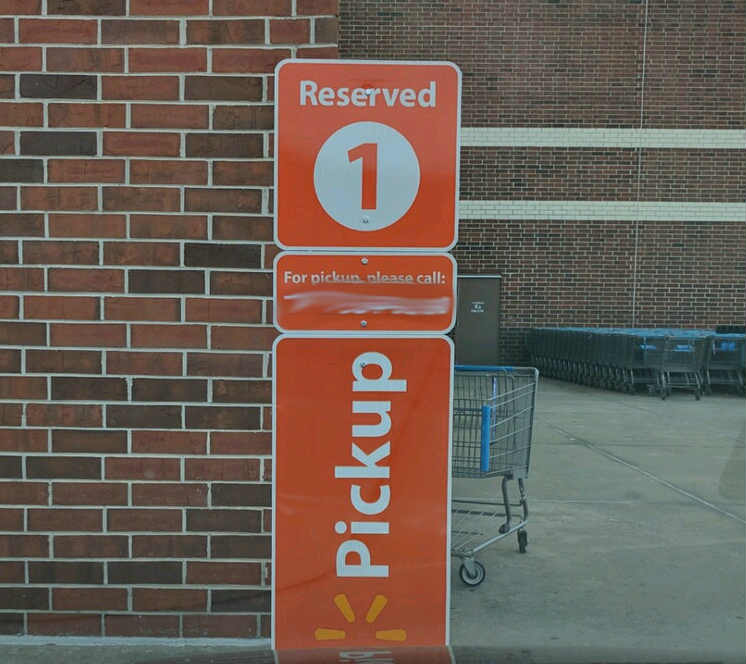 Ordering With the App
As with any shopping expedition, it is easy to forget an item. Walmart allows me to make changes to an order for a limited time before it is processed . When placing my first order, I remembered cream cheese but forgot the bagels. A short while later, I tried to add them to my order. After we arrived home with our groceries, I could not find the bagels. Where were they? I opened the app and found them in my cart. I would have to pick them up at the store myself or include them in my next order.

The order processing time varies. When I placed an order at 10AM for pickup between 3PM and 4PM the same day, I was able to make changes until 11AM. This week, however, I placed an order Monday morning for pickup Tuesday afternoon, thinking I could add extra items to my order early the next morning. When I opened the app around 6AM Tuesday, it prompted me to add items to my existing order. I gladly placed a forgotten item in my cart, then discovered that the order was already being processed, and I could not change it. I wish I understood how Walmart determines the deadline for changing an order. The good news is that the order confirmation email shows a deadline for making changes, but the app should not have prompted me to add items after the deadline had clearly passed.
Will Coupons Work?
When shopping at the local supermarket, I often take advantage of digital coupons, and occasionally I even use a paper coupon to save money. It would be nice to be able to use coupons to save even more with Walmart's grocery service, but I have not yet found a way to do so.

While placing my second grocery order, I was disappointed to discover a discount code for $10 off my first order. Had it been available when I ordered the previous week? If so, how had I missed it? Would it still work? I attempted to use it, but the app would not apply it to my purchase. I felt cheated that I had missed the opportunity to save ten bucks.
Substitutions & Variety
As I mentioned in my last blog, Walmart substitutes name brand items for products which are sold out. Despite giving me a greater value for my money, these substitutions can be unpredictable. When I ordered four bags of store brand bagels, I actually received only three bags of the name brand. After ordering a four-count box of breakfast biscuits with bacon and a four-count box of croissan'wiches with sausage, I brought home one eight-count box of sausage croissant sandwiches. Because these substitutions were reasonable and saved me money, I accepted them, but they were not what I expected.
The selection of items available at Walmart is not the same as at my local Publix. Walmart carries certain brands and flavors I do not find at my nearby grocery store—they have a more extensive candy selection and more options in the dairy department. But I can not order my husband's favorite chocolate covered bananas or my preferred brands of grilled fish from Walmart.
Even though pickup locations tend to be Walmart Supercenters, the items eligible for grocery pickup are limited to items found in a typical grocery store. Electronics, clothing, toys, and other items do not qualify and cannot be found in the grocery app.
Sometimes There is a Longer Wait
Pickup time for each of my first two orders was under five minutes because there was no cars waiting when we arrived. When my husband went to pick up the third order on Tuesday, four cars were already waiting to pick up orders, and he had to wait at least 15 minutes.
A couple factors may have been at work. Because our area was inundated with snow over the weekend, grocery pickup had been unavailable through Monday. This factor alone would increase traffic at least threefold at the Walmart pickup site, resulting in longer wait times.
My husband's arrival time at Walmart was also a factor. We had picked up the first two orders very close to 4PM, but it was nearly five o'clock when he arrived at the store this week. I suspect most of the customers ahead of him were also picking up orders on the way home from work. Because of rush hour traffic, his trip home from Walmart also took considerably longer than usual. Ordering online saved me time on Tuesday but significantly increased my husband's overall commute time. In order to minimize our wait in the future, I will take advantage of pickup times earlier in the day and pick up orders as soon they are ready .
The Future of our Grocery Shopping
Having used Walmart's grocery pickup service for a few weeks, I can appreciate its value for both the store and the customer. Until now, I have rarely shopped for groceries at Walmart since Publix is just around the corner and offers great sale prices. Grocery pickup makes shopping at Walmart less expensive and more efficient, and I am quickly learning how to use it most effectively.
Will I ever enter a grocery store again? I am sure I will visit the local supermarket occasionally to take advantage of BOGOs and purchase some products that Walmart does not carry. For larger orders, though, I will plan ahead, order through the app, and make a quick Walmart Grocery Pickup run more often. How could grocery services like Walmart's help your family?