How can I afford to homeschool a houseful of kids? One of my secrets is a Yearly Membership to SchoolhouseTeachers.com. For an annual fee, I have access to resources that help with specific stages and issues in homeschooling, complete courses for every level I teach, recordkeeping software, an online library, engaging video content, and more.

In November, I wrote a blog post introducing SchoolhouseTeachers.com. As part of the 2018 Schoolhouse Review Crew, I was asked to write an additional review. As I peered at the site through fresh eyes, I explored sections I had not noticed before.
Focused Learning Centers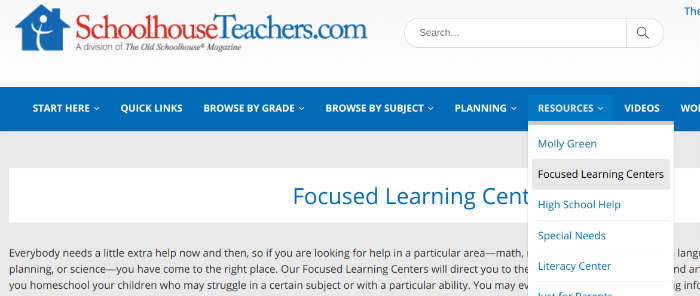 My first stop was the Focused Learning Centers. Because my 13-year-old daughter is starting high school and my 17-year-old will be graduating this semester, I chose to Focus on High School and College.
The video tutorial introduced me to many of SchoolhouseTeachers.com's upper-level resources and explained exactly how my students can earn high school credits. Many courses on SchoolhouseTeachers.com include a recommendation for transcript credits.
The high school Focused Learning Center includes a direct link to a career exploration course to help kids prepare for their future. I discovered downloadable forms to assist with high school planning and recordkeeping. I downloaded the homeschool planner specifically designed for high school students. In addition, I discovered E-Books that address various aspects of high school, college & career prep.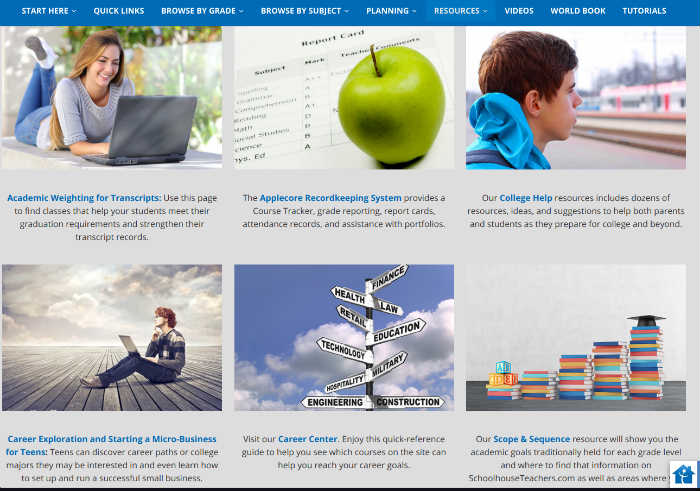 The Applecore Record Keeping System helps me to keep track of all our school records. I already had a free basic account with them that allowed me to track final grades for each course. The higher level of access that comes with my SchoolhouseTeachers.com membership also allows me to schedule lessons, track attendance, and build transcripts. It is a little tricky to understand at first, but the video tutorials are very helpful.
The College Help section has resources to help students prepare for college and choose which school to attend. It guides them through with checklists for each year of high school. There is a very strong push toward college, and I was disappointed that more specialized but cost-effective alternatives such as specialized nanodegrees were not mentioned.

The High School Resource Center also provides a set of Quick Links to helpful resources including HSLDA's index of state homeschool laws, additional high school resources on SchoolhouseTeachers.com, and the SchoolhouseTeachers Facebook page.
Choosing a Course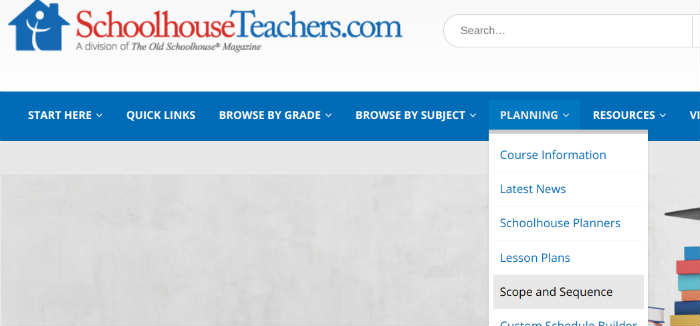 There are many ways to find courses for my students, but it is easiest to download the Scope and Sequence for each grade I am teaching. Using this resource, I explored courses which might be appropriate for my new 9th grader. Because I have already planned out her main coursework for the semester, I focused on possible electives.
Photography Course
Photography immediately caught my eye. My daughter and I had watched a few photography videos from another online course, but the length made them difficult for her to follow. She loves to experiment with close up shots of nature using her cell phone camera.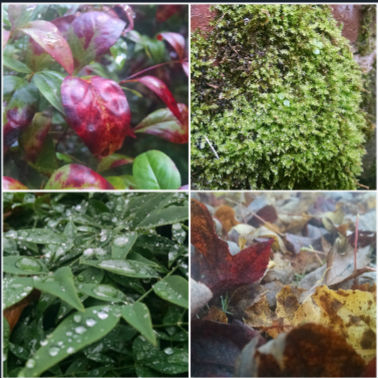 SchoolhouseTeachers.com's Photography course is broken down into short weekly lessons and includes assignments to help my daughter improve her skills. I was surprised how much she learned while reading the first couple lessons. I especially like the way the course incorporates biblical ideas and verses.
Because the lessons are designed to be used in a class or co-op setting, they suggest topics for class discussion. This element confused my daughter since she is studying independently. I suggested that she invite a sibling to do the course with her to facilitate the class discussion mentioned in the reading. Alternatively, she could discuss them with me or my husband, who happens to enjoy photography as well.
World Book Library
One of the main sections on SchoolhouseTeachers.com is the World Book Library. It includes many resources for all grade levels, but it takes time to overcome the learning curve and find the best ones.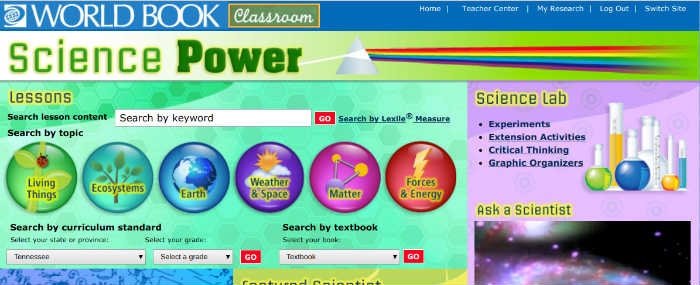 I was pleasantly surprised to find science experiments in the World Book library. In addition to instructions for conducting each experiment, some include videos that offer additional information and instruction. Even though these experiments are designed for elementary kids, they would be a great supplement to our middle school science curriculum. I am looking forward to having my twin seventh graders create a cloud in a bottle while learning about weather patterns this semester.

A variety of ebooks in the World Book library are recommended for high school. Because most of the books appear to be in the public domain, it may be more convenient for us to use them in other formats like Amazon Kindle.
Video Library
Perhaps the most valuable aspects of SchoolhouseTeachers.com is the video library. Our family has enjoyed exploring geography with Drive Thru History and Stevie's Trek to the Holy Land. We have learned about missionaries together with the Torchlighters and They Lived for God videos.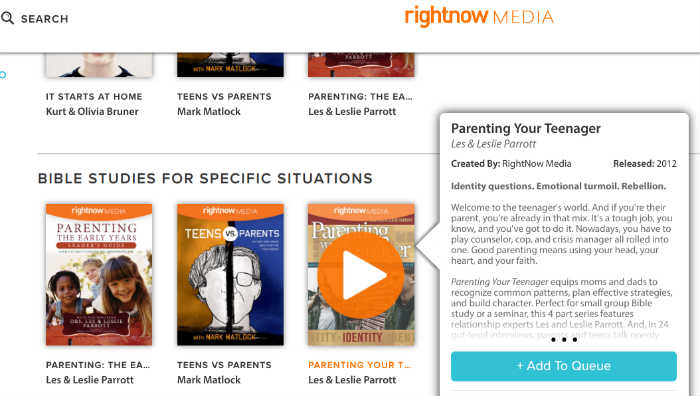 Access to RightNowMedia's library of video-based Bible studies is also included with our membership. I am looking forward to watching their video series for moms about Parenting Your Teenager. The media library also includes a number of video Bible study series for teens. Because many of these videos address cultural issues my teens have had limited exposure to, I plan to preview each one before watching and discussing it with my kids.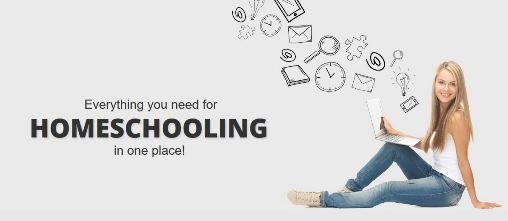 Is SchoolhouseTeachers All I Need?
With all of this at my fingertips, do I need to purchase any other curriculum? I could certainly find all the homeschool curriculum and resources I would need at SchoolhouseTeachers.com. However, physical curriculum is often easier for us to use. When given the choice between digital curriculum or a tangible book, my kids tend to choose the latter even though they are all quite techno-savvy.
I primarily use SchoolhouseTeachers.com resources to fill in gaps, investigate new topics, or watch educational videos together. The planning resources, classes, and videos at SchoolhouseTeachers.com help us homeschool, and this will be our fourth year of membership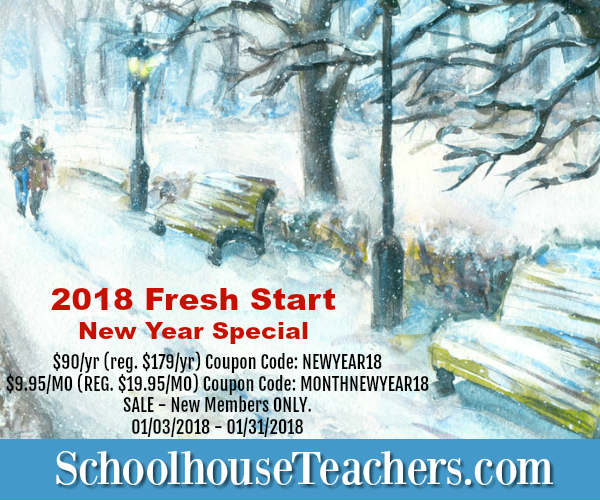 If you are considering a membership to SchoolhouseTeachers.com, this is the perfect time to take advantage of their special offer. All through January, new members can use a coupon code to get full access for half the price.

Click here to read more reviews of SchoolhouseTeachers.com Yearly Membership