My kids look forward to reading about interesting events in history, discovering new places around the world, and imagining their future impact on society. It may seem like reading a workbook and filling in the blanks would suck the life out of a subject, but that has not been our experience at all. My kids love learning about Social Studies with ACE PACEs and enjoy working independently through the material.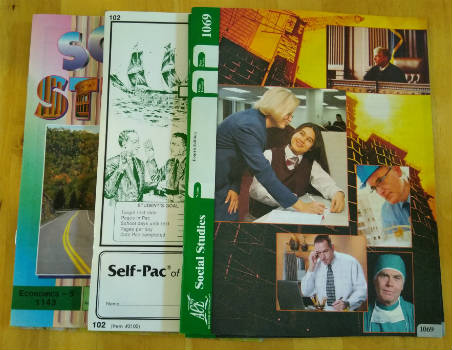 Middle and high school social studies thoroughly cover history, government, and geography, with a unit on careers thrown in for good measure. Here is what to expect in each grade.
Sixth Grade—Biblical History
Even though the twins are officially in seventh grade, they are completing the sixth grade Ancient History PACEs this year. I love the way they are reading and understanding Bible passages while also learning the historical context of those passages.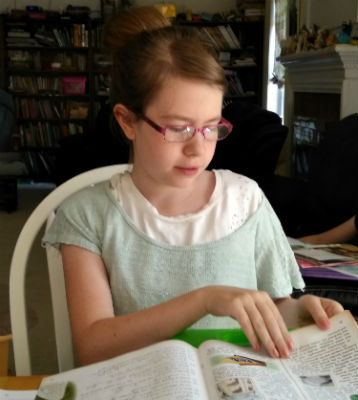 The biggest challenge is reading the King James Bible, which many adults struggle to understand. To aid in comprehension, each PACE includes vocabulary activities, which help students become familiar with antiquated words that are key to the Scripture passages. Surprisingly, all three of my younger girls actually enjoy reading the KJV Bible.
As with all elementary and middle school PACEs, each one includes a memory verse, which students write and recite when completing the final PACE test.
Seventh Grade—Careers and State History
The seventh grade Social Studies PACEs are unique to the curriculum and include valuable career information to help kids prepare for their future. My oldest two kids started ACE after seventh grade, so they had missed this important content. When I recognized the value of this course last year, I decided that all my kids should cover the material together.
Instead of filling in the blanks in each unit, we adapted the content to fit our family by reading and discussing it. Completing these PACEs orally was a pleasant break from the sometimes repetitive format, and it helped all my kids become familiar with various career options they had never considered.
The career PACEs include a chart which encourages students to record occupations which interest them. Having an idea of their future profession helps them know what courses to focus on in high school.
Although the study of careers is indispensable, it only takes half of the year. The second semester is reserved for studying state history; parents can choose a separate curriculum or have their child write a paper about their state, following the outline provided on ACE's website. Neither of these options appealed to me, so we skipped a formal study of Georgia in favor of learning about historical places as a family during vacations and day trips.
Eighth grade—U.S. History
Last fall, my 13-year-old daughter enjoyed completing this survey of American History. In addition to reading the text and filling in answers to the questions, she also memorized important passages from American history like part of the Constitution and the Gettysburg Address. These PACEs have been updated since my older son completed them and now cover recent history through Obama's presidency.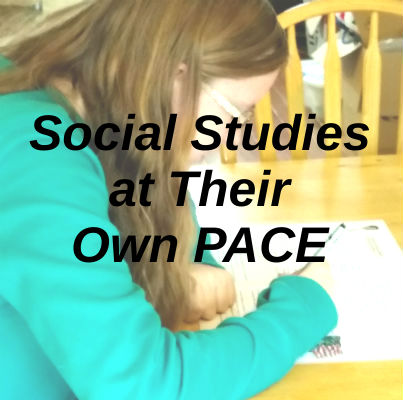 High School World History (ninth or tenth grade)
Because the World History PACES are the easiest ones in high school, my daughter is completing them in ninth grade, though they are recommended for tenth. These workbook units are in a much older format than others we have used. ACE has been updating only the final few PACEs in this course; the latest partial revision was in 2010. As a result, the final several units are significantly longer than earlier ones.
This entire set could use a facelift to make it more visually appealing and bring the difficulty to the level of other high school PACEs. However, my daughter enjoys the simple format; she appreciates that all the pictures and maps included are specifically relevant to the content. She is especially relieved that there are no comic strips of the various ACE kids (who model Christian character and demonstrate new concepts in her other PACEs) to distract her from the history she is learning.
High School World Geography (ninth or tenth grade)
My oldest daughter attempted a Cultural Geography course in ninth grade using a different curriculum and never made it past the first lesson. However, she thrived with the ACE World Geography PACEs and completed them in tenth grade. My son followed suit a couple years ago, and daughter number three will begin them in the fall. Each geography PACE includes a booklet to read, with a separate workbook to fill in all the answers. (ACE will release the fourth edition of these PACES in the fall, so the format may change.)
Throughout the course, students memorize the location of each country and learn basic information about the people and geography of each continent. Each PACE instructs students to draw a map of the continent they are studying; they proceed to label countries, cities, rivers, and other geographical features as they progress. Rather than have my children draw these maps freehand, it made more sense to print outline maps for them to fill in. We used map puzzles to help review for tests.
High School American History (eleventh grade)
The eleventh grade US History PACEs are very similar in format to the eighth grade course but go into much greater depth. Students complete additional memory work, including excerpts of historical documents or speeches, before finishing each unit. These PACEs were fully updated about four years ago.
U.S. Civics — Economics (twelfth grade)
My oldest daughter truly enjoyed the Civics and Economics PACEs, finding that the material was readily applicable as she turned eighteen and registered to vote.
Even though I never took an economics or civics course in high school, these classes are easy to administer since nearly all the answers are included in the score keys. The civics PACEs includes charts to fill in based on current political campaigns and leaders, and my students wrote several short essays which I needed to check. My son completed Civics in the fall and is studying Economics now.
These courses are essential and timely for students who will soon be voting in elections. Our high school seniors need to understand how our government and economics system work before making their voices heard.
Are PACEs all we use for Social Studies?
ACE PACEs are certainly the foundation of our social studies curriculum and are sufficient on their own. We supplement or replace them occasionally with other resources we find, especially if my students grow tired of filling in all the blanks. Using additional resources can further enliven the subject but often requires more parental direction, which can be challenging when homeschooling a houseful of kids.
When taking a break from the careers PACEs last year, we watched some Drive Thru History videos that added to our Bible curriculum while also giving historical context. This month my twins are using Drive Thru History Adventures to supplement and replace some of their sixth grade Social Studies PACEs. I will be sharing a complete review of this engaging curriculum in a couple weeks.
I love to find curriculum that makes teaching my kids easier. Any course that my children can complete independently while I accomplish the myriad of other tasks crying out for my attention deserves closer inspection. ACE's Social Studies PACEs effectively teach my children about the world around them from a Biblical worldview.
What curriculum do you use for middle and high school Social Studies? What do you love about it?