Did you study health and nutrition in school? My high school health unit covered little more than basic first aid. As an adult, I am always learning about good health and nutrition. Why were these essential topics never addressed when I was a teenager?
I am determined to help my kids understand how best to take care of themselves. Since I was unhappy with the health course my oldest kids used, I jumped at the opportunity to try a different curriculum. This summer Apologia Educational Ministries published a new course—Exploring Creation with Health and Nutrition by Dr. Laura Chase. For our review, we received the Health and Nutrition Basic Set, which includes a Textbook and Student Notebook.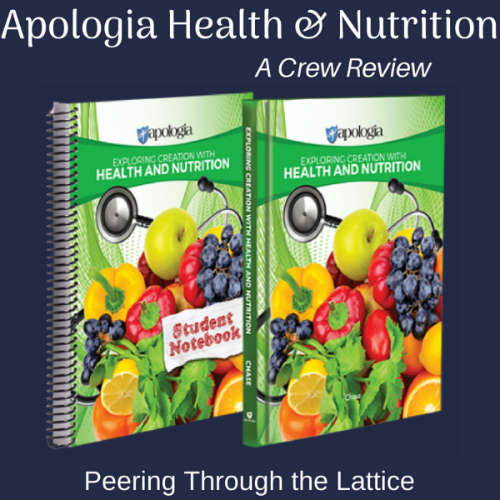 The Textbook
My daughter could not wait to dive into the curriculum. Health and Nutrition is now her favorite course.
"I like that the main book is basically a textbook, and then there's a separate workbook."
The first two modules helped her learn about herself, the importance of health, and physical factors that impact her emotions. Have you ever encountered a unit on emotional health in a homeschool curriculum? I am glad Module Three addresses this important topic. Later ones cover relationships, nutrition, exercise, and even reproduction.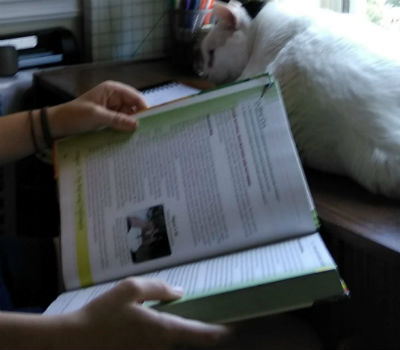 The Student Notebook
The Student Notebook provides a schedule for completing the half-credit course in a year. My daughter enjoys the curriculum so much that she often works ahead. At this rate, she will probably finish the book by spring.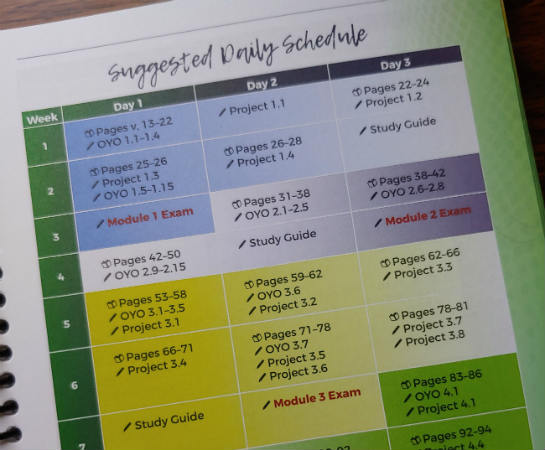 After reading from the textbook, she completes a set of On Your Own (OYO) questions.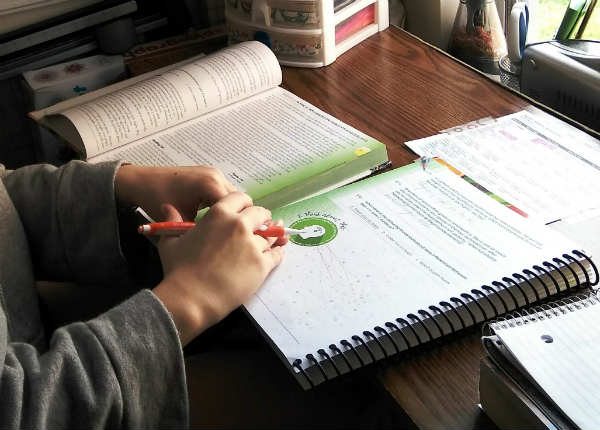 "Sometimes the questions are hard to answer, but other than that, it's pretty good."
At the end of each module, she checks her answers. After completing a Study Guide in the Student Notebook, she is ready for the test.
Tests
The tests are at the back of the Student Notebook. What does my daughter think of them?
"They're pretty easy and straightforward; the Study Guide covers more material than is in the test, which is helpful."
Most curricula require me to purchase a teacher guide. Apologia provides the answer key for free on their course website.
When my daughter misses a question on a test, we follow Dr. Chase's recommendation. My daughter refers to her notes and attempts to correct her answer. If she gets it right on the second try, she reclaims half a point.
Even though she struggles to answer some of the On Your Own questions, my daughter values what she is learning and performs well on the tests.
"It's nice that I'm not learning repeats of what I've learned in the past."
Fun Projects
My daughter's favorite aspect of the course is the projects. Most modules include several. These activities extend and personalize the information she is learning.
What are her favorites so far? She enjoyed learning about her temperament.
"I liked the project about temperament. You had to figure out whether you were melancholic, sanguine, choleric or phlegmatic. It was cool!"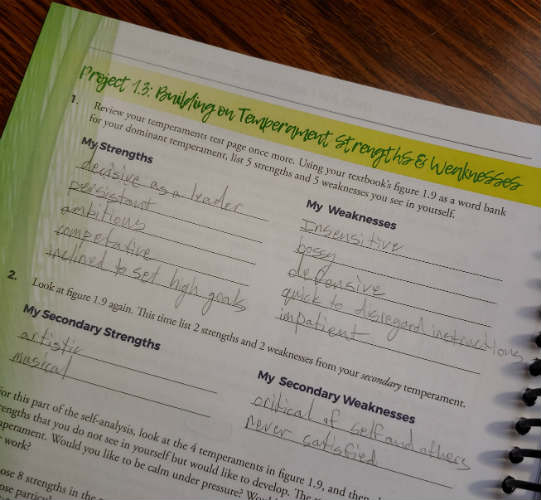 She had fun listing her natural preferences in the next project. Weeks later, she is determined to discover everyone else's dominant hand, foot, and eye.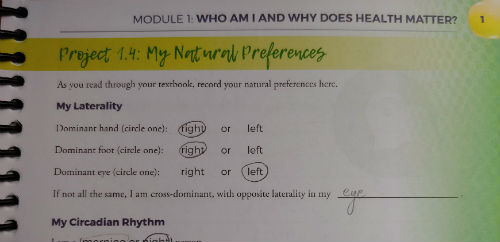 It was fun to "see if you were cross-dominant with your hands and feet."
I appreciate some of the practical projects she completed recently. Last week, she used a decision-making chart to determine what time she should get up in the morning.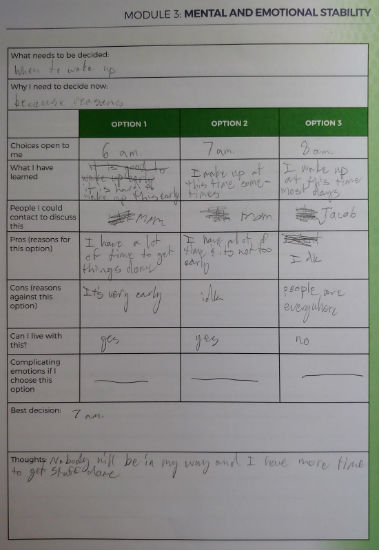 The next project required her to avoid digital media for an entire day. She insists the activity was easy—she simply read a book instead!
I worried that the projects might be difficult for her to complete, but most are quite simple. The projects help bridge the gap between academic study and practical application.
"I like the projects because they're fun!"
Health is Essential
Learning about health and nutrition is essential. I wish I had access to a thorough, Christ-centered course like Exploring Creation with Health and Nutrition when I was in high school. I am glad to offer my tenth-grade daughter such a valuable course. In a couple years, my twins are sure to enjoy the subject as well.
Are you searching for a high-interest, Bible-based health course for your teen? Consider Dr. Chase's course. You can start today by downloading a free Whole-Health activity book. Apologia will also send you the first module of Exploring Creation with Health and Nutrition. Check it out, and see if it is a good fit for your high school student.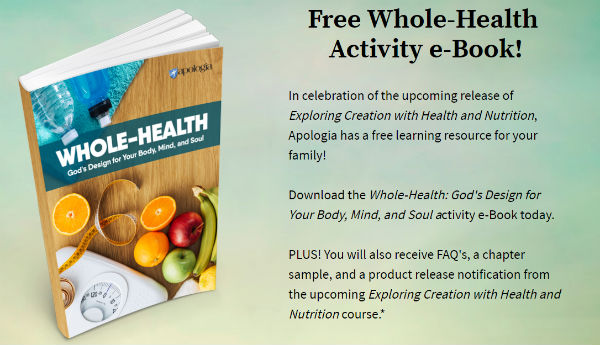 Do you want to know what other crew members thought of Exploring Creation with Health and Nutrition by Dr. Laura Chase? Click here to read more reviews.