At the end of December, I picked up Level 2 of Fix It! Grammar from the Institute for Excellence in Writing (IEW). I suspected that my twins would enjoy this practical approach to grammar and mechanics.
Two months later, though, the Teacher's Manual was still sitting unopened atop my curriculum stack. It was not unnoticed though. My daughters saw it there and kept inquiring about the Robin Hood book. "When can we use it, Mom?"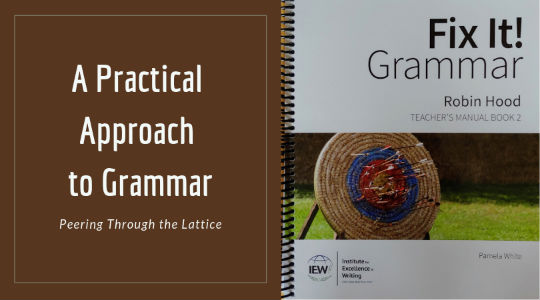 When I found out the Review Crew would be reviewing Fix It! Grammar, I dutifully watched a video detailing how the program works.
Whenever Andrew Pudewa starts speaking, my twins listen up. That afternoon was no exception. After viewing the video, their interest was piqued.
A quick diagnostic test revealed that I had chosen the right level for them. They knew all the parts of speech and were ready to move on to more advanced concepts.
Setting Up For Success
The Teacher's Manual came with a free download of the student pages. I easily found them on the IEW website. After printing out the first several lessons, I inserted the pages in 3-ring binders for my daughters. For each girl, I provided a spiral notebook as well.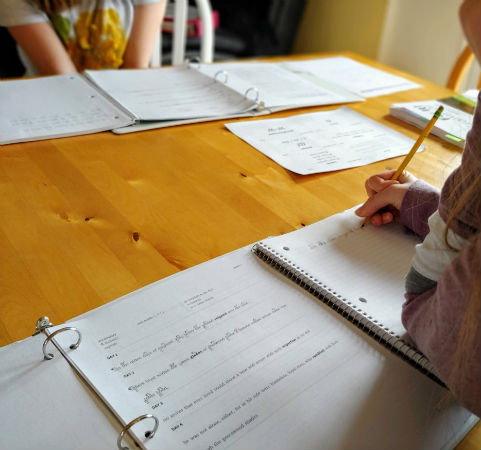 The grammar cards in the student pages would help them mark each passage. I contemplated printing those pages on cardstock for durability. When I saw an alternative suggestion in the Teacher's Manual, I reconsidered. In the end, I printed the cards on paper. During the first few grammar lessons, the girls used tape to mount them on sheets of cardstock, lapbook-style.

How It Works
Fix It! Grammar is designed to be used for 15-minute grammar lessons four days a week. On Day 1, students learn new concepts, which they practice throughout the week. From the Teacher's Manual, I read the new material to the girls. They follow along on the corresponding student page and refer to their grammar cards.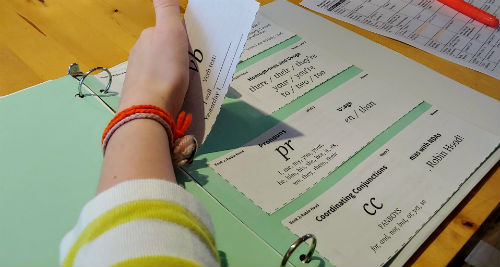 Once they are acquainted with the new material, it's time to practice. They read over the day's sentence. Is there a new speaker, topic, place, or time? If so, they mark it as the beginning of the new paragraph. Then they add capitalization, end marks, and any other necessary punctuation.
Sometimes the lesson requires them to choose between commonly confused words like lay/lie, too/to/two, and their/they're/there. They choose the correct word and cross out the others.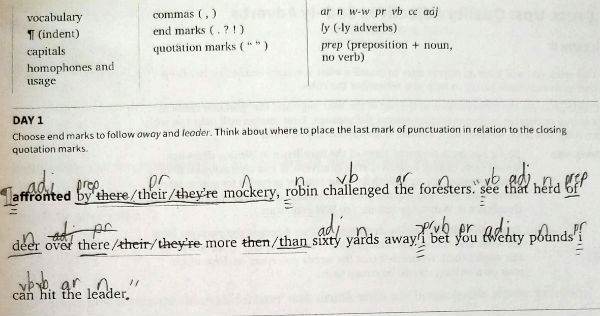 Next, they follow the directions to label parts of speech, prepositional phrases, and clauses. When they are unsure about a part of speech, I direct them back to their grammar cards, which effectively summarize everything they need to label.
In each sentence, one or two vocabulary words are indicated with bold text. After we look up the definition, the girls write a brief definition that fits the context of the sentence.
Using the Teacher's Manual, we check their work together. Then they copy the correctly edited sentence into their spiral notebooks. By the time they complete this level of Fix It! Grammar, they will have corrected and written the entire tale of Robin Hood.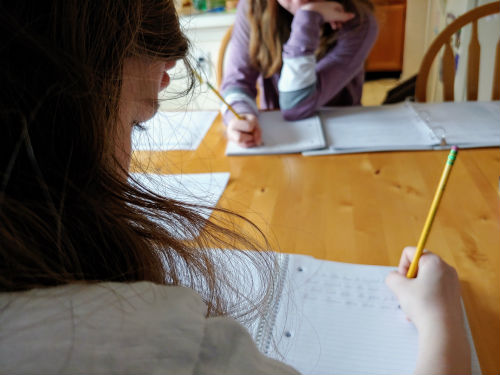 Rollicking Through Robin Hood
With Fix It! Grammar, my twins are unstoppable. After completing two days' worth of work on our first day, my daughter begged, "Can't we do more?"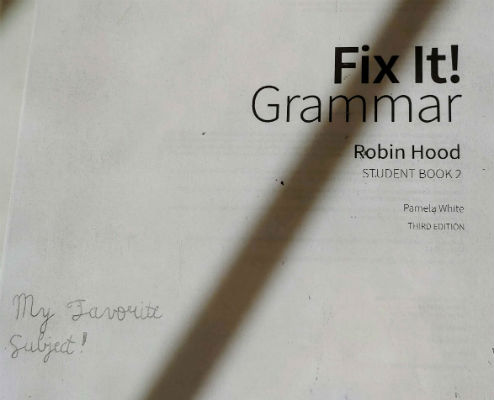 As we neared the end of week four, her twin sister excitedly quipped, "I can't wait to see what Robin Hood does next, but I'm forcing myself not to peek."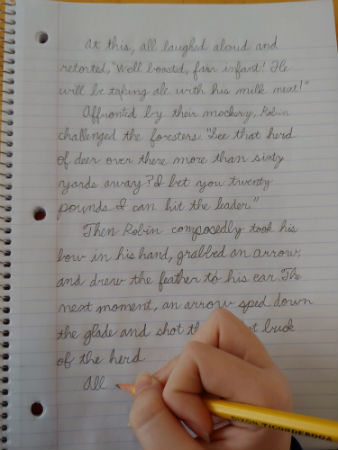 By week five, the lessons became more challenging, and I wondered if we should slow down to one sentence per day. The passages were littered with complex concepts like verbals, which the girls were not required to identify. However, they were a little confused that such obvious "verbs" weren't actually functioning as verbs. Extra notes in the Teacher's Manual helped me explain advanced material they were curious about.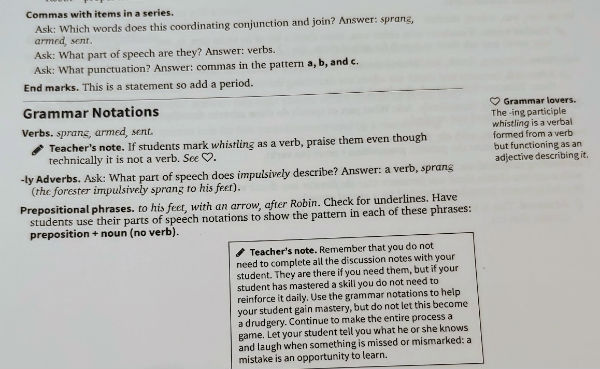 Before long, my Grammar Lovers were correctly identifying verbals like gerunds and infinitives before I had a chance to read through all the Grammar Notations.
We continued at an accelerated pace through the first six weeks' lessons before I finally insisted that the girls slow down. Although they would have happily hurtled through the whole book at light speed, I had an ulterior motive for putting on the brakes. Having noticed how well the lessons cover dress-ups, sentence starters, and other concepts from the IEW writing curriculum, I decided to use the grammar lessons to introduce the new writing skills I had not yet taught.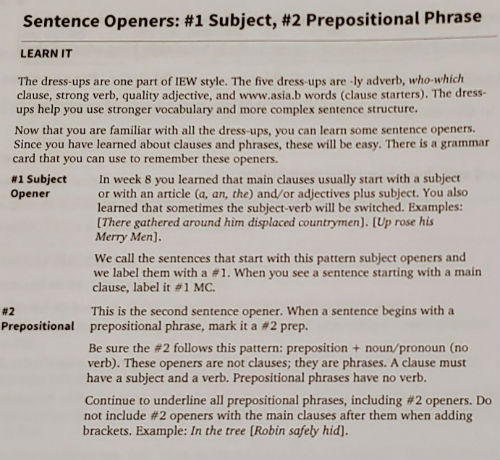 Now that we are eight weeks in to Fix It! Grammar, the girls complete one lesson each week. On Monday we cover days 1 and 2, leaving days 3 and 4 for Thursday. On Tuesday, Wednesday, and Friday, they develop their writing skills using the IEW writing curriculum.
Twin Takes on Fix It! Grammar
What do my twin thirteen-year-olds think of Fix It! Grammar?
"It's nice! I like it," declared one girl.
"It's cool," announced the other.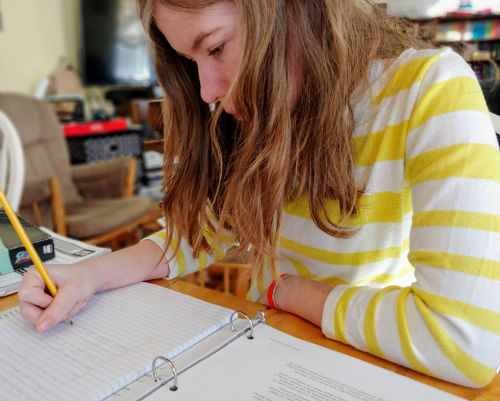 My older twin explained, "It's a learning experience, especially for people that learned from another English curriculum. Fix It! was confusing at first, but now I understand it. Learning Fix It! Grammar rules was easy and pretty quick. It's fun and it teaches you more than other programs. You are more willing to do it. At least I am."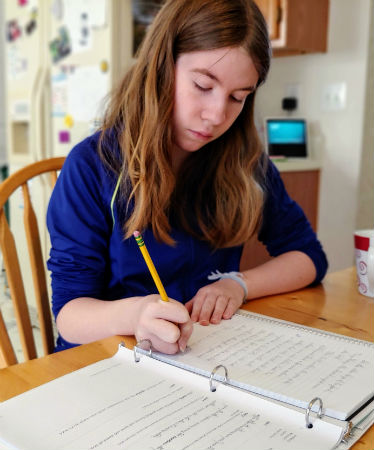 One aspect both girls appreciate is that Fix It! Grammar "helps with creative writing," an activity they both enjoy.
"I like that you get to rewrite a story," one girl divulged. "And the copy is right at your fingertips. Since you write it down, you can keep it with you."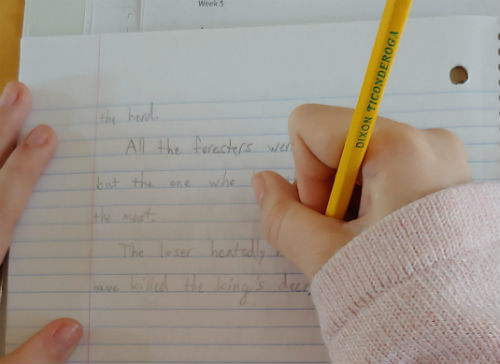 Had I known how much the twins would enjoy Fix It! Grammar, we would have started using it months ago. I am amazed at their continued excitement and all of the grammar they have already learned in the first quarter of the 32-week program. We all appreciate Fix It! Grammar's practical approach to a subject that many students dread.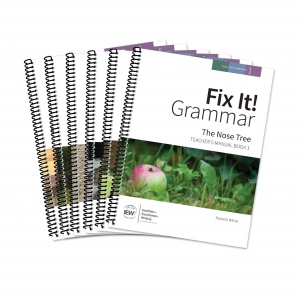 Robin Hood is the second in a series of six Fix It! Grammar books. I recommend the curriculum for students in middle and high school. Whether you use the IEW writing curriculum or not, the grammar program can spark new enthusiasm for grammar, vocabulary, and writing.
Before purchasing a Teacher's Manual, be sure to use the placement test to determine the best level for your student. If you are wavering between levels, IEW suggests starting with the lower one. I agree. Plenty of optional material in the Teacher's Manual can challenge and enrich more advanced students.
As I mentioned earlier, the Review Crew has been checking out Fix It! Grammar too! Would you like to read reviews from other homeschool families who are using this fun and practical grammar program? Find them on the Crew Website.