When the Crew reviewed products from The Critical Thinking Co. last year, I was disappointed that our schedule didn't allow us to participate. There were some awesome products I really wanted to try out with the girls! This year, I got a second chance. My twin daughters and I sat down and sorted through the options. One girl was excited to try out Building Writing Skills - Essential Tips & Techniques, while the other preferred Critical Thinking Detective - Vocabulary Book 2. We agreed to review either of the two products.
The following week, the Crew made the final decision, and we received our digital copy of Building Writing Skills - Essential Tips & Techniques.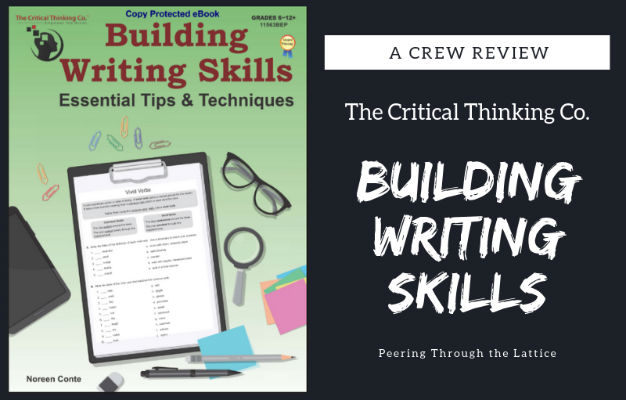 The digital edition (which only works on Windows systems) was perfect for us. Because it's an instant download, we could start right away. I wouldn't need to purchase an extra book for one of the girls because I could easily print multiple copies. After punching holes in the pages, I handed them over to for my twin 13-year-olds. They placed them in their 3-ring binders.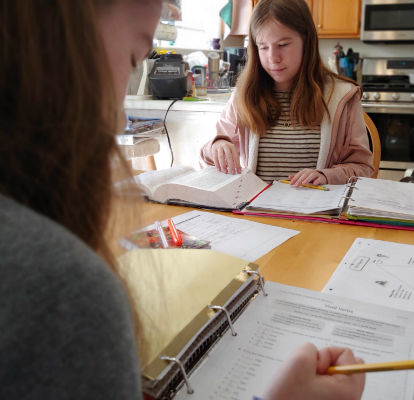 I printed one copy of the answer key pages, which are at the end of the book. After the girls finished a page, they could use them to check their work.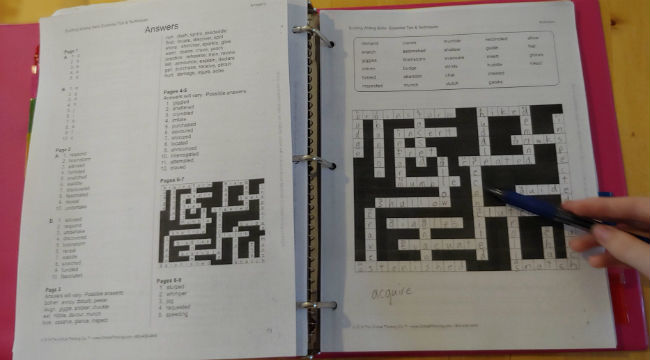 How We Used the Workbook
To fit in this supplement, we slowed down our regular writing program. Instead, I allowed the girls to pick and choose a few pages of the workbook to flex their writing muscles.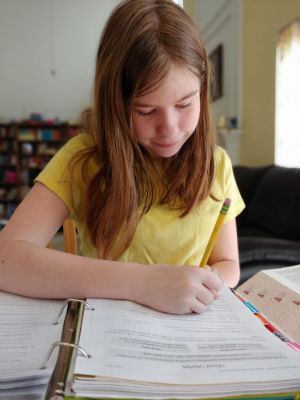 It was fascinating to witness their different approaches. The girl who had been eager to review Building Writing Skills started at the beginning and completed most of the pages in order.
"Miss Enthusiastic" enjoyed scouring the thesaurus for scintillating synonyms which could serve as vivid verbs. Along the way, interesting words like hysteria and tete a tete distracted her from the objective, but I was delighted at the increase in her vocabulary.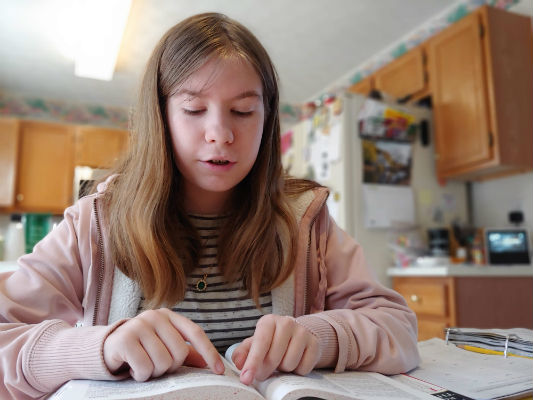 "I like using a dictionary and thesaurus by hand."
~Miss Enthusiastic
She thrived while rewriting sentences and paragraphs to improve them even though her hand sometimes got tired out.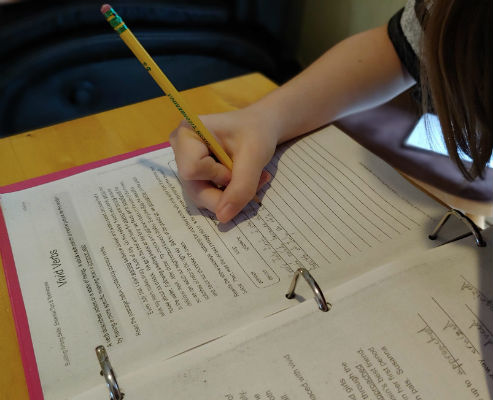 Meanwhile, "Miss Butterfly" flipped through the workbook pages to find the most appealing activities. She landed mainly on pages with one-word fill-ins or puzzles.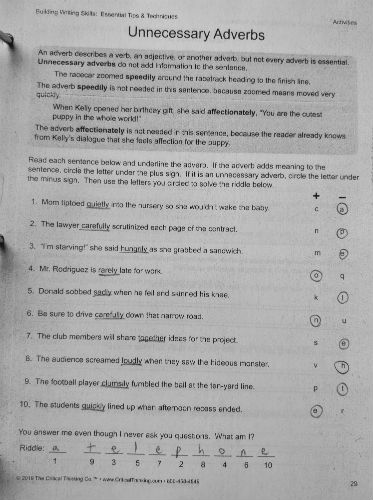 Crosswords, word scrambles, and matching exercises allowed her to painlessly practice a variety of skills which will improve her writing.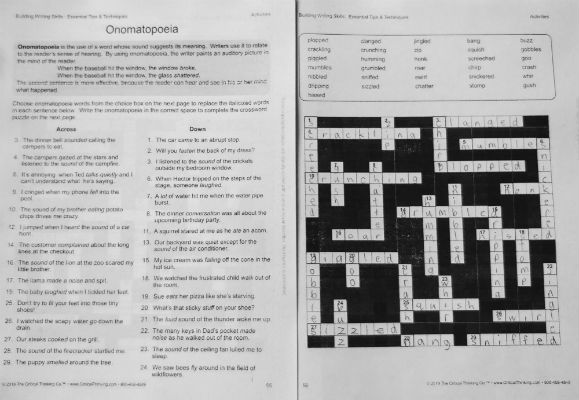 Crossword puzzles were a favorite for both twins.
Convenient Companion for IEW
I was delighted to discover that Building Writing Skills reinforces the Institute for Excellence in Writing (IEW) skills we've been building this year. In IEW, the girls have been learning to add dress-ups such as strong verbs and quality adjectives to their writing.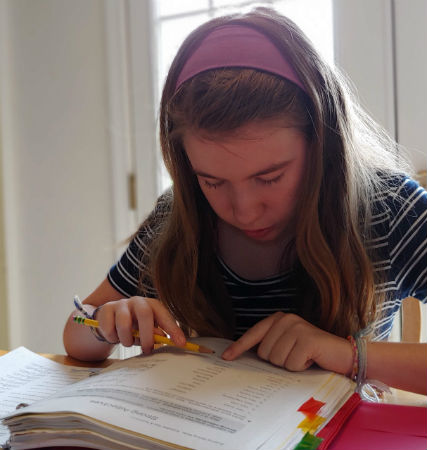 "I like the variety of types of activities"
~Miss Butterfly
Building Writing Skills uses different terms while covering the same concepts: Vivid Verbs and Strong Adjectives. Several pages in the workbook touch on each of these topics.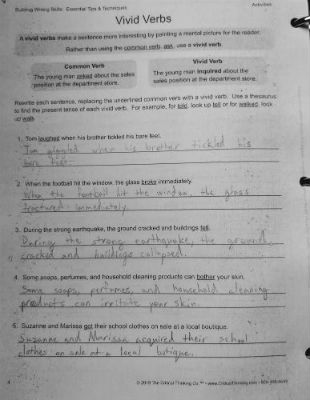 Miss Butterfly completed a page which covers Clause Starters, another topic we first covered in IEW.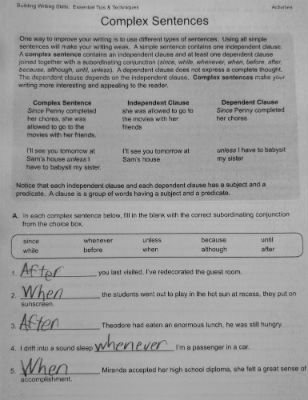 One workbook page corresponds to the Sentence Openers skill the girls recently learned.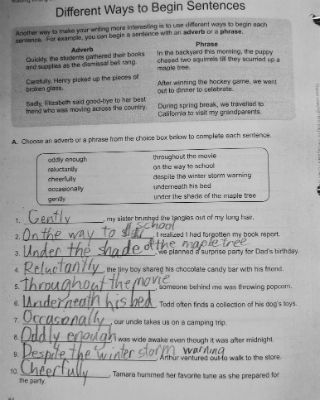 There are also pages to cover advanced concepts we haven't yet gotten to in IEW—like Alliteration, Repetition, Simile, and Metaphor.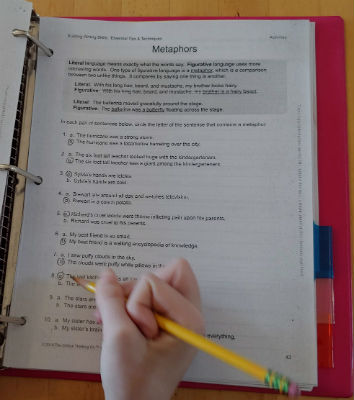 With 70 pages of skill-building worksheets, Building Writing Skills is a super supplement to a writing program like IEW. Parents can assign the worksheets early in the IEW sequence to give an informal introduction to a topic. Alternately, they could introduce the concept first in IEW and then use the worksheets for extra reinforcement later on.
Other Positive Aspects
I love the flexibility of Building Writing Skills. It offered a smorgasbord of structured writing practice for my girls. Check out the variety of topics in the Table of Contents.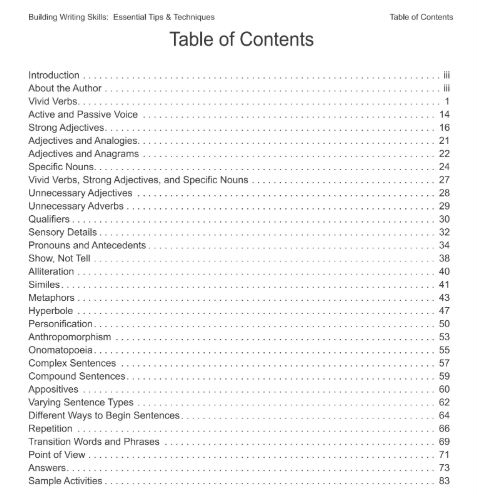 Concise explanations of each concept are followed by activities which make it practical. The variety of activity types throughout the book gives it a broad appeal. Students who thrive on pages with puzzles and short fill-ins will find plenty of those. Other pages will also appeal to kids who enjoy diving into dictionaries or dressing up drab sentences.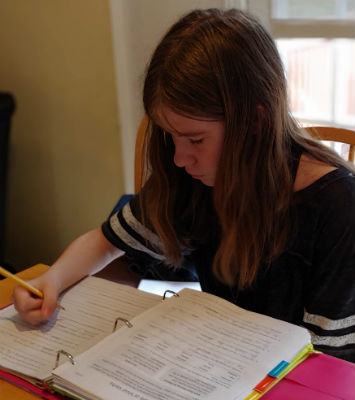 "I like how many different activities there are."
~Miss Enthusiastic
My kids can become very emotionally attached to their own writing. Sometimes this makes it hard for them to make significant changes to improve their rough drafts. Editing and improving sentences in the Building Writing Skills workbook helped them practice the skill without the emotional element.
A Valuable Supplement
Building Writing Skills - Essential Tips & Techniques delivers what the title promises. It is full of tips to help students improve their writing and provides engaging exercises to helps them practice each technique.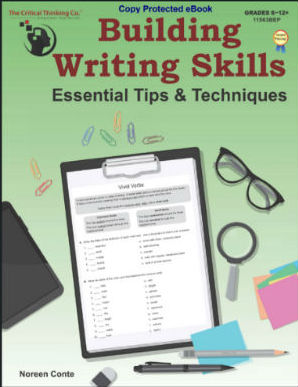 At $12.99 for either the digital or print version of the book, it's quite affordable and worth the investment.
The Critical Thinking Co. is offering free shipping and 15% off of any size order through the end of 2019. Use the code TOSCREW19.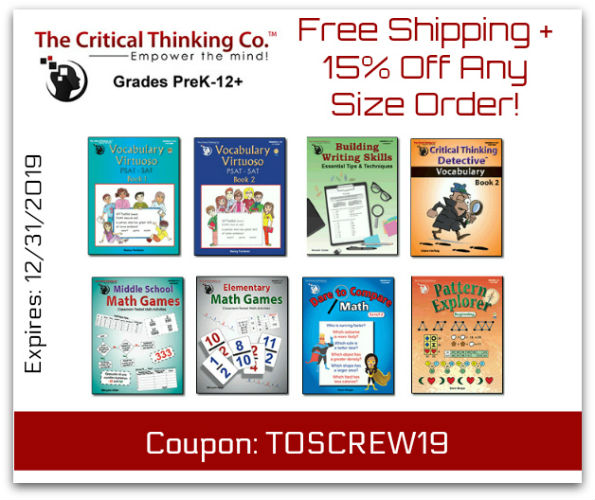 Would you like to peek inside other titles from The Critical Thinking Co.? This time around, the Crew reviewed 8 of their products. Hop on over to the Crew website and read other reviews.