In February, my high school sophomore asked for a quick and easy way to earn college credit. I immediately introduced her to CLEP tests and helped her sign up for an online course to help her prepare. When we received a three-month subscription to Study.com online test prep materials for the CLEP and DSST exams, she and I were both excited. I wanted to give her plenty of options for acquiring the information and many opportunities to review it. The more resources she has available to prepare, the more confidence she'll have, and the better she will do on the actual test.

We could choose from over 60 courses to prepare my daughter to take a CLEP or DSST exam and receive college credit. Since she was already studying for the History of the United States I CLEP Exam, she decided to work on the corresponding prep course.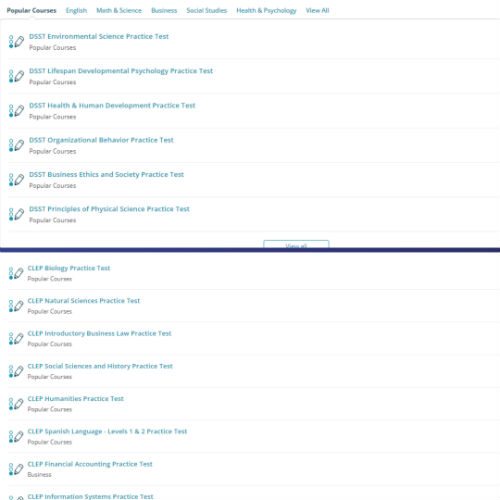 After setting up her account, she took a practice test, which simulates the actual CLEP exam. She was surprised at how long the test actually took. Her score of 26 out of 50 served as a wake-up call. Clearly, she would need to study more effectively in order to pass the official test.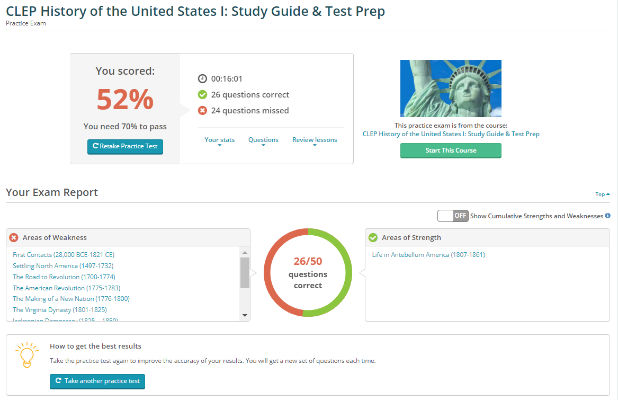 During the review period, I encouraged my daughter to dedicate most of her school time to studying US History. Initially, I had expected her to be able to complete the course as a quick review of what she had already learned. In fact, there was so much new and interesting material in the course that it would take several weeks to complete it.
There are 120 lessons in the History of the United States I CLEP course. In her excitement, my daughter began at the ludicrous pace of 14 lessons on the first day. Over time, she settled into the more manageable pace of three to four lessons a day.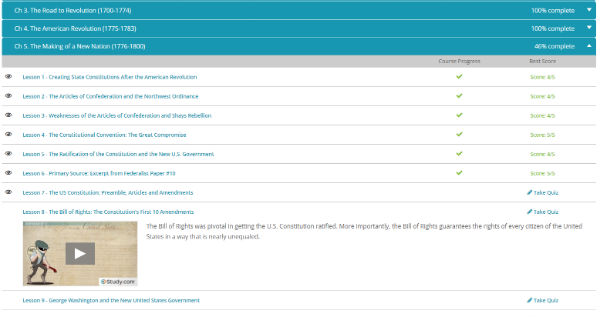 Engaging Videos
Most of the lessons in the course consist of a video, a transcript, and a quiz. My daughter tends to shy away from videos, preferring a textual presentation. But she quickly became hooked on the engaging videos. Rather than featuring a person in front of a green screen, these videos are filled with graphics and animations.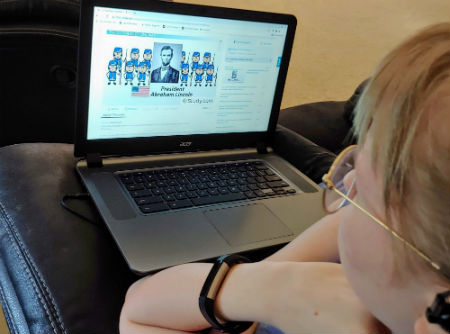 "They seem more like YouTube videos."
She especially loves the variety of visuals, which are truly helping her learn the material. Although she avoided the videos on the other online course like the plague, she is devouring these.
One aspect she dislikes about the videos is the rotation between three speakers. "You never know who will be speaking next, and they have different volumes—some are louder than others."
The variation in sound level is an issue near the end of many of the videos too. A ringing tone signals the beginning of a review section. "The sound is really loud compared to their voice."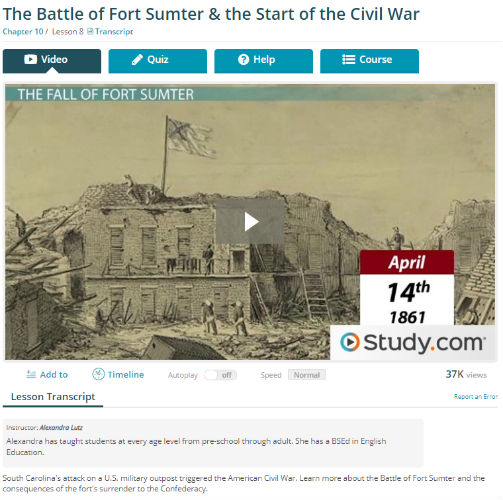 On a positive note, she appreciates that "below each video, it tells you about the person speaking—who they are and what they do. I like it because then I can memorize the voices and names, and it's cool to know what the person does other than narrate for CLEP videos."
If she needs to review the material after watching the video, she can scroll down to read the full text of the lesson.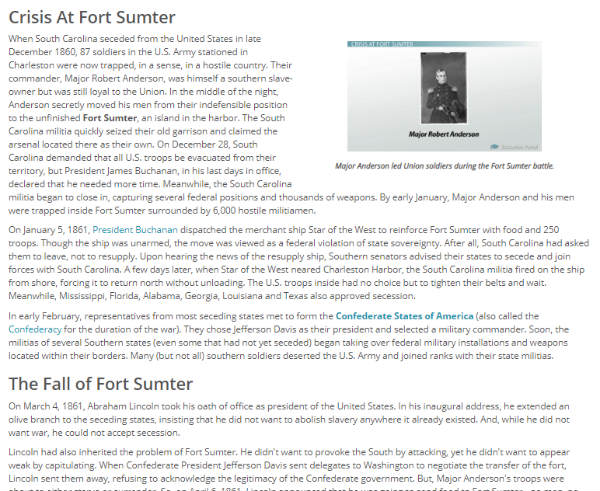 "I like that you can get a transcript of the lesson."
Primary Sources
Several lessons require my daughter to read sections of primary source documents such as the Missouri Compromise, Federalist Papers, Mayflower Compact, and Declaration of Independence.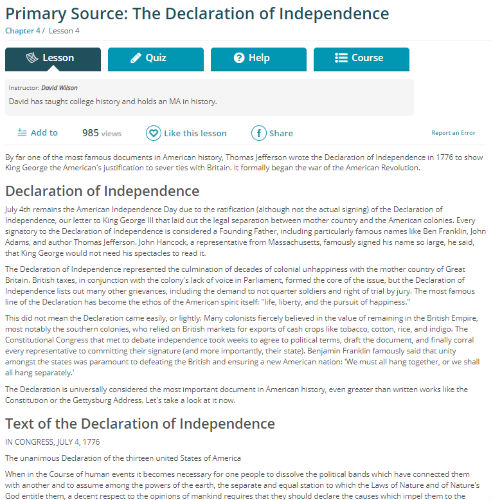 "I think this is a good thing to do, especially if you're someone who enjoys reading about it and not just hearing—being able to read the text that they're quoting instead of just hearing about it."
After reading the document, she completes a quiz to be sure she understands the important points in it.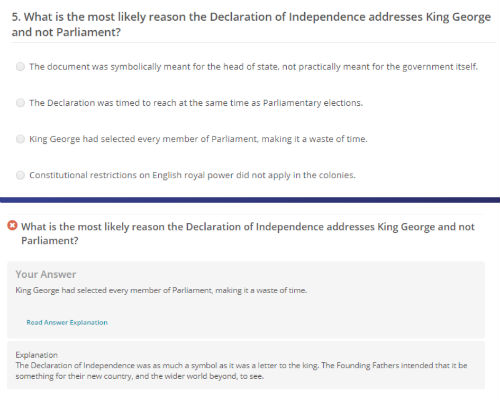 "When you answer a question wrong on the quiz, you can read the explanation, but it doesn't tell you the answer straight out. It's nice, but it annoys me because I like to get straight to the point."
After completing all of the lessons in one of the 12 chapters, she takes a test to review what she has learned. The lessons seem to be much more comprehensive than the free course she had nearly finished.
Flashcards
Two chapters of flashcard sets conclude the course. These will help my daughter recall key vocabulary, names, places, and events she needs to know for the CLEP exam.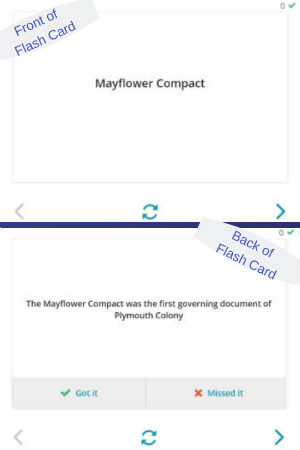 If they reveal an area that needs extra review, she can follow the link below the flashcards to watch the lesson video or read the transcript again.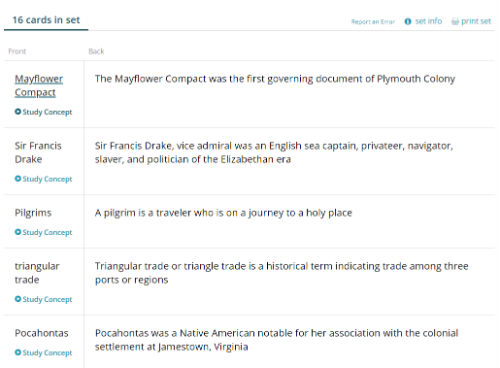 I am encouraging my daughter to use the flashcards for review, but she has not explored them yet.
Excited About History
Sometimes my daughter doesn't volunteer much about what she's learning—I have to pry the information out of her. But after viewing a particularly interesting video in the course, she's apt to share a fascinating fact she learned or ask me a question like, "What do you think of the Bering Land Bridge Theory?"
Early in the History of the United States I course, she paused mid-video to share her excitement about how Wall Street in NYC got its name. Even I learned something new! Did you know there was actually a wall in the middle of New York City during the colonial period?
Just last week, she enthusiastically related the story of how Texas became part of the United States:
"Andrew Jackson had tried to buy Texas from Mexico, but Mexico didn't want to sell it. Andrew Jackson was just like, 'Oh, ok, everyone, go invade Texas and take it!' So then they did. But then he didn't even recognize Texas as a state until the last day of his presidency! And also, he didn't want to say whether it was going to be a slave state or a free state because that could also cause problems."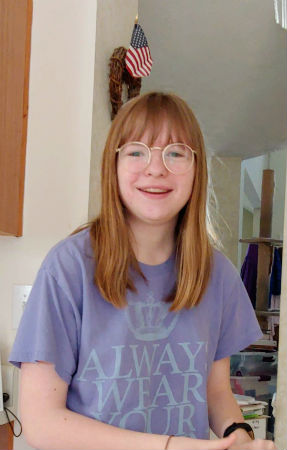 When my daughter was little, I was much more hands-on teaching her, and I always had a pretty good idea of how much she understood. Now that she's studying independently, it can be harder to gauge how much she's internalizing. The fact that she's initiating conversations about history helps me know that she's truly learning. I love seeing her get so excited about school.
A Good Investment?
As you can tell, my high schooler has really enjoyed using the CLEP Exam prep materials on Study.com. The site is professionally produced and provides comprehensive preparation for the CLEP and DSST Exams. Of course, we won't know for sure until she takes her first exam in a few weeks. I'll let you know how that goes!
"It is way better than the free online study options I've tried. It's nice that they have flashcards, practice tests… It has everything you need to prepare for the CLEP tests."
My only hesitation in making a recommendation is the price. When I inquired about the paid membership and discovered that it cost $59.99 a month, I had a mild case of sticker shock. Comparing that to the cost of an average college course, though, it is quite reasonable.

Study.com is offering my readers a 20% discount on the first 3 months of their subscription. Use the code TheOldSchoolhouse.
With a membership, your student has access to all of the CLEP and DSST prep courses and can enroll in several simultaneously. They can move through the material at their own pace, allowing for the mastery necessary to pass the exam and receive college credit. Although I'm not sure whether we will continue our membership beyond the three months we received for the purpose of writing this review, it presents a great option for a motivated student.
Update: My daughter passed her first CLEP test in June. In September, Study.com rolled out a complete homeschool curriculum for grades 3-12. If you are looking for a complete online homeschool solution, it's worth checking out.
Would you like to read more reviews? Twenty-five other homeschool families have been trying out the DSST and CLEP Exam prep courses from Study.com. Head over to the Homeschool Review Crew site to see what they've learned. That page will also give you more general info on the purpose of taking the DSST and CLEP exams.