Last year, my high school daughter struggled to learn Algebra 1 using two different programs. Having little success, we set both of them aside. By the end of the year, I had no idea how she would be able to get through three years' worth of math before she graduates in 2021. While chatting with a homeschool couple, I learned about their family's positive experience using CTCMath. A few weeks later, I was thrilled to have the opportunity to review this online math program.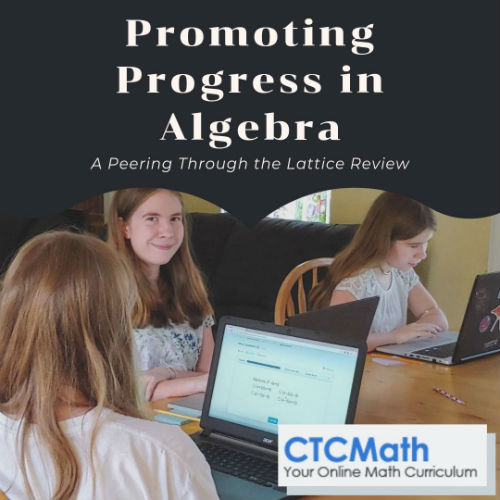 In July, We received our 12-month Family Membership for up to 5 students. I created accounts for my 3 students and assigned them short diagnostic tests. It gave my twins, who are now starting Algebra 2, a chance to review what they learned last year. At the same time, my high school daughter could demonstrate what she knew and earn that evasive Algebra 1 credit.
How it Works
From my teacher account, I could assign various tasks to my students—diagnostic tests, lessons, or customizable question banks. One of CTCMath's videos guided me step-by-step through the process.
I gave each assignment a unique title, selected which student(s) should receive it, and set a due date and time. Being able to assign the same work to multiple students at once was a real time-saver.
When the girls logged into their accounts, they clicked on each task to complete it.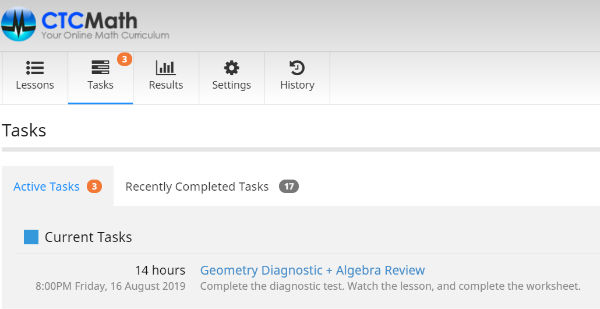 CTCMath emailed me a report when the task expired. (I've blurred my students' names out for privacy.)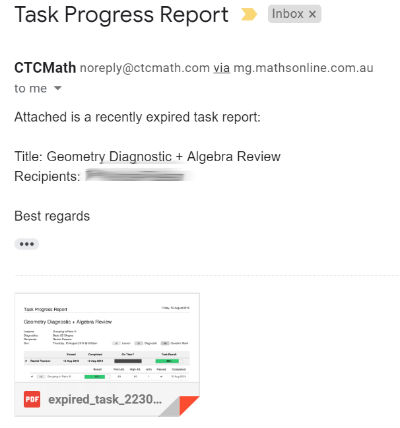 I love being able to see at a glance whether my students completed their work on time and how they did.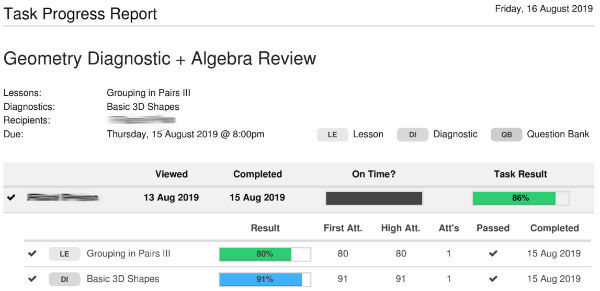 To access more detailed results, I can view Individual Reports on my teacher account. For each lesson, it shows my daughter's problem set and displays a red X by any she missed. The answer she chose is indicated with a checkmark, and a red arrow points to the correct response.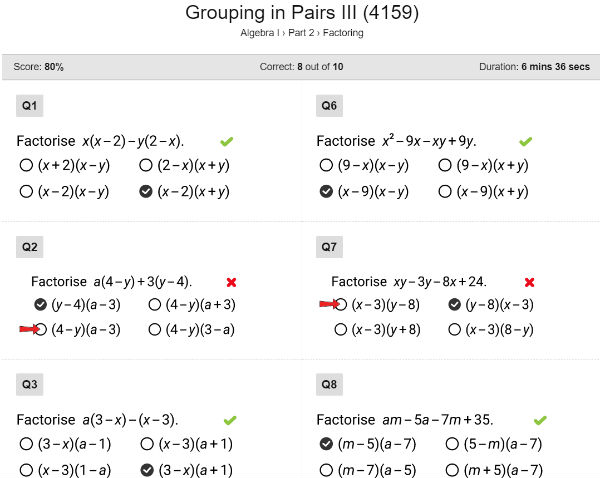 Using Diagnostic Tests
During the review period, we made extensive use of the diagnostic tests for Algebra 1. I expected a single test to cover the entire course, but that's not the way it works for upper-level math. The material is split into 4 parts with diagnostic tests for the 3-5 main sections within each part.
Since I wanted to pinpoint areas for my high schooler to focus on, I assigned her a diagnostic test each day.

I could choose from short, standard, or comprehensive tests. Most of the time, I assigned a short test. In retrospect, I should have selected standard or comprehensive since they offer a better snapshot of a student's understanding.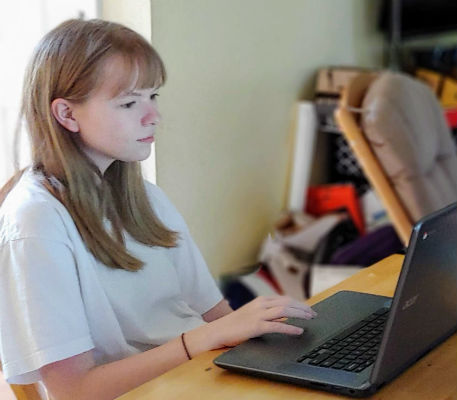 "Some of the exercises are different and take longer to understand. You have to figure it out; it doesn't explain what you have to do."
The Individual Results report is especially helpful for interpreting diagnostic test results. Whether my daughter passed or not, it highlighted her weaker areas so I could assign appropriate lessons.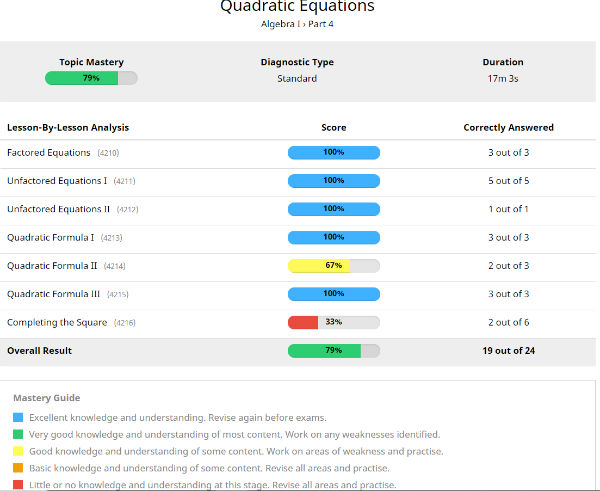 I was disappointed to find that there was not a diagnostic test for every section. Instead of relying on the tests in those areas, I assigned my daughter the questions in each lesson. It took a bit of extra time but accomplished the same purpose.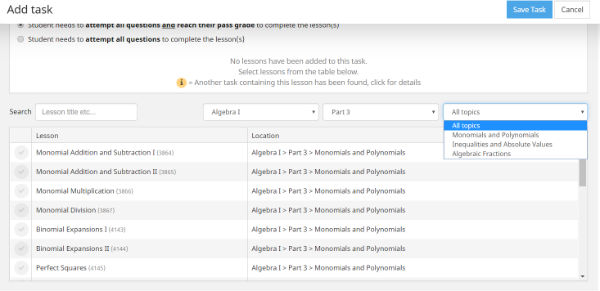 What's a Lesson Like?
Each lesson begins with a short online video which teaches the new concept.
Below the video, a Lesson Summary shows each problem from the video completely worked out.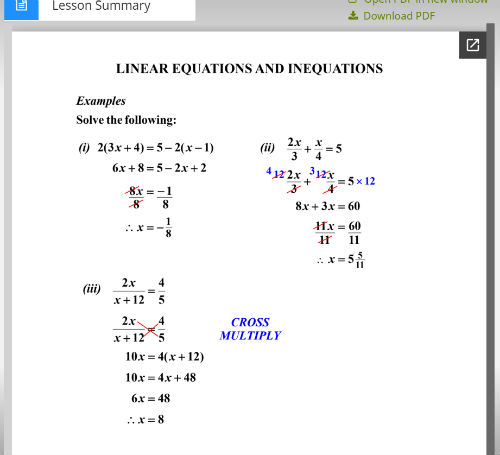 In most lessons, a set of online questions gives students a chance to practice the material.
Printable worksheets provide further practice. Students can use separate paper, if needed, to work out the solutions. At the bottom of the page, they select the letter that corresponds to their answer.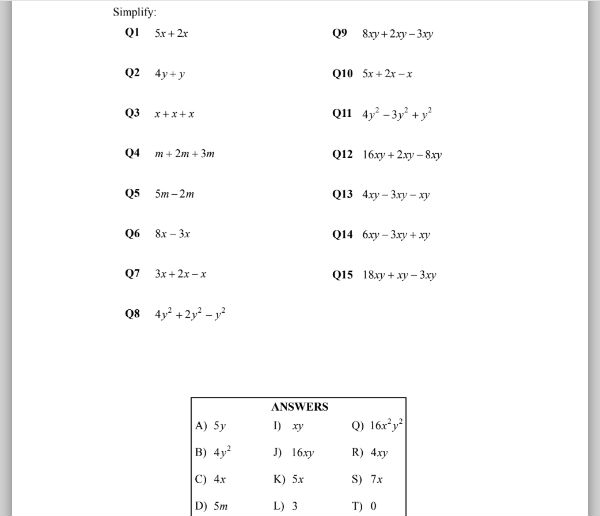 Back on the website, they enter their answers for automatic scoring.

After submitting their own solutions, students can view the correct answers.
Using the Question Bank Wizard
Since my daughter needed extra practice in several areas, I created a customized question bank. First, I selected topics based on her diagnostic test results.
Next, I determined how long and challenging the question bank should be and clicked a button to generate the questions.

The resulting questions were sorted from easiest to hardest and flagged with the title of the corresponding skill. I could add an extra question by clicking the green plus (+) or remove it by selecting the red minus (-).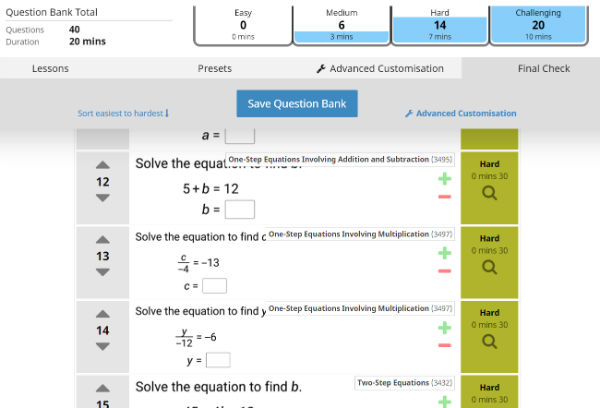 When I was satisfied with the question bank, I clicked the blue button to save it. Returning to the Tasks area, I could assign it to any of my students.
How She's Doing
CTCMath provides a variety of reports to help me assess my daughter's progress. My favorites are the Individual Results report, which I mentioned earlier, and the Summary Report.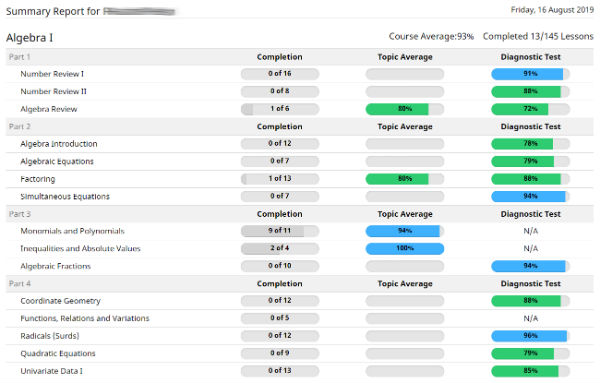 On the Summary Report, I can see her progress at a glance. The Topic Average column reflects her scores on completed lessons. I have only assigned a few of them. She has completed all of the available Diagnostic Tests in Algebra 1.
For two of the areas (marked N/A) that had no diagnostic tests, she completed several lessons to demonstrate her understanding. This report revealed a third area where she will need to do the same thing—Functions, Relations and Variations.
Based on these results, I anticipate awarding her an Algebra 1 credit next week.
Other Aspects We Love
The automatic grading is a time-saver for me, and my daughter appreciates it too.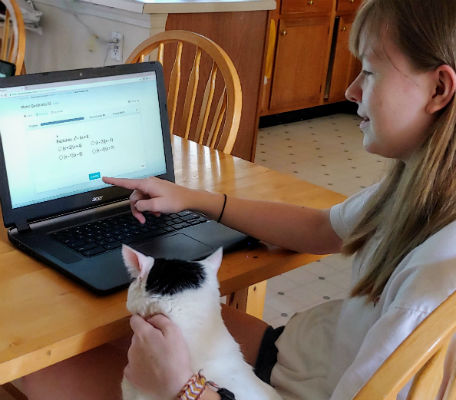 "I like seeing the percentage correct as I do problems."
Each week, CTCMath emails me a weekly report which details my students' progress. It highlights notable achievements for each child and summarizes their activity on the website using a simple chart.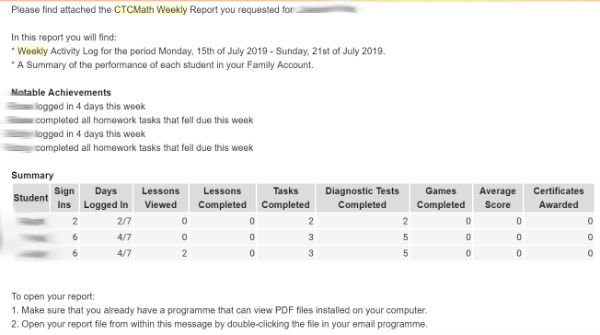 The attached PDF includes a page for each active student. It shows their activity and how many of the assigned tasks they completed.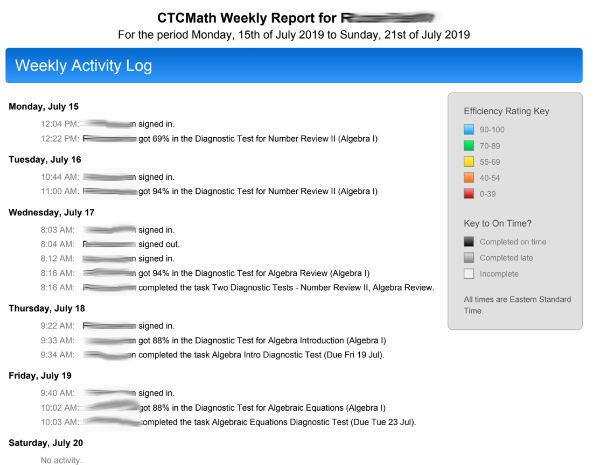 One of the best things about CTCMath is that I can access it on any device. I love logging in on my phone to check my kids' progress.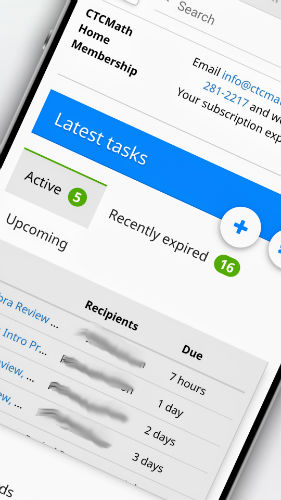 Some Slight Annoyances
Minor Motherly Concerns
No website is perfect. A minor concern is the website's time zone; it is an hour behind mine, and I haven't found a way to adjust it.
Another aspect that bothers me is the default grade level. When assigning tasks or viewing reports for my child, CTCMath defaults to Kindergarten. I have to scroll to the appropriate course on each screen. I would like to be able to specify a default course for each student.
As with any online math program, the digital format discourages my kids from working out problems on paper. Despite my insistence that my daughter use CTCMath at the table with paper and pencil handy, this is a constant struggle.
A Picky Student's Protests
My high school daughter was quick to inform me when any aspect of CTCMath didn't meet her expectations. This time-conscious girl would prefer to know how many questions are on a lesson or test before she begins.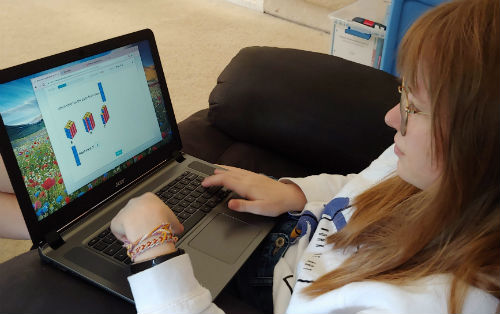 While completing her assigned work, she mentioned that she occasionally sees the same problem twice in a row. She also noted that although she appreciates the progress bar, it is not always correct—it does not accurately account for multiple-part questions.
My daughter complained that the lesson videos seemed boring. "It seems to repeat itself over and over again," she grumbled. She would prefer to see all the steps at once since she can usually figure out how to solve problems that way. Even after drawing her attention to the Lesson Summary, she still was not completely satisfied.
Will We Keep Using CTCMath?
Now that summer break is over, the twins have returned to the textbook-based math program that works well for them.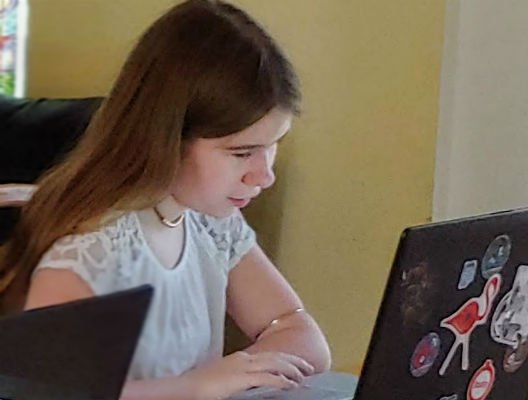 "I honestly like [my textbook] more because it shows all the steps on paper. That's really helpful to me because I'm visual."
~an 8th-grader's perspective
Her twin sister wishes CTCMath would provide an online scratchpad like the program she used last year.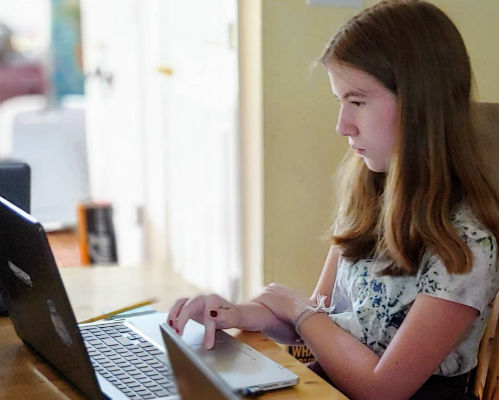 I wish I had discovered CTCMath two years ago when my high schooler first started struggling with algebra. The simple video explanations and straightforward practice problems may have helped her succeed where other websites and textbooks failed. For the foreseeable future, CTCMath will be her primary math curriculum. Despite her complaints, she is making amazing progress.
"So far, it's better than other curricula. [Another online course we used] teaches better, but this is a better way to test your knowledge and show that you know how to do it."
~my high schooler's opinion
Is CTCMath Worth the Investment?
Since we had used an online program before, I was skeptical at first. Would CTCMath be easy to use? It is. Would the teacher tools allow me to customize the course for my child? They do. Would the explanations be thorough enough? They are simple, yet thorough.
Costing only $148.50 for a 12-month Family Membership, CTCMath is very affordable. For families with multiple students in need of a solid math program for any level, CTCMath is a steal since the membership provides up to 5 student accounts. It includes a complete math curriculum from Kindergarten through Calculus.
The site is constantly being improved. The Question Bank Wizard and the Individual Results report I mentioned earlier are both new features.
Although CTCMath may not be ideal for every child, I recommend it for struggling students like my high school daughter. It could be indispensable for parents who lack the background to explain advanced math to their high schoolers. If math leads to frustration and tears, CTCMath is definitely worth a try.
This summer, sixty homeschool families reviewed various levels of CTCMath. What did other moms think of the program? Read the reviews for the full scoop.