For ten years I relied on the same homeschool recordkeeping software. Then one day my computer died. Although my husband was able to rescue my files, the program couldn't run on my new Chromebook. I created a temporary solution with an online database app. When I finally upgraded my computer, I reinstalled my favorite software. Using it once again felt like coming home.
Last month, I had the chance to review My School Year Homeschool Record Keeping, a website designed for planning and keeping homeschool records. Even though I was happy with our current solution, I decided to try out their Annual Membership Plan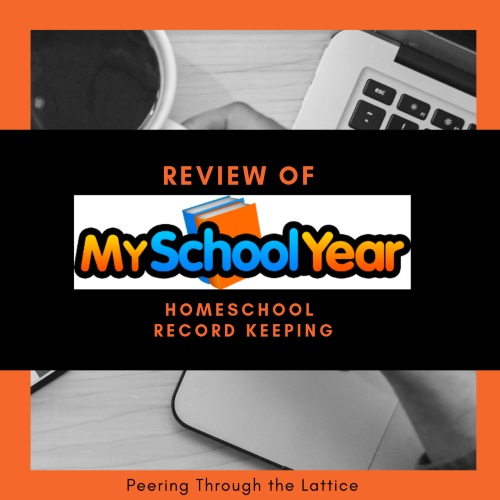 Setting Up My School Year
Getting started was easy. I created an account, logged in, and allowed the Registration Wizard to guide me.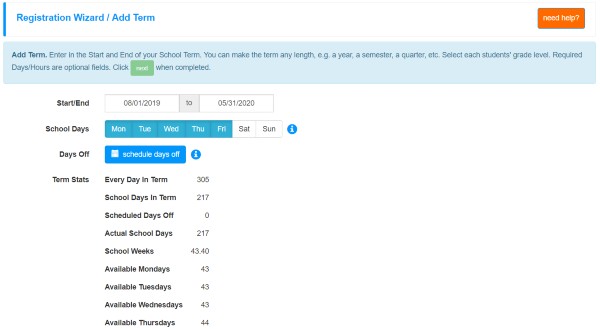 The on-screen directions made creating a school term simple.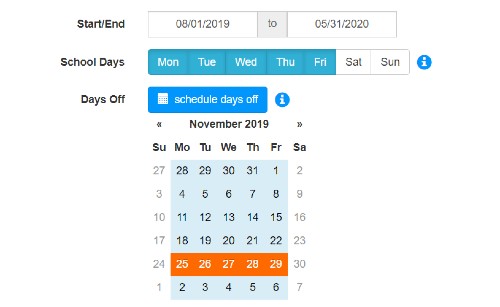 After adding my students, I took a break.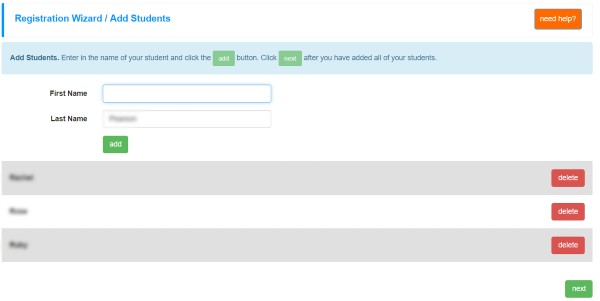 Training Videos Are Essential
As with any powerful software, there's a bit of a learning curve. At first, The complexity of the online system intimidated me. The menus were hard to navigate; I couldn't figure out how to enter classes and assignments by simply clicking around.
When my daughter hijacked my computer to play Minecraft one Saturday, I watched one of the instructional videos on my phone.
Unfortunately, my screen was too small and the instruction too fast. I couldn't make sense of it at the time.
Later, I tried again on my computer. Though the details were still a bit hard to see, I could pause the videos and use a separate window to try things out on the website.

I was beginning to make progress. I learned the purpose of each menu item could finally assign courses to each child.
Since I had already entered most of their assignments into my other homeschool software, I copied and pasted between apps. Thankfully, My School Year provides a way to copy assignments from one student to another. This was very helpful for giving identical assignments to my twin daughters.
It was simple to generate numbered assignments using Create-A-Plan. For our math program, I entered the number of lessons in the book, our start date, and the word "Lesson."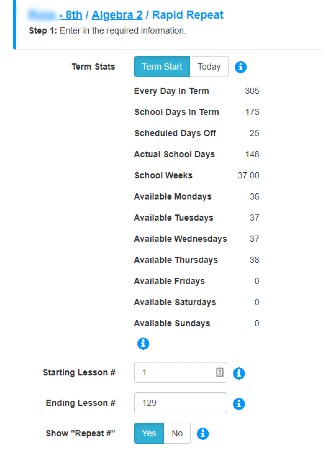 I could even choose which days of the week work should be assigned.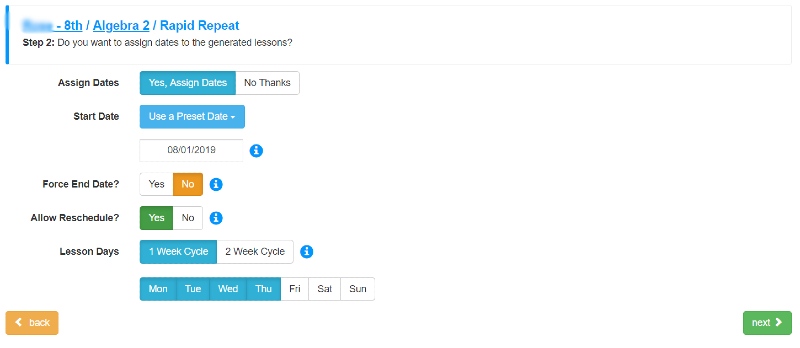 With the click of a button, 129 assignments were created and dated.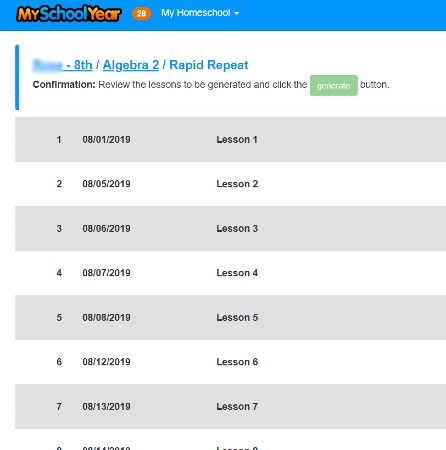 The next screen allowed me to copy them to my other students.

Learning Advanced Techniques
When scheduling our grammar curriculum, I wasn't quite certain how to proceed. In my other software, I was an expert at creating two-part assignment titles in a format like "Week 1, Day 1". Clicking on the help menu item, I found a guide to help me do the same thing on My School Year. I downloaded the PDF and followed the directions to create the assignments.

Student Access
Last year, I used our homeschool software to print a single-page, streamlined chart of each student's weekly assignments. Would My School Year offer a similar format?
I explored the Report options. The Lesson Plan Report was the only one that looked promising, but it didn't do what I wanted it to.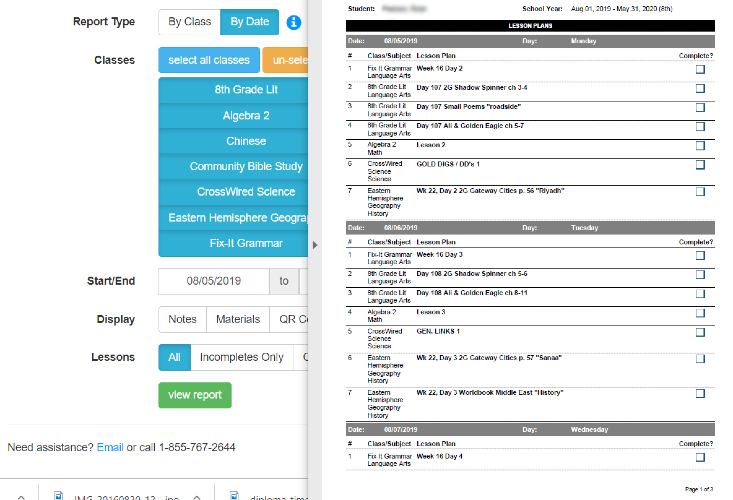 Next, I checked out the Calendar menu item. The icon at the top right of the calendar indicated that it was printable. Selecting the Weekly View, I clicked on the icon and printed it to a PDF. Though it easily fit on one page, I couldn't read most of the assignments.

Switching to the Agenda view, I tried again. Although the resulting printout was readable and concise, one student's assignments wouldn't fit on a single page.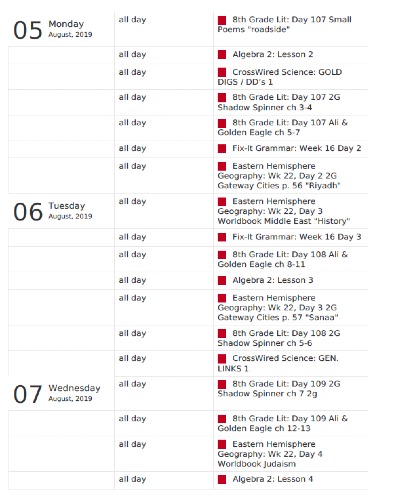 I was frustrated and disappointed. For a few days, I simply used our whiteboard to write out the girls' assignments.
An Unexpected Compromise
My School Year sends me weekly emails alerting me to various features on the site. When I read about setting up student logins, I was intrigued. Was this the solution I was looking for?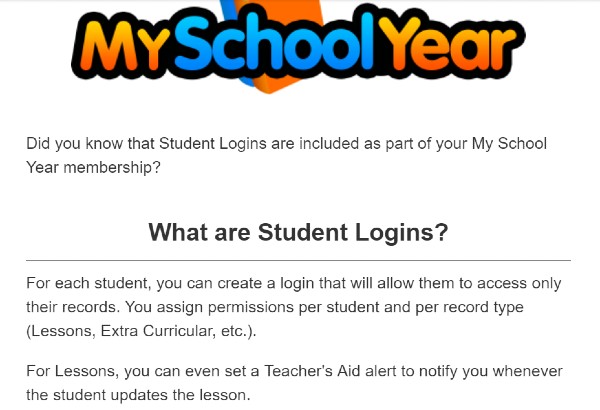 It was! I could totally bypass the step of printing out assignments and allow my students to access them on their devices. My School Year could even email them their daily or weekly assignments.
My high schooler can see her assignments using her phone's browser.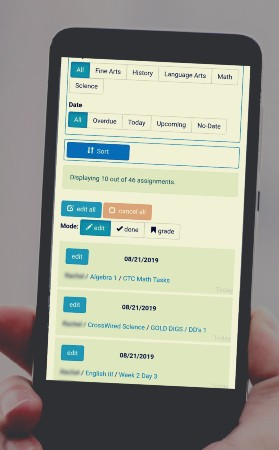 The twins use their laptops. After completing each task, they can even mark it done. My life was getting simpler every day.
Reading Lists
I had never used the Reading List feature of my previous software because I couldn't keep up with what the girls were reading. Would My School Year help me stay up-to-date?
Since my high schooler had started reading Romeo & Juliet, I typed that in. Then I asked her to create a list of classics to read for school this year. I added the titles to her My School Year Reading List and assigned a due date for each of one.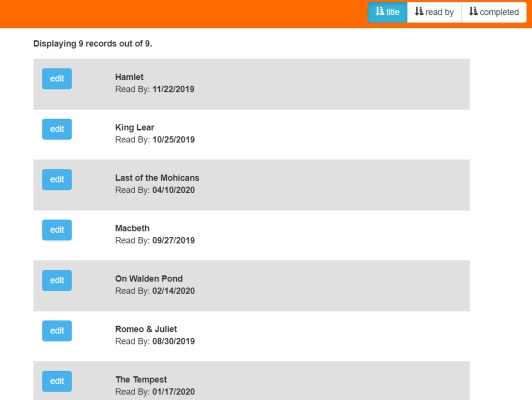 I also entered the library books the twins were reading. After giving the girls access to My School Year, I encouraged them to add to their reading lists. The twins, who are voracious readers, love this feature.
Other Useful Features
Email Alerts
Besides weekly feature alerts, I receive other helpful emails from My School Year. On Monday mornings, My School Year's Teacher's Aid sends me a list of the week's upcoming lessons. Daily lesson emails every morning specify each student's work for the day.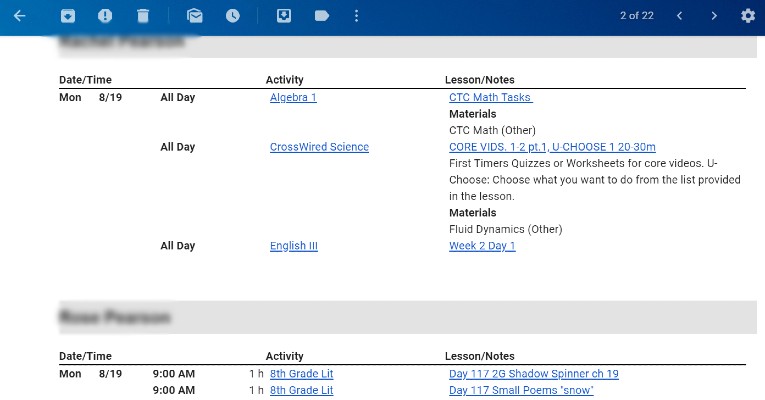 Planbook
In the Planbook, I can see incomplete current and upcoming assignments. I can switch modes to mark assignments done or even assign a grade.

Attendance
With My School Year, I don't have to lift a finger to record my students' attendance. It's recorded automatically when we mark assignments as complete.

Standardized Test Results
Are your student's standardized test scores scattered in different locations like mine were? My School Year provides a place to consolidate the records.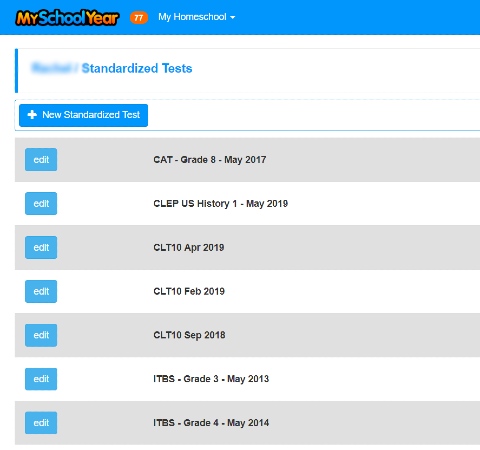 Extracurricular Activities
There is also a section for keeping track of each child's extracurricular activities. It's perfect for recording volunteer work, clubs, and other activities.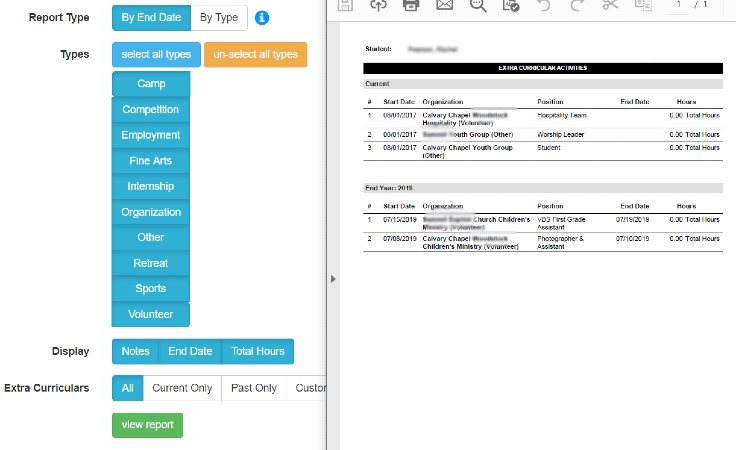 Reports
Printable reports provide quick access to the details. This will make applying for a job or college a piece of cake.
Disappointments Along the Way
It took me several weeks to grow accustomed to My School Year. I soon learned how to do tasks that had become simple in my previous software. Along the way, I encountered the occasional glitch.
Lesson Order Mix-ups
While editing some of our Core literature and geography lessons, some of them randomly reordered themselves. Thankfully, there's an option to reorganize them.

Reordering seemed kind of buggy to me. It was hard for me to tell where the lessons would end up. Often they did not land where I expected, so I had to try again.
No Twin Copy
After painstakingly entering all of those lessons for one daughter, I attempted to copy them for her twin sister. At first, the copy feature assigned one lesson per day.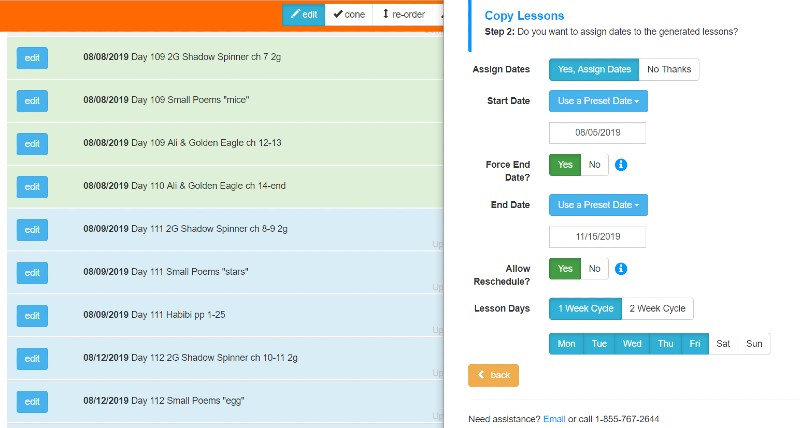 When I set a solid end date for the assignments, the lessons almost lined up. Unfortunately, the website split assignments up based on how many there were, not according to the due dates on the first twin's tasks.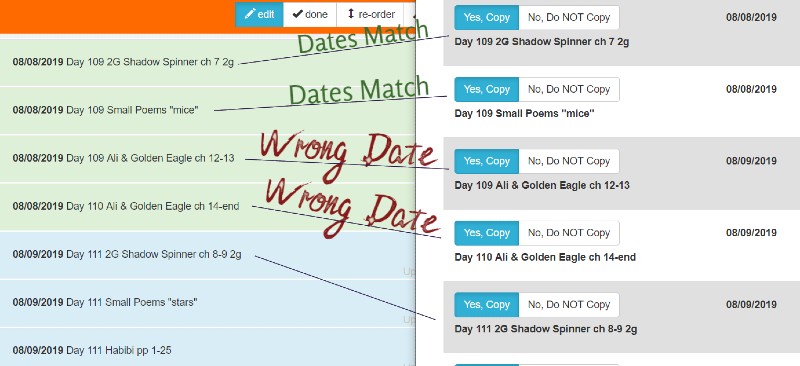 I emailed My School Year Support regarding this issue. Adding a twin copy feature like this is on their development to-do list.
In the meantime, I could get around this issue by combining each day's tasks into one assignment. However, I like giving my girls the option to check off each task as they complete it. I ended up manually adjusting the dates—a time-consuming process I don't recommend.
Other Missing Features
View By Class
Last year, I loved being able to view and edit assignments for multiple students according to subject or course. This feature enabled me to quickly reschedule an entire subject for every student with just a few clicks. I can find no corresponding feature on My School Year. When we decided to delay science until the third week of school, I had to reschedule lessons for each of my three of my daughters separately.
Add Class from Create-A-Plan Share
After using Create-A-Plan to generate lessons for one of the twins, I clicked the option to share them with her sister. The problem was that I hadn't created the class for her sister yet. Since the class dropdown gave no option to create a new class, I had to interrupt the process and create the class individually.
Copy Class
My three girls have identical classes and assignments for three of their subjects. The twins' work is the same for every subject. I had to set up each class separately. It would save time if I could copy class information to other students.
Other features, like a Bulk Delete option, exist but are harder to find. Discovering all of the features My School Year offers requires time and persistence
Should You Check Out My School Year?
If I had written this review three weeks ago, I may not have recommended it. At that point, I planned revert to my previous software by the end of August. But as I continue to gain experience with the website, my old recordkeeping software lies dormant.
Now that I am familiar with the features on My School Year, it has become easier to use. Even the Create-A-Plan tool, which once appeared complicated, now seems simple.
My School Year is a powerful online recordkeeping system which is continuing to improve. Their Annual Membership Plan is $50 for the year. A monthly subscription is $5. My School Year also offers a free one-month trial so you can try it with no obligation.
Do you need a robust system that allows you to give your students full or limited access to their records? My School Year Homeschool Record Keeping is worth checking into.
Forty-five crew members reviewed My School Year this summer. Read their reviews on the Homeschool Review Crew Website.