Because my twins appreciate novels full of adventure and suspense, we leaped at the chance to review Britfield & the Lost Crown. We could choose the ebook, audiobook, or traditional softcover edition. My daughters, who love the smell of new books and the feel of flipping actual pages, requested the paperback.
Britfield provided the perfect warm-up for our homeschool year. Set in present-day Britain, the fictional novel incorporates aspects of British culture and history. An 83-page study guide, available for free online, outlines eight weeks' worth of literature lessons based on the story. Since we hadn't yet started school, I read the book aloud so the twins and I could enjoy it together.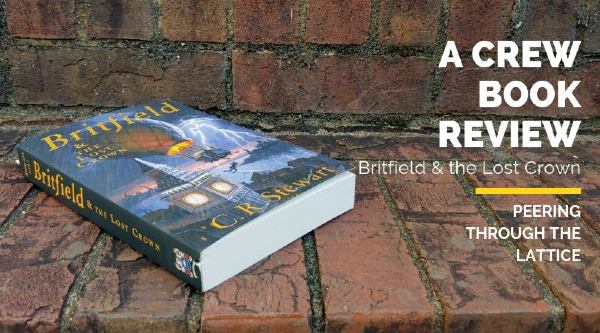 The Story
As the novel opened, we met Tom and Sarah, who lived in Weatherly Orphanage. Provided with merely one meal a day, every orphan at the nightmarish institution worked from dawn to dusk and beyond. While the boys built furniture, the girls wove baskets. All of their handiwork was sold to benefit the couple in charge. Every orphan dreamed of escape.
The aptly named Mr. and Mrs. Grievous, who ran the establishment, were motivated by greed. One day, while trying to manipulate Tom to tattle on his friends, Mr. Grievous teased him with a tantalizing tidbit: his parents may be alive! Armed with this information and a one-word clue a friend found in his file, Tom and his friend Sarah ran away from Weatherly.
The quest to discover Tom's true identity and find his parents led the two orphans south toward London. Their adventure was anything but easy. Constantly looking over their shoulders, the two tried to outsmart a famous detective whose mission was to return them to Weatherly.
At the train station, the orphans were nearly captured. Making their escape on foot, they climbed into a hot air balloon. Despite Sarah's fear of heights, they detached the ropes and soared into the sky.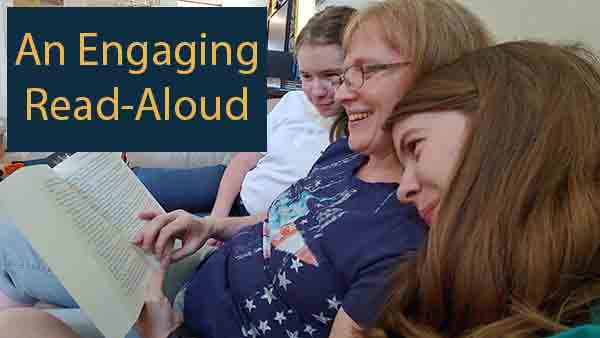 Their adventures took them from Yorkshire to Oxford. From there, they continued on to Windsor Castle, London, Canterbury, and other places. Photos and maps on the Britfield website helped us visualize each location.
Along the way, several people offered Tom and Sarah assistance. But how could they know whom to trust?
With Tom and Sarah soaring to unexpected heights, exploring unfamiliar territory, and dodging bullets, Britfield & the Lost Crown was packed with adventure. The twins kept begging me to read more. Since I was just as anxious to find out what happened next, I gladly continued.
Although the book's ending was satisfying, not every question was answered. We are looking forward to following Tom and Sarah as their adventure continues across the English Channel in the next Britfield book.
Twin Perspectives
While writing this review, I asked my twins to share their thoughts on Britfield & the Lost Crown. My younger daughter shared her opinion first: "I love love loved it! It was interesting, engaging, suspenseful and full of adventure.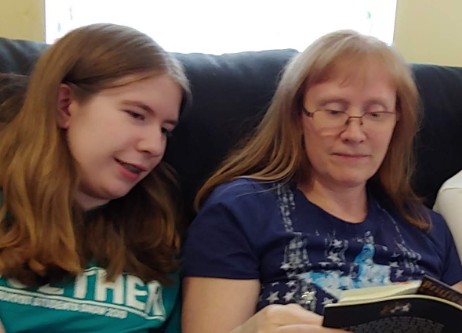 "I like how an apparent adversary ended up being a friend. I loved how it kept me guessing whom you could trust."
Her favorite character was Sarah. Why? "Because she's one of the main characters, and I can relate to her best because she's female. I loved her sense of humor and I could sorta relate to her fear of heights."
The older twin shared her opinion next: "At first, I didn't like it, but once we started getting into the chapters in the middle, I didn't want you to stop reading. It was really nice and interesting, and it drew me in."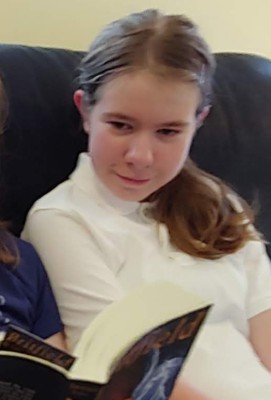 She especially liked how well-developed the characters were and appreciated the author's descriptive character sketches.
Her favorite character was Tom. According to her, "He was very interesting. I would definitely not do the things he did, but that makes him a better character. He's way more adventurous than me."
Mom's Analysis
The language of the story flowed wonderfully, making it an enjoyable book to read aloud. Since there was a good bit of dialogue, I could experiment with various voices and accents.
As a homeschool mom, I despise books with grammatical errors. I couldn't find any in Britfield & the Lost Crown. Instead, I found excellent examples of character sketches, which were well placed. One of my favorites introduced an Oxford professor six pages before Tom and Sarah met him: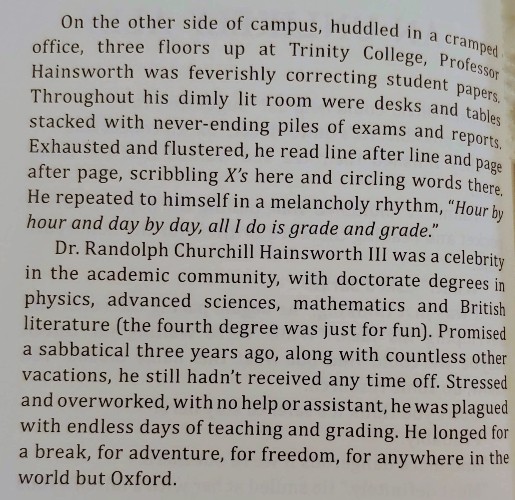 The novel was well-paced. Periodically, the author revealed what was going on in other locations in the story. Just when we became wrapped up in what was happening with Tom and Sarah, we'd be whisked back to Weatherly for an important update. Then we would rejoin them on their adventure.
The Study Guide
A free study guide for Britfield & the Lost Crown is available online. Although we opted not to use it, I skimmed through the file and was impressed. It provides everything necessary for a complete study of the novel.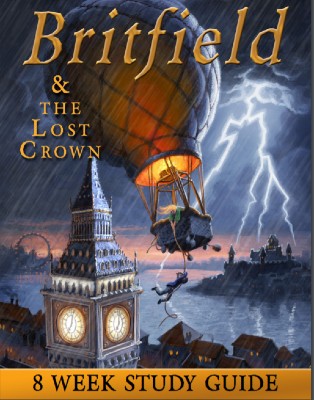 There is a short unit of worksheets for every chapter or two. Vocabulary activities help students practice unfamiliar words from the novel. Parents can ask comprehension questions to evaluate their children's understanding of the story. Additional questions require deeper thought, prompting students to imagine themselves in similar situations to Tom and Sarah. Each unit also contains research activities which challenge children to learn more about the novel's context.
The study guide concludes with activities to explore the plot, conflict, characters, and theme of the book.
Enjoying Britfield
Britfield & the Lost Crown appeals to tweens and up. My 19-year-old son seemed to enjoy the chapters he had time to listen in on. Unfortunately, his work schedule overlapped with our read-aloud time most days.
Are you ready to invest in your own copy? The paperback edition costs $16.99, and the Kindle version is $9.99. If your kids are like mine, you'll want to splurge for the physical book. It is also available in hardcover and audiobook formats. You can purchase any of these versions from the Britfield website.
Seventy-five homeschool families reviewed Britfield & the Lost Crown this month. Did they enjoy it as much as we did? You can read their reviews on the Homeschool Review Crew Website to find out.