How do I prepare for a trip to a foreign country? Learn to speak the local language. Before traveling to Russia 20 years ago, I used a Berlitz course to study while my babies napped. Since foreign languages fascinate me, it was a small sacrifice, which was richly rewarded during my overseas trip. When I introduced myself in floundering Russian to a camp full of kids, their enthusiastic cheers astonished me.
Ever since our family began considering a trip to Taiwan, the twins and I have been studying Chinese. We would love to communicate easily with the locals while visiting. As our departure date approaches, I've increased my language study time. Although my initial efforts focused on understanding spoken Mandarin, I've begun learning to read and write Chinese as well. It's been an adventure.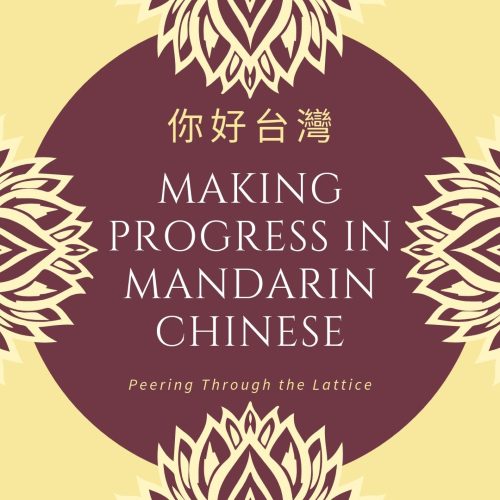 In my quest for the best language study resources, I tried several promising apps and websites that were disappointments. Others have helped tremendously. Read on to find out which ones are keepers.
Duolingo
My favorite resource for beginners is definitely Duolingo. Available as a mobile app or in a web browser, Duolingo helped me quickly associate characters and sounds in context. Short grammar lessons are available for every skill.
Related Content:
Language Learning with Duolingo

It took several months to become familiar with every skill in the app. Now I'm reviewing the material to master it more fully.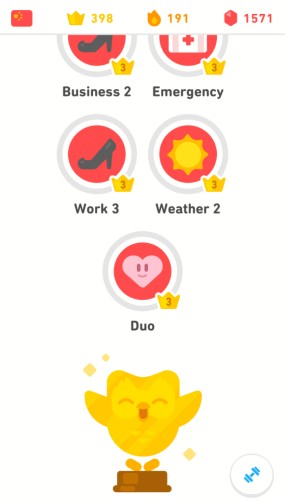 Although Duolingo is an incredible resource, it does not entirely meet my needs. It only introduces simplified characters, which are used in mainland China and Singapore. Taiwan uses traditional characters, many of which are more complex. Also, the app does require me to talk out loud or give feedback on my pronunciation so I can improve my fluency.
Rosetta Stone
Rosetta Stone was too challenging for my initial language study. The program's immersion approach associates words with pictures shown on the screen. There are no English translations. Without the skills I needed to look things up in a dictionary, it was difficult to understand what the software was trying to teach me. After several weeks of slow-going, I shelved the program.
Having reached the final skill on Duolingo a few weeks ago, I decided it was time to try Rosetta Stone again. I'm glad I did. Now that I have a rudimentary vocabulary, the program is much more understandable. In the first few days, I was able to fly through lessons that previously seemed impossibly challenging. A couple of weeks later, I had completed Level 1, which is equivalent to an entire year of language study.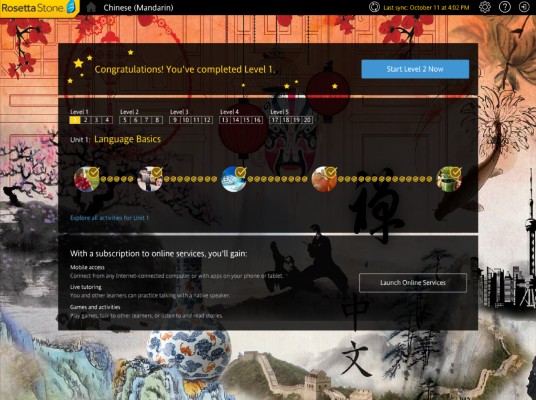 Rosetta Stone's immersion method is perfect at this stage. A variety of exercises help me develop a more complete understanding of the language. Each lesson provides plenty of practice in reading, writing, and speaking Chinese related to a particular theme.
The speaking exercises have been particularly challenging since the software compares my pronunciation with that of a native speaker. I'm gradually getting the hang of it. My husband, who lived in Taiwan for several years, recently remarked that he can understand me when I speak Chinese while using Rosetta Stone. That's high praise from the man who cringed at my awful mispronunciations and tonal faux pas just a few weeks ago.
This week, I added a new level of challenge to my studies on Rosetta stone. Many of the exercises allow me to follow along in my choice of romanized (phonetic) Pinyin, traditional characters, or a combination of the two. I started with Pinyin then switched to the combination display early on. This week I swapped to seeing only traditional Chinese. Surprisingly, I adapted pretty quickly, even in the speaking activities, where I had been relying heavily on the Pinyin to help my pronunciation.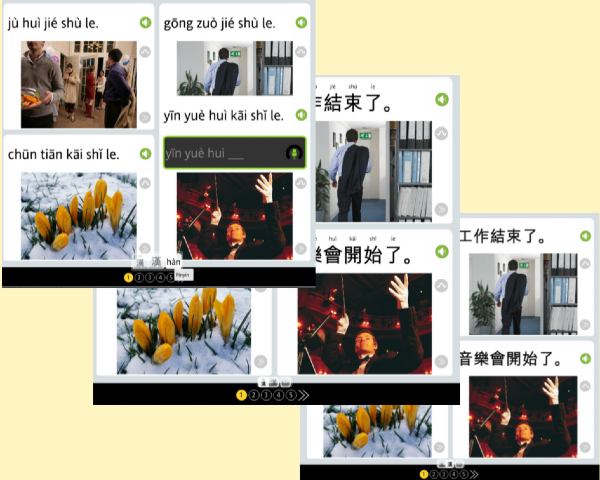 Arch Chinese
When Rosetta Stone introduces new vocabulary that I can't readily understand, I use a dictionary on the Arch Chinese website. Entering the Pinyin from Rosetta Stone, I can readily find the English translation.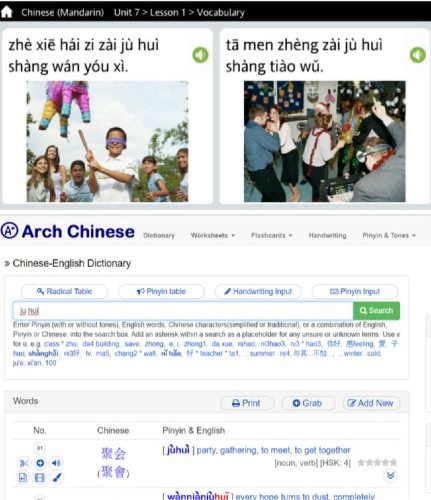 Arch Chinese includes both traditional and simplified Chinese. As a result, I can link what I learned in Duolingo to the more complex characters I'm picking up in Rosetta Stone.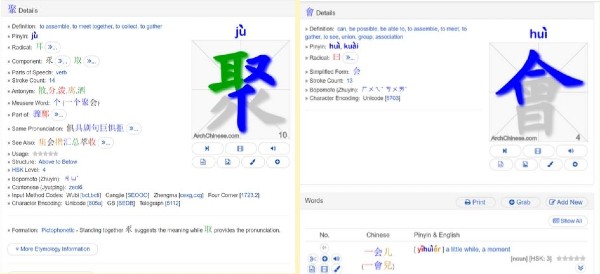 As I'm becoming more interested in the characters, Arch Chinese is an excellent tool for helping me learn how to write them. Animations show how to form each word. I can even select the paintbrush tool to practice the proper stroke order.
Chalk Academy
While searching for printable worksheets to help me learn to write Chinese characters, I discovered the Chalk Academy blog. Betty Choi, a Chinese-American homeschool Mom, wants her young children to be multilingual. On her blog, she shares some of the activities she uses for teaching her kids Chinese. She also shares worksheets she created for learning to write the most common Chinese characters.
Her worksheets are invaluable. As soon as I saw them, I printed them out. Although I chose to reduce the pages to ½-size to save paper, I recommend printing them full-size. Some of the characters are quite complex and very difficult to learn to write in such a small space.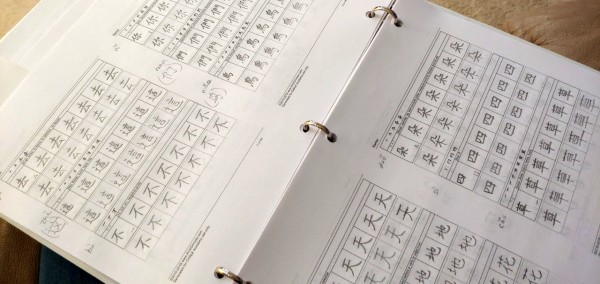 Each day, I practice writing six characters. Using the Arch Chinese dictionary, I look up the components of the character, so I can more fully understand the structure and meaning. I also draw the simplified version of the character if there is one.
When my twin daughters saw me using the worksheets, they were excited to try it too. I printed out a full-sized set for each of them, and they enjoy using them to practice.
Pleco App
Several months ago, I downloaded the Pleco Chinese dictionary app for my phone. It sat there unused until I began learning to write Chinese characters. That's when its drawing input caught my eye. It provides the perfect opportunity for me to practice forming each character. How well did I do? If the character I was attempting to write appears at the bottom of the screen, it's a win!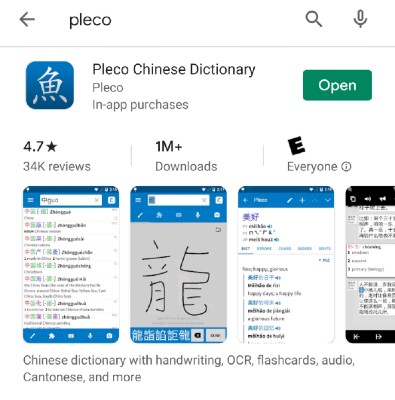 Sometimes I celebrate my success prematurely. Assuming I drew the character accurately, I look it up and discover that the pronunciation or definition is different than I expected. I actually wrote it wrong.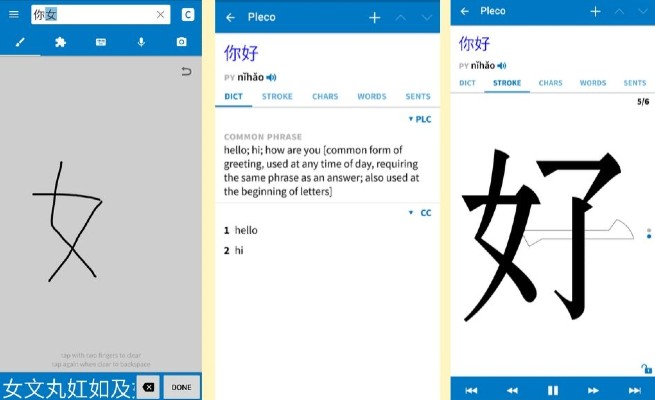 Some Chinese characters seem indistinguishable to the untrained eye. Studying the word carefully, I note subtle differences, watch Pleco's stroke animation, and try again. This provides unlimited practice without the constraints of paper. When the twins noticed my excitement about using the app to practice writing Chinese, they wanted to try it too.
Immersive Learning
The best way to learn a language is to immerse yourself in it. That's what I'm attempting to do between now and our departure date. I want to be able to understand Chinese when I arrive in Taiwan. Although I'm making tremendous progress in the language, I fear that I'll be dumbstruck when my skills are put to the test. Fortunately, I'll have six weeks in Taiwan to continue making progress.
Have you studied Chinese? What are some of your favorite language study tools?