Colorizing old photos fascinates me. Last week, I discovered MyHeritage in Color™, a tool that quickly adds color to black and white images.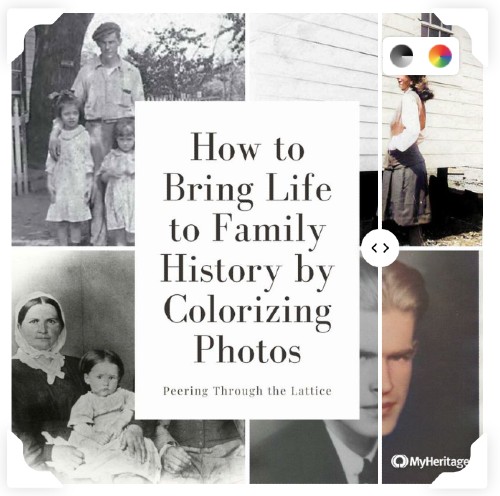 Initially, I raided my husband's collection of family photos for images to colorize. This week, I turned to my own side of the family. Using my family tree on Ancestry, I searched for promising pictures. Which types of images produce the best results? And how can I confirm the accuracy of colorized features in the photos?
Colorize Crisp, Clear Portraits
Scanning through my online family tree, an image of my grandfather caught my eye. Although I remembered him as a gray-haired entrepreneur, this picture was from his younger years.
Richard Perry Beckley, Sr (1912-1998)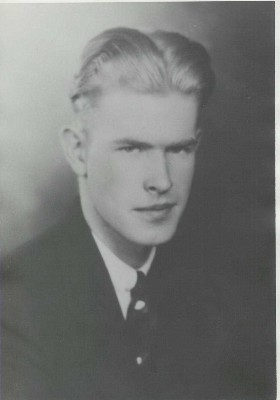 Although there was significant shadowing in the image, the facial features were distinct. Anticipating good results, I uploaded it to MyHeritage in Color™.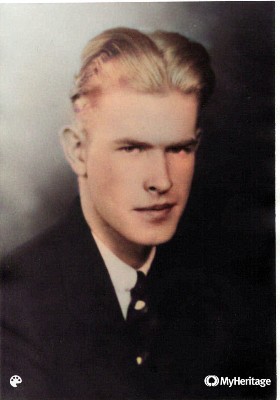 The results were impressive. The image staring back at me bore a strong family resemblance to my brother.
Check accuracy with Draft records
As I discovered last week, the colorized images may not be completely accurate. Since my grandfather was a young man at the time of the World War II draft, I searched for his Draft Card to see what features I could confirm. I eventually found the record (though not an image of the card itself) on FamilySearch.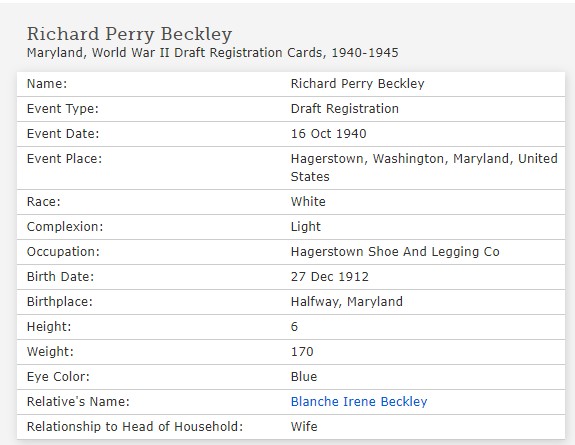 Nearly 28 years old at the time of the draft, he had a light complexion—an aspect clearly represented in the resulting image. Often, draft records will also include the subject's hair color. This one, however, did not. The blue of his eyes is indistinct in the colorized portrait. Since eye color can vary so tremendously, it makes sense that MyHeritage in Color™ would not colorize this feature.
Compare with Professionally-Colorized Images
Gazing at the quickly colorized image, I thought I had seen it in color before. As it turns out, my parents had this photo and a picture of his wife, Blanche Irene Brant, professionally colorized. An expert had created a composite image of the two and added color.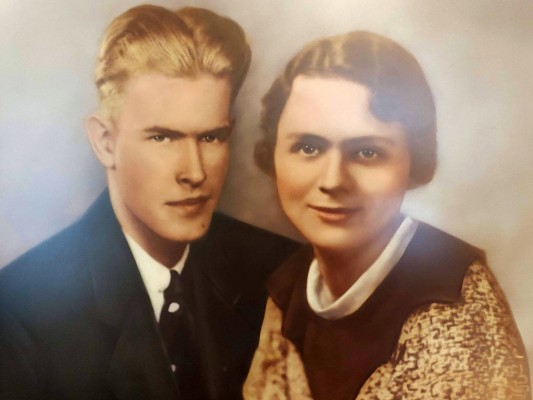 Although MyHeritage in Color™ did not produce as accurate an image as a professional might create, the results are much faster and didn't cost me a penny.
Choose Candid Outdoor Photos
I always appreciate the natural light of outdoor photos. While searching for images, I found one of my grandmother, Sarah Hale, standing outside. Although she may have posed for the picture, her stance seems natural.
Sarah Eleander Hale (1925-1994)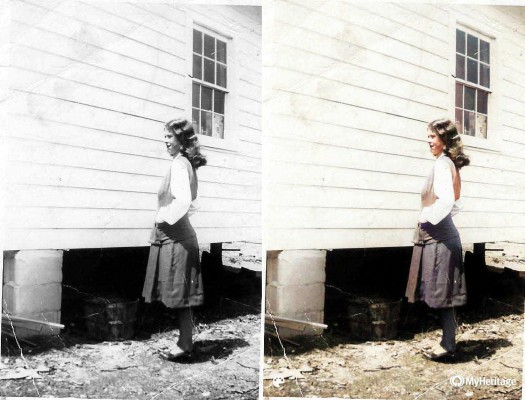 Quickly colorizing it, I appreciated the result. Just like the image of my grandfather had reminded me of my brother, this one made me think of my own mother—perhaps even myself.
Sarah lived much of her life in North Carolina. This picture was probably taken during the 1940s at Mill Village in Warrenton, North Carolina, when Sarah was pregnant with one of her three children. The outdoor setting gave me a sense of connection with my grandma, especially after adding a bit of color to it.
Include Buildings in the Background
Returning to my Dad's family line, I found a picture I had seen at the C & O Canal Visitor's Center. The photo features my great grandfather and his two daughters standing in front of their lockhouse home on the Canal.
Harvey Albert Brant (1893-1992), Lula Ruth Brant (1912-2013), Blanche Irene Brant (1915-1972)

Harvey spent much of his life tending a lock on the Canal. At all hours of the day or night, he let boats through.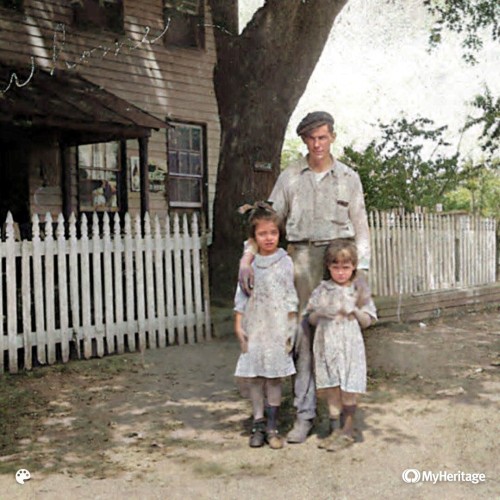 Despite a bit of blurriness on the original image, the picture colorized well. The towpath in front of the home was appropriately grayish-brown, the fence a beautiful white, and the leaves vividly green. The coloring of the family's faces and clothing seemed natural even though some sections of their hands and legs were still a grayish-white.
Compare With Recent Photos
While visiting the Canal in 2018, I had snapped a picture of the lockhouse. How had it changed over the years?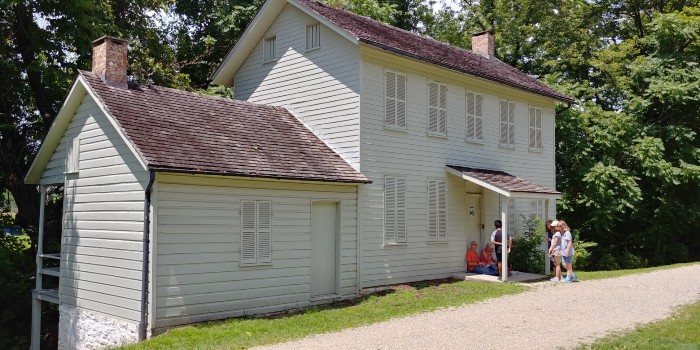 The most noticeable difference was the absence of the fence. Even the tree which once stood in front of the porch had been taken down. Additional greenery has since grown up around the house. How fitting that my twin daughters were standing so close to where their Great Grandma Blanche had stood 100 years ago when the original picture was taken.
Ask For Permission
Searching for another picture to colorize, I came upon a promising picture of my 3rd great grandmother. Although I didn't hesitate to colorize it for personal use, I did not want to post it on my blog without requesting permission.
Annie & Lucy Shupp

I contacted John Hopkins, who had shared it on Ancestry. Would he allow me to use it and a colorized version of it on my blog? I was thrilled with his response:
"I actually have a better photo of the Shupps for you. It is the other half of the photo that you already have. It is Abraham, Annie, and Lucinda. The photo of the family hung in my mother's house for a number of years."
In exchange for a copy of the colorized image, he forwarded the original to me. He was happy to grant permission for me to share it here.
Annie Smith (1831-1898), Lucinda Shupp (1870-1873), and Abraham Shupp, Jr (1828-1892)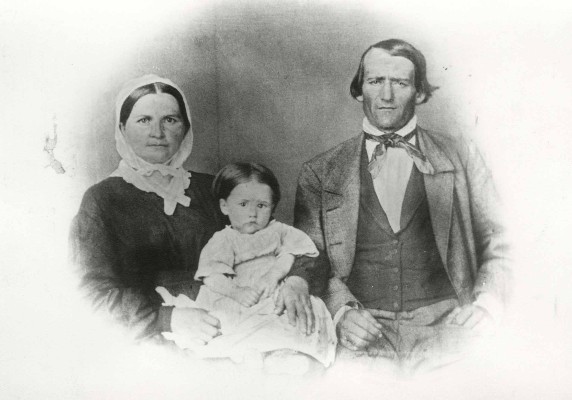 Taken in the early 1870s, the picture shows a successful Mennonite farmer and his wife with their young daughter. Sadly, little Lucy died not long after the photo was taken. Abraham and Annie had six other daughters as well as five sons.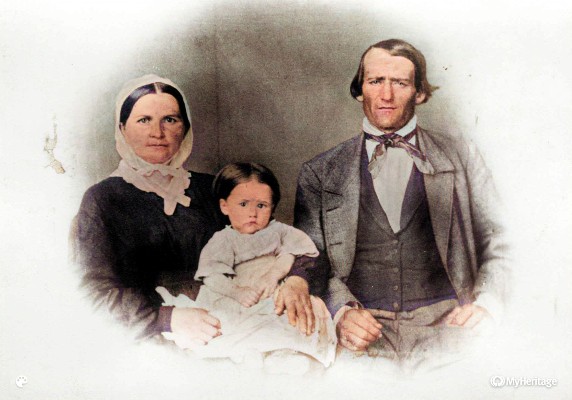 Except for Lucy's arms, the picture colorized beautifully. I was excited to see color in their cheeks and to imagine what life might have been like for this farm family in the late 1800s.
Come Colorize With Me
Isn't it exciting to see black and white photos in living color? Even though both types of images are only two-dimensional, the colorized versions always seem more real. They draw me into the stories of my ancestors. With each newly colorized image, I want to know more about my heritage.
As I continue experimenting with MyHeritage in Color™, I plan to use the clearest photos I can find, especially those with natural outdoor lighting. For a more accurate image of my ancestors, I can compare the results with information found on draft cards or in professionally-colorized photos. When possible, I will look for recent pictures of buildings that may be in the photos and see what has changed—or stayed the same—since the original was taken.
Have you caught the "colorizing bug" yet? You can colorize unlimited images using MyHeritage in Color™ until April 23, 2020. What photos can you add some color to today?