While completing my homework for the first week of Community Bible Study (CBS) class, song after song came to mind. The margin of my study guide is now littered with lines of worship songs. Learning more about Jesus made me want to praise Him.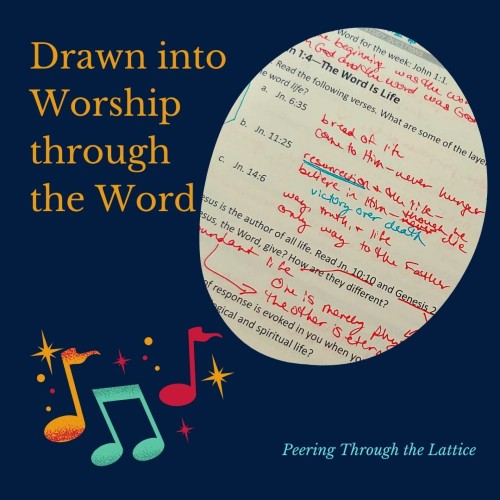 Contemplating the songs that became the soundtrack to my study, I decided to share them. I hope you enjoy music because this post is filled with it.
Jesus—The Way
My lesson book began with an overview of the book of John. After getting to know the beloved disciple who wrote the Gospel, I explored the book's historical context and major themes.
John's purpose for writing struck a chord with me. He wrote to show us the way to eternal life—through believing in Jesus.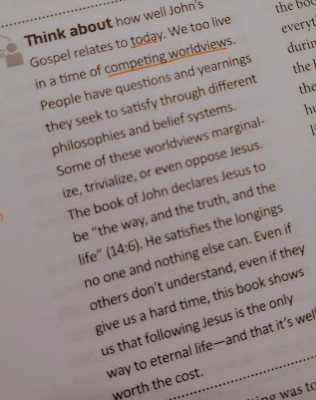 Even today, we need to acknowledge that Jesus is the Only Way to God. I believe He is the Way, the Truth, and the Life.
Jesus—The Word
Each week's lesson encourages me to memorize a verse from the Bible.

This week's verse is echoed beautifully in one of my favorite songs, "What a Beautiful Name." Later in the week, when the study focused on how the light of Jesus dispels the darkness, the song "Tremble" came to mind. On YouTube, I found an arrangement that combines both of these songs.
Jesus—The Source of Life
The CBS study questions guide newbies and Bible experts alike through an in-depth investigation of Scripture. On Day 3, the questions helped me unpack layers of meaning in the word "life." The study led me to the book of Genesis, which reveals Jesus as the source of physical life. Flipping back to John 10:10, I discovered he's also the source of abundant spiritual life. That's the kind of life I have through faith in Him.
When the final question of the day prompted me to respond to this fresh understanding, praise was all I could think of.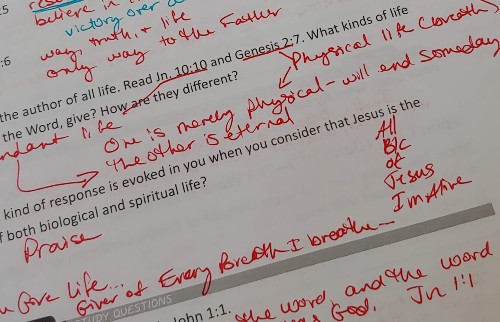 Two songs came to mind as I considered Jesus as the source of all life: "Great Are You Lord" and "All Because of Jesus."
Jesus—The Light
The next morning, I explored the reality that Jesus is the light of the world. No circumstances I could ever face can extinguish his light. Even at the darkest hours of life, the light of Jesus can "Fill This Place."
As I considered how Jesus is the light for this dark world, I remembered a song I hadn't sung for years: "Shine, Jesus, Shine!"
Alive in Jesus
Has God ever woke you up by bringing a song to mind? He definitely uses music to get me moving. When strains of "Rise and Sing" played over my brain's loudspeaker the next morning, I knew I needed to get up, worship Jesus, and study His Word.
Encountering Jesus
What might it have been like to interact with Jesus face to face every day as His disciples did? Can you imagine seeing, hearing, and experiencing all they did? Amazing miracles. Authoritative teaching. Three disciples even heard God's voice thunder from heaven, declaring that Jesus was His Son! After He died the worst possible death, his followers saw and touched his resurrected body.
I tried to imagine physically touching Jesus' scars—experiencing the ultimate proof that He is the Messiah and that my sins are all paid for. Jesus did so much for me. How can I keep it to myself? "I Can't Contain It!"
Applying the Lesson
Each lesson ends with a question to help me apply what I've learned during the week. This week wrapped up with a challenge to write a prayer inviting Jesus to bring more of the life and light only He can provide.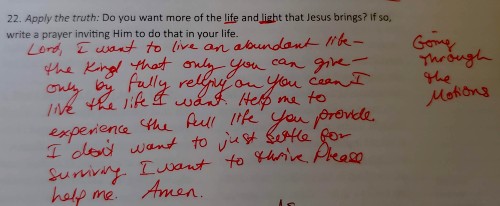 Thinking about the abundant life He wants for me, I realized I don't want to settle for going through "The Motions" of a Christian life. Only as I depend entirely on Jesus can I live life to the fullest.
My once-pristine CBS study guide is now an explosion of colorful ink and my own sloppy handwriting. Heartfelt answers, song lyrics, insights from class members, notes about leading a core group discussion, and reminders to pray have taken over the white space. Even though I've been studying the Bible for years, it seems like I learned so much while exploring the first five verses of the Gospel of John. In the coming weeks, I'm looking forward to learning even more.