After growing hot, thirsty, and sweaty while exploring Caesarea, we relaxed on the bus, enjoying cold water and air conditioning during an hour long drive to our next stop, Mount Carmel.
Nearing the mountain, my husband recounted the story of the power encounter between Elijah and the prophets of Baal on that very mountain. Could the Canaanite god Baal send fire from heaven to burn up their sacrifices? Clearly, only the true God could accomplish such a feat.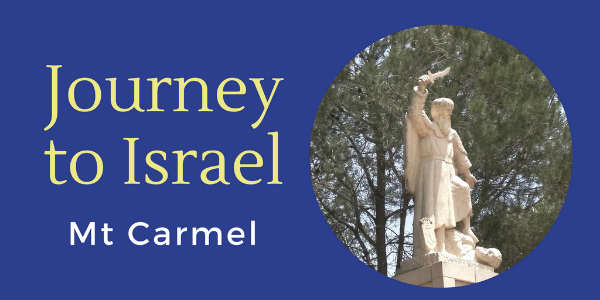 The prophets of Baal prepared their sacrifice on the altar then started crying out for Baal to send down fire. No matter how loudly they yelled or how harshly they cut themselves, there was no response.
When Elijah took his turn, he was so confident God would answer his prayer that he poured twelve jars of water all over his sacrifice. The moment he prayed to God, fire came down and consumed it all!
My daughter's best friend, who came on this trip with her parents, was a little shocked at what happened next in the story. In keeping with the Law, Elijah killed all the false prophets (1 Kings 18:20-40).
The Carmelite Monastery
When we left the bus on Mt Carmel, one of the first things we noticed was a statue of Elijah with sword raised ready to smite one of the prophets of Baal.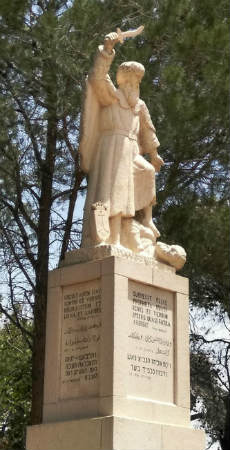 Continuing on, we appreciated the beautiful gardens surrounding the Carmelite Monastery that commemorates this biblical event.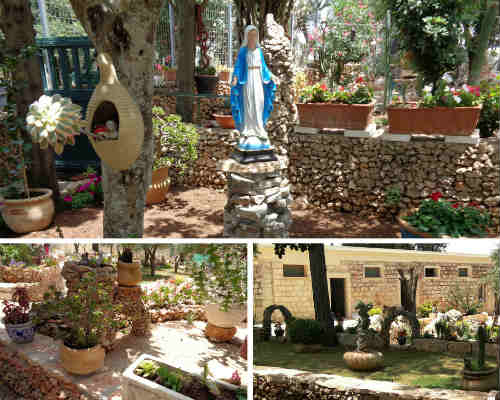 Inside the church, we studied artwork which relates events from Elijah's life.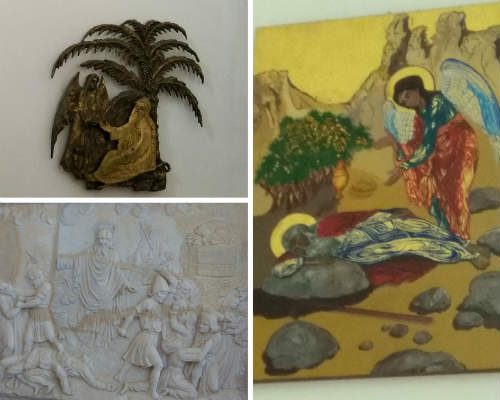 Before returning to the bus, we took in the beautiful view of the Jezreel Valley, also known as Megiddo or Armageddon. According to the Bible, armies will gather for battle there in the last days. (Revelation 16:15-17)

Lunch at a Druze Restaurant
After a short twenty minute visit, we hungrily hopped onto the bus to travel to a Druze restaurant. The Druze are an Arab people who follow a religion that branched off from Islam. There are Druze communities near Mt. Carmel and in the Golan Heights region above the Sea of Galilee.
At the restaurant we chould choose falafel (chickpea fritters) or schniztel (breaded chicken fillets). Both entrees are served with pita bread and a full salad bar. Having disliked falafel at a Mediterranean restaurant in Georgia, I was hesitant to order it but decided to give it a shot.
Retrieving my plate from the server, I filled a second plate with a variety of salads, tzaziki sauce, and hummus. Finally, I sat down to taste my first bite of real falafel. I was pleasantly surprised at how delicious it was. I snagged a bite of my husband's schnitzel; it was just okay. The falafel was amazing!
How many other surprises would greet me in the coming days?
Have you ever tried an Americanized version of an ethnic food and then had the opportunity to taste the real thing? What was it, and how did you like it?