I am a big fan of any curriculum that requires little preparation time. Give me a curriculum that I can read to my kids, or they can read and study on their own, and I am in my happy place! The White House Holidays Unit Studies from Silverdale Press LLC really are this simple:
Download the study.
Read it to the kids.
Complete a related activity or two.
My twelve-year-old twins were excited to learn about Veteran's Day, Martin Luther King Jr. Day, and Labor Day using these studies.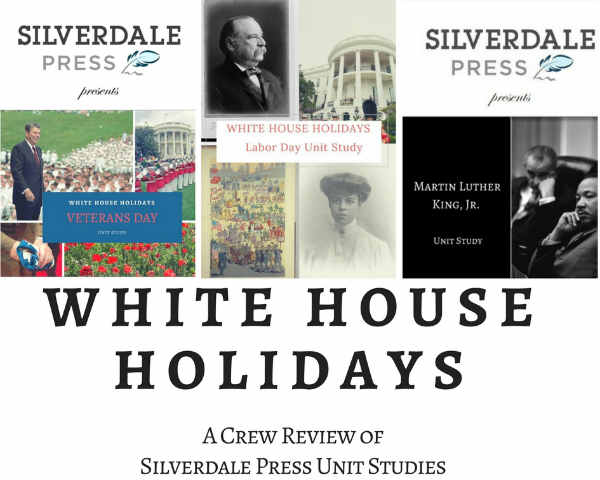 Veterans Day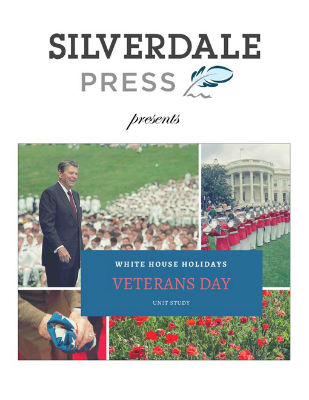 Day 1
Although it was the beginning of May, we started with the Veteran's Day study. After all, my veteran brother-in-law would visit us later that week.
Before we began, I glanced through the curriculum. The first half of the material is for K-6th grades, and the second half is for the upper grades. My seventh grade twins are the age of most sixth graders. Which level should we use? We opted for the more challenging study, figuring that if it was too difficult we could drop back to the easier one.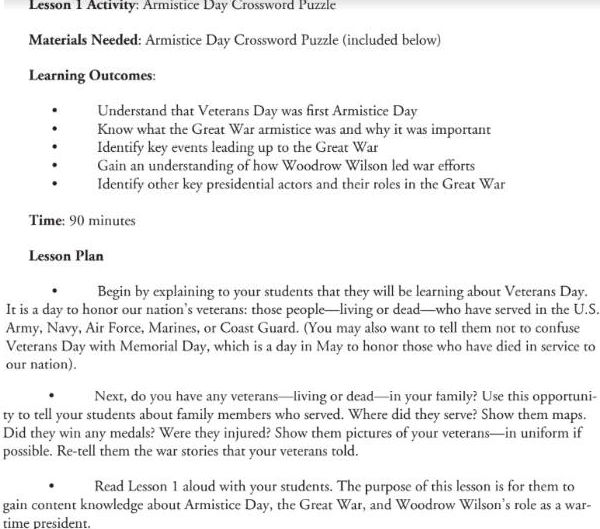 We read the Learning Outcomes together. Then we identified veterans in our extended family before diving into the reading. The girls had recently completed a study of Jacob DeShazer, a World War II veteran. They found it interesting to dive further back in history to the Great War.
I read the PDF aloud while displaying it on our TV using Google Chromcast. It begins with a brief overview of World War I. We also read about the Armistice and the Treaty of Versailles. President Wilson proclaimed Armistice Day on the first anniversary of the armistice. Later this holiday would become Veterans Day.
The lesson is an effective introduction to World War I. It may also serve as a review of The Great War. My older daughter had just learned about the events we read about in her history curriculum. She excitedly added details the short unit study did not include.
We completed the first day's reading in about thirty minutes. Then I printed off a crossword puzzle for the twins to complete. Would they remember what I read to them?
"It's interesting, [but] it's hard to remember."
After completing about a fourth of the puzzle, the girls were stumped. I shared the reading with them so they could look up the remaining answers. Since we use Google Drive, I gave them access to the digital file rather than printing it.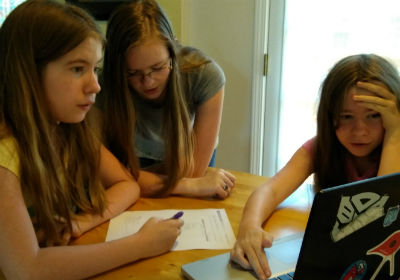 Their older sister, who loves history, hung out for a bit and helped them. Even though the crossword puzzle challenged them, they enjoyed the activity. I appreciated how simple it was to print out and hand to them.
Day 2
On the next day, I read the second lesson to the girls, expecting a review activity to follow. Instead, a more challenging assignment awaited us. Students read President Wilson's Fourteen Points speech then answer questions about it.
I spent about twenty minutes entering the assignment into Google forms. It would be easier for the girls to complete online than on paper.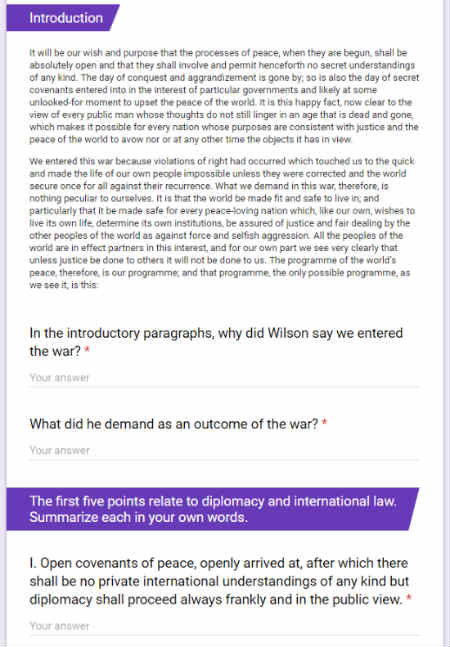 The second part of that assignment asks students to list their own Fourteen Points. We skipped it.
It was hard for them to understand the complex language in the presidential speech. One twin felt that she learned a lot, and the other found the activity boring. We never finished going over the questions; we all felt done with it. It would be much more beneficial for upper high school students. We would have enjoyed a simpler activity that reviewed the reading.
Day 3
To conclude our brief study of Veteran's Day, we read about General Eisenhower. He played a significant role in World War II, and was later elected President. He even visited Korea during the Korean War. This final reading closes with Eisenhower's institution of Veterans Day.
The culminating activity offers suggestions for honoring veterans, especially on November 11. Some ideas are as simple as praying or listening to "Taps." Others require more planning.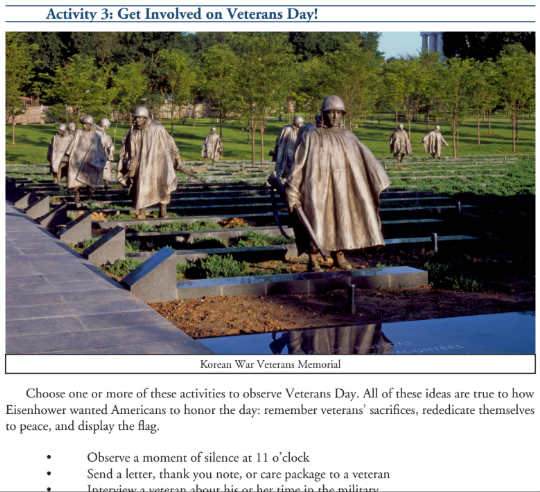 I asked each girl to choose an activity they could do today (6 months before the holiday) and complete it. The twins asked our Amazon Echo to play "Taps." Then we discussed when the song is generally played—both in the evening and at military funerals.
Closing Thoughts on Veteran's Day Unit
Overall, we enjoyed the Veterans Day study. I love how the content dovetailed with the girls' recent study of World War II. It also gave them historical insight into Korea, which we have been reading about in the news lately. It filled gaps in my own understanding as well.
In retrospect, we probably should have used the lessons designed for K-6th grade. Analyzing a presidential speech is still a bit beyond them now but will be beneficial in a few years. I peeked at a couple of the activities for younger kids, though, and some of them seemed a bit too juvenile.
I made a brief comparison between this unit and another Veterans Day unit study I had on hand. Both cover the same basic information, but the study from Silverdale Press LLC is far easier to use. Reading through the introduction to the other one was overwhelming for me. If you want a study you can download and immediately use, this is the one to get. Honestly, I planned nothing for this study. I just read to my kids and followed up with activities the study either provided or outlined.
Martin Luther King, Jr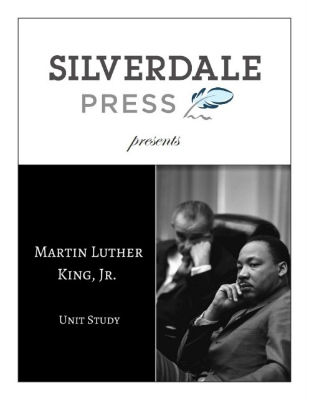 Readings
The Martin Luther King, Jr. study is laid out differently from the Veteran's Day unit. All age levels complete the same readings; only the activities are different. As a result, this study is easy to use in a family with varying ages. Even my son, who graduated from high school the previous weekend, participated.
As we progressed through the unit, I noticed gaps in the girls' understanding. The lessons address a number topics they had not yet covered in other curriculum. For example, the unit study mentions several bills that were passed into law during King's lifetime. Together, my son and I explained how bills become laws. Afterwards, the twins understood the lesson better.
Throughout each of the five lessons, pictures add interest. Unfortunately, several of the pictures are in odd places, often a page or two before the text that relates to them. Captions clarify the context, but it is frustrating to scroll up and search for the pictures that coordinate with the text.
Activities
The MLK study includes more activities than the Veterans Day unit. It also provides links to online resources like videos.
At the end of each lesson, we looked at both levels of assignments. The girls realized, "We're in the exact middle of the activity level. The reading is just right for us, but those two activities… one activity is a bit too young for us; the other activity is a bit too old for us, but the lesson is just right."
We focused on assignments designed for all ages. Both girls enjoyed putting together a timeline of MLK's life. They also located events from his life on a map. These activities "help you get a better idea of the timeline and where the things happened for the story."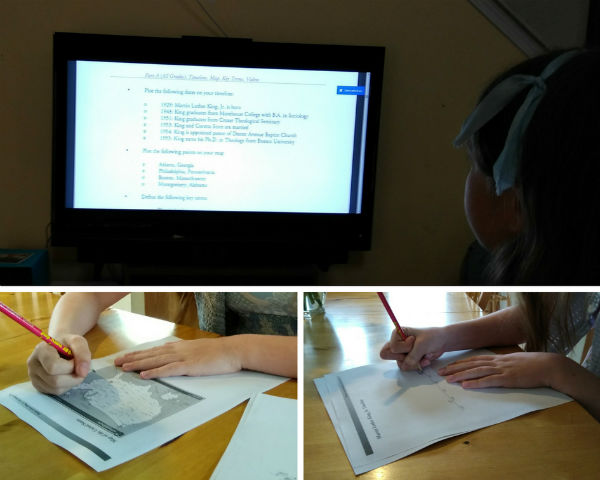 I appreciated the video resources linked at the end of each day's lesson. Some are lengthy and difficult for my girls to grasp at this stage. We focused on shorter videos such as those linked from the History Channel and C-Span. A couple video links are out of date but easy to find by doing quick search on the linked site.
We all enjoyed learning about Martin Luther King, Jr. The kids found it easier to relate to his story since he grew up in Atlanta, GA, not far from where we live. They could easily understand the unfairness of racial discrimination. After all, one of their best friends is black. It was more fun for them to learn about a particular person than about broad historical events.
"We can kind of relate to him even though we're not black. We have a black friend, and we love her, and she's our best friend."
It was refreshing to learn more about MLK than would typically be included in a history class. The 77 page unit study goes into greater detail than the one to three pages a textbook might include. The study whetted my appetite to know more about Dr. King. It also opened my daughters' eyes to the gross inequality in our own nation less than a century ago.
Labor Day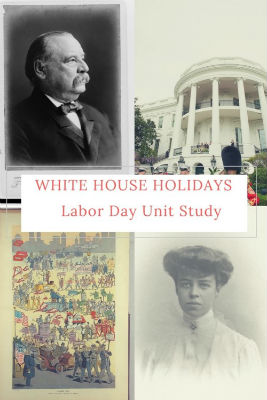 Getting Started
When we started the Labor Day unit, my daughters' interest was flagging. Our school year was officially over, and they were not excited to learn about another holiday. Even so, the three day study drew them in. It brought to light the harsh labor conditions in America just over a hundred years ago. Their minds struggled to grasp how low the income of these hard workers—many of them children—was.
"It shows you how many problems the world had, especially America, back then too."
The girls were shocked at the conditions immigrants once faced. "That's horrible!" one exclaimed, when comparing their working conditions to those of her brother and dad.
After a brief reading each day, we explored a few of the activities together. Many of the upper level activities were a bit too advanced. The lower level activities seemed too juvenile. We focused on discussing the ideas and the pictures from the readings.
The Home Stretch
I was pleasantly surprised with how up to date this unit study is. The final reading even includes an excerpt from President Trump's inaugural address.
Before wrapping up our Labor Day study, I glanced at my curriculum library. Discovering two other units on the same topic, we all looked at them together. The first included several readings on labor not directly related to the holiday. The second was a lapbook study guide. I was impressed that the girls were able to orally answer most of the questions. The White House Holidays Unit Study helped them learn about the holiday without a lot of busywork.
Concluding Thoughts
When my older kids were in elementary school, we studied various holidays. My younger girls never had that opportunity until now. I thought they had missed the opportunity and were too old for holiday studies. However, Silverdale Press Unit Studies make it easy and interesting while appropriately challenging older students.
Which holiday study did they enjoy the most? Labor Day was their favorite. Even though we skipped most of the activities, they enjoyed discussing the material.
What was their favorite activity? According to one girl,"The timelines and maps were fun!" She especially enjoyed the challenge of placing multiple events in a single year. The other enjoyed the Veteran's Day crossword puzzle even though it was "kind of hard." She would have been just as happy to simply read and discuss each lesson.
Now that I recognize the value of studying holidays with middle and high school students, we eagerly anticipate investigating Thanksgiving, Christmas, and Valentine's Day in the coming year.
My family reviewed three of the six White House Holidays Unit Studies. Other Crew members focused on different holidays. Some even reviewed a high school writing curriculum. Click here to read their reviews.