Was it still only the first full day of our tour? After exploring Caesarea, Mt. Carmel, and Nazareth we felt worn out. That changed when we arrived at the Ramot Resort by the Sea of Galilee.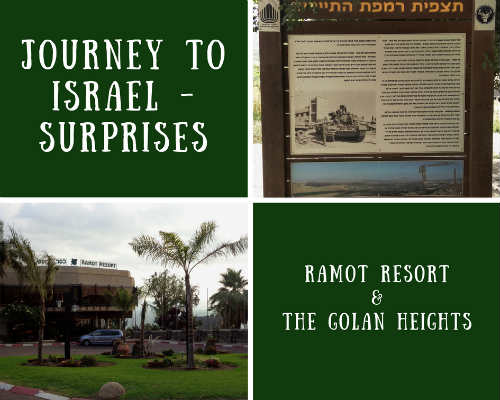 Ramot Resort
Our group was expecting to check into a block of hotel rooms. Moments after we pulled in, Mika shared some amazing news. The resort had upgraded our accommodations, so we would be staying in private chalets.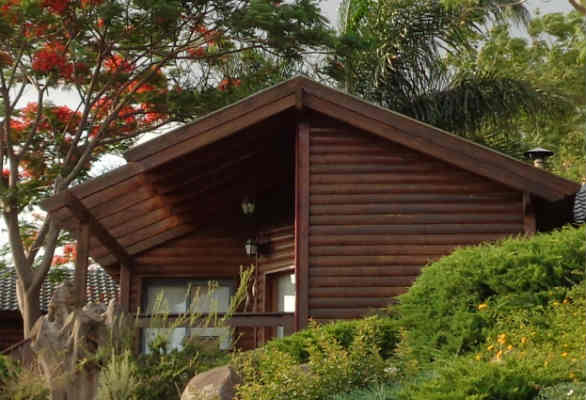 The staff welcomed us with complimentary drinks and snacks. Then we picked up key cards and walked to the chalet. My husband and I wasted no time in checking out the accommodations. Would there be a jacuzzi? A sauna?
Upon entering the chalet, I glanced to the right. Beyond the king sized bed, I spied a jacuzzi tub. A peek into the bathroom revealed the door to the sauna.
A cozy living room area with a comfortable chaise lounge faced patio doors that opened to a private deck. As I stepped outside, a furry tail quickly disappeared below the deck steps. A mama cat and three little kittens brought smiles to our faces in this little home away from home.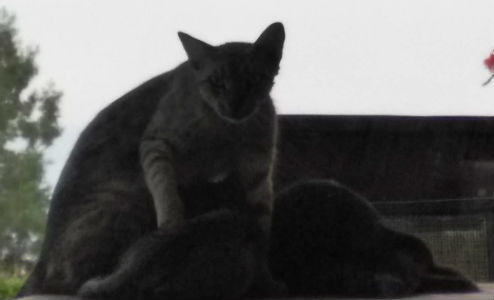 We enjoyed buffet breakfasts and dinners during the two days we stayed there.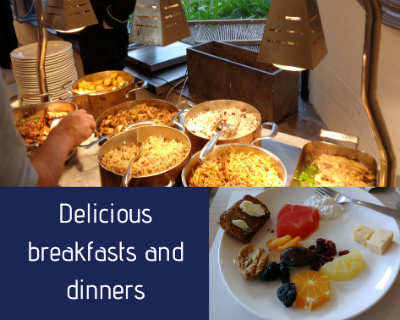 We were too exhausted to explore the resort the first evening. On our second day, I wandered the lovely grounds, while many in our group swam in the outdoor pool.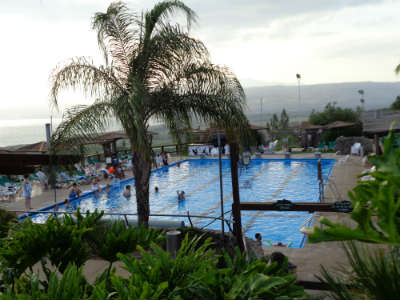 I felt like I had been transported to a tropical island paradise. I explored on foot, taking pictures of the beautiful scenery. Following a nearby path, I discovered a flat, open vantage point from which I could see the entire Sea of Galilee.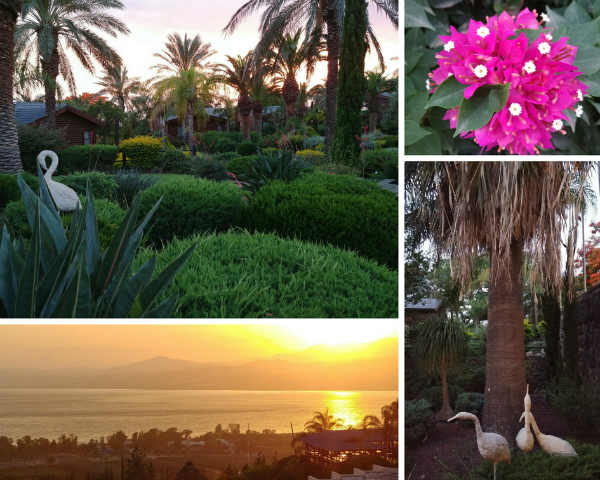 When I told my husband about the amazing views, his curiosity was piqued. After dinner, we explored together and saw a dazzling sunset over the lake.
We were both amazed to be able to see the entire Sea of Galilee. We could easily imagine Jesus and his disciples rowing across the lake while the watching crowd predicted their destination and raced to meet them there (Matthew 14:13).
The Second Surprise
"If everyone is on the bus by 7:45 tomorrow,
we have a surprise activity."
Those were our tour guide Mika's words Monday night. Even though one or two stragglers joined us a few minutes late, we made the detour. Our driver, Kobi, navigated switchbacks while driving to our mystery destination.

Forty minutes later we pulled off at an overlook and left the bus. Mika explained that we were in the Golan Heights. Looking east, we could see the demilitarized zone between Israel and Syria. We enjoyed the view from this strategic vantage point. The entire area was beautiful—fertile ground perfect for farming.

When we turned away from the view, Mika pointed out the Israeli base on top of the mountain.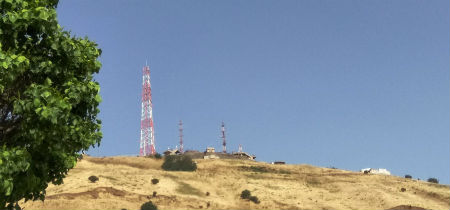 We returned to the bus to continue our tour. Signs on either side of the road warned us of unexploded mines leftover from the Six Days War in 1967. I was glad we were not headed off the beaten path on this trip. Along the way we also spotted abandoned buildings that formerly housed Syrian soldiers.
Driving through a Druze village, Mika sought out an open produce stand. They all seemed closed, but Kobi honked the bus horn anyway. When a woman responded, Mika purchased cherries for us to taste. They were so sweet and juicy!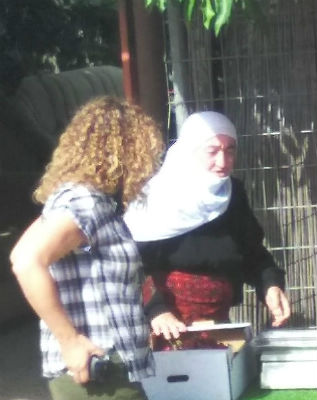 As we continued driving north, I asked about a fortress we saw in the distance. Nimrod Fortress, Mika informed us, was built by Crusaders in the thirteenth century. On our next trip to Israel, we will have to explore it!

The area in which we traveled Tuesday morning was beautiful, yet potentially dangerous. We were not in any way afraid as we traveled. Have you ever been afraid to travel to a country because of the potential for violence in the region? Tell me about it in the comments.
Next stop on our trip: Caesarea Philippi. Click here to journey along with me!