From where I sit, I can see the lights of the Christmas tree. Festive blankets make our living room furniture seem cozy and inviting. With dreary, rainy weather outside, I'm content to snuggle indoors with my family, watch It's a Wonderful Life, and sip cider.
The "Christmas spirit" has been slow to arrive this year. Now the lingering colors of fall have finally given way to barren trees and cooler temperatures. It's starting to look and feel more like Christmas.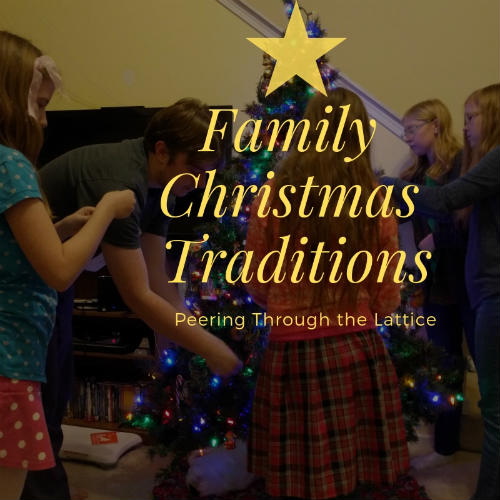 Even before Thanksgiving, the kids began asking about our family Christmas traditions. When will we put the tree up? When can we make cider? When will we go to see Christmas lights? Are your kids asking similar questions?
I've narrowed our family's Christmas traditions down to our ten favorites. If the Christmas spirit has been slow arrive come in your home, perhaps these ideas will help usher it in.
Trim the tree with souvenir ornaments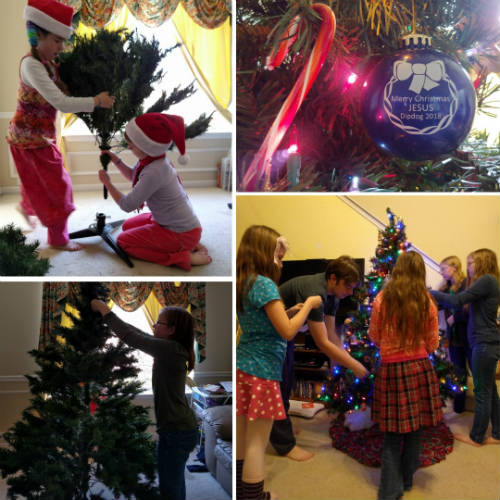 As soon as Thanksgiving has passed, we put up the Christmas tree. We waited a bit longer this year since Thanksgiving was early, and we were out of town. Most years, the kids work together to assemble our tree from its box in the basement.
We trim it with lights then add souvenir ornaments we have collected on our travels. My husband and I place our honeymoon ornament from Niagara Falls on the tree. The kids take turns hanging the rest, delighting in placing ornaments from vacations they remember. Together we decorate the tree with our eclectic assortment of ornaments.
Sleep by the Christmas tree

"Mom, can I sleep by the tree tonight?"
I have no idea how this tradition began, but it's one of the kids' favorites. As soon as the tree is up, one of them eagerly requests to sleep beside it. When they were younger, I paired an older kid with a younger one, and they usually slept on the floor. Now, they take turns one at a time and sleep under a festive blanket on the sofa by the tree.
Learn to play a Christmas song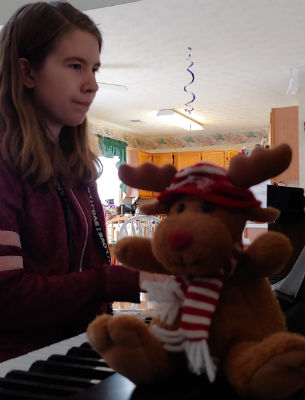 When the girls took piano lessons, they would start working on Christmas pieces in early fall. Even though no one is taking lessons this year, one twin is learning to play one of her favorite Christmas songs—Carol of the Bells. I love to hear festive music in the house.
As our homeschool lessons wrap up next week, I expect the other girls to join in. I might even stretch my fingers over the keys a few times.
Drive to see lights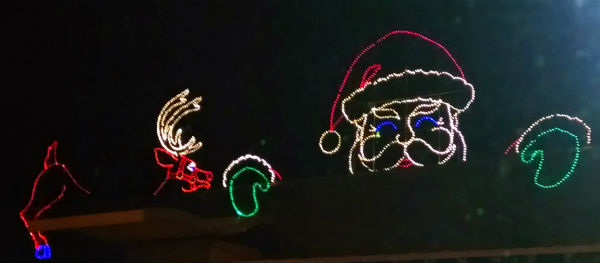 As Christmas approaches, we take an evening or two to go see Christmas lights. A local university always has an amazing display we pay to see. But it's fun to drive through nearby neighborhoods and see what creative decorations ordinary people have put up too.
Krispy Kreme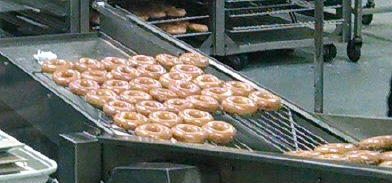 We usually end our evening drive with a trip to Krispy Kreme. We enjoy fresh donuts and pick up Santa bellies and snowmen for the next morning's breakfast. For the past several years we have met up with other families at the donut shop and enjoyed spending time together there.
Sing along to Christmas music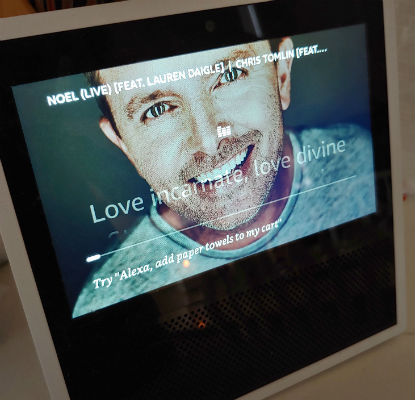 Each year I download a selection of traditional and contemporary Christmas music to listen to in the car. At home, I simply ask our Amazon Echo to play Christmas music, and festive sounds fill the air. But why just listen? I want to sing along! The girls often join me, adding their delightful harmony.
Bake cookies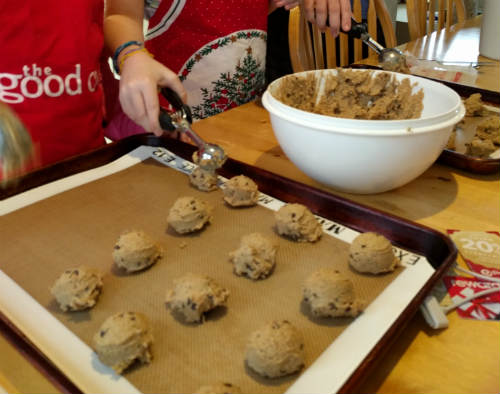 I rarely bake cookies because I would want to eat them all! Christmas is the only time I make an exception. Our favorites? Chocolate chip or gingerbread cookies.
Make hot apple cider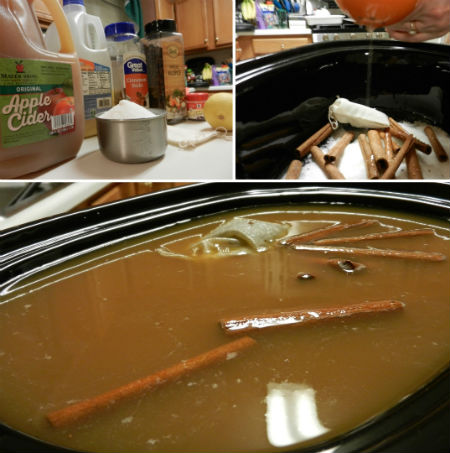 When the weather starts getting cold, my kids want a hot drink in the morning. Since I knew today would be cold and dreary, I started warming cider in the crockpot last night. After measuring out 48 whole cloves and 4 teaspoons of whole allspice, I placed them in a small cloth bag and tied it shut. I laid the bag and 12 cinnamon sticks atop a cup of sugar in the crockpot. Next, I squeezed in juice from a lemon then added a cup of orange juice along with a whole gallon of apple cider. I covered it and turned the pot to low. This morning I awoke to the sweet aroma of spiced cider.
Read Christmas books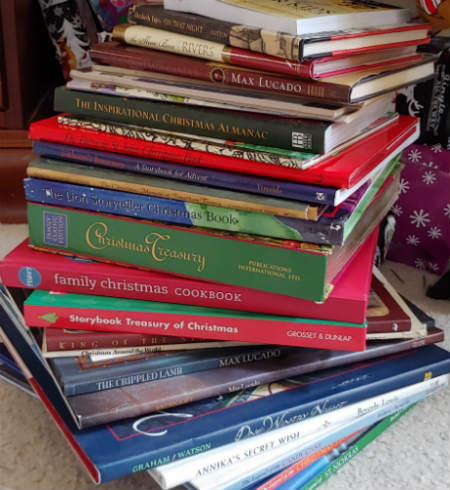 When the kids were very young, I started collecting Christmas books. Some of our favorites include the story of Silent Night and The Greatest Christmas Pageant Ever.
We often read an Advent book together. Has your family ever read Jotham's Journey? It's a story set in Israel around the time of Jesus' birth. The book is broken into sections to read every day leading up to Christmas. It follows the adventures of a young shepherd boy who is separated from his family. In the end, he finds Someone far more important—the baby Jesus.
Plan Christmas dinner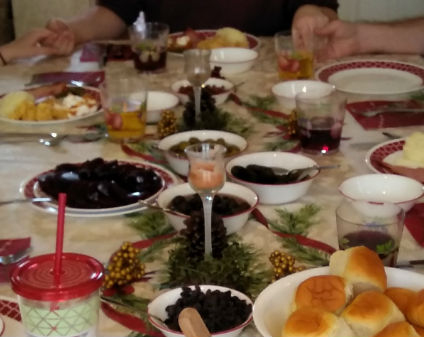 About a week before Christmas, we take a break from homeschool lessons and plan our Christmas celebration. Together, we discuss what to have for Christmas dinner. Invariably, the kids turn up their noses at the traditional turkey dinner. They prefer ham. My husband always votes for picking up a Honeybaked Ham. Now that all the kids can cook, they each plan to make a side dish or dessert, giving me a chance to relax and supervise.
Are you excited about Christmas yet? Blogging about these traditions has made me even more excited about the upcoming holiday. I'm looking forward to spending time with my family this Christmas season as we celebrate the birth of our Lord.
I would love to hear about your family's Christmas traditions! Please share them in the comments below.