Our tour guide, Mika, had promised our schedule on Friday would be more relaxed. The walking tour of Jerusalem the previous day had worn us out. We were grateful that the bus would carry us to each destination for the rest of our trip.
I was not particularly excited about the morning's itinerary. We planned to visit the Knesset and giant Menorah, the Israel Museum, and the Yad Vashem museum. These locations paled in comparison to that afternoon's excursion to Bethlehem. How could the morning's attractions hold a candle to that?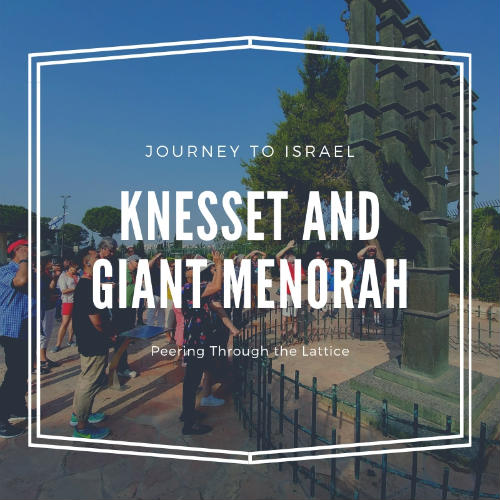 Our first stop was the giant Menorah. The bus was able to park close to the beautifully-carved sculpture. We didn't mind walking a few steps as we stretched our legs in the comfortable morning air.

The carvings on the menorah told the story of Israel from the time the first Temple's destruction. Mika pointed out figures from the Old Testament who were carved into the Menorah's branches. I was pleasantly surprised by the intricacies of the images.

Across the street from the Menorah is the Knesset, an important government building. It is comparable to our Capitol Building in Washington, DC. The Jewish legislative body meets there. We took pictures a distance as Mika told us about the government building.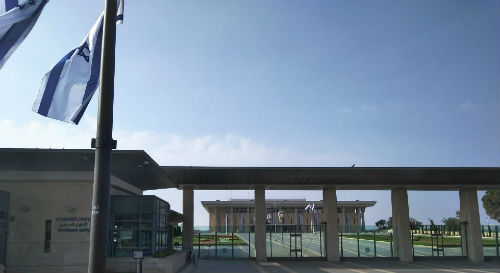 On board the bus, once again, we drove down the street to our next destination. I was beginning to look forward to visiting the Israel Museum. The scale model of the ancient city of Jerusalem sounded interesting. It would also be neat to see some of the Dead Sea Scrolls inside the Shrine of the Book.
I was pleasantly surprised at the significance of the giant Menorah. Have you ever visited an attraction that sounded "unattractive" to you, only to be surprisingly fascinated by it? Share your experience in the comments.