Last month, my three daughters learned to study more effectively using the Victus Study Skills System. Because we were reviewing the curriculum for the Review Crew, we received all four workbooks, which are designed for different levels of learning.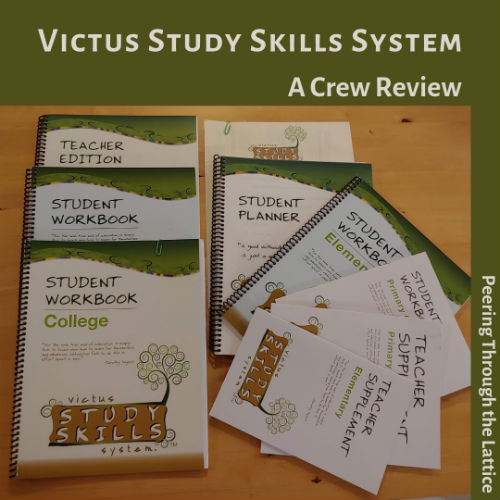 One of my thirteen-year-olds worked through the Student Workbook Level 2, which is designed for students in grades two through six. Her twin sister followed along in the Level 3 Student Workbook, which targets students in grades five through eleven. My fourteen-year-old daughter completed the College Student Workbook, recommended for tenth grade and up.
The Teacher Edition explains how to use the program one-on-one or in a classroom. It outlines five one-hour sessions to cover all the material. We followed the recommended schedule pretty closely on the first two days. Later in the week, we spent a couple of extra days covering study skills which were unfamiliar to my daughters. The slower pace allowed us to practice some of the skills with actual textbooks.
The Curriculum
The Victus Study Skills System is built around three major questions:
Where am I now?
Where do I want to be?
How do I get there?
Where am I Now?
On day one, we tackled the first question. The girls completed a checklist to determine their current study habits.

Next, a learning strengths assessment helped them discover their learning strengths. Did they prefer visual, auditory, or kinesthetic learning methods?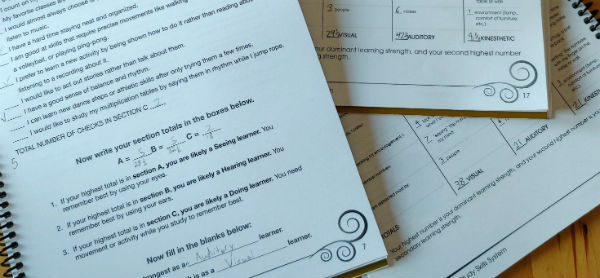 Those results were eye-opening. Knowing my girls' preferred modalities helped me to understand them better gave me new ideas for planning their lessons.
The workbook introduced the girls to learning methods which capitalize on their strengths. On the next page, they listed new study strategies they would like to use.

"We learned more about ourselves and how we learn best."
Where Do I Want to Be?
On the second day, the girls focused on their future goals. Completing the workbook pages, they caught a vision for their future. With that vision in mind, they wrote life mission statements.
Using what they learned about themselves, they practiced setting goals and defining action steps to help reach them. I was already familiar with the concept of setting SMART goals but had not gone over the process with my daughters. The curriculum provided a wonderful opportunity to address this important life skill.
How Do I Get There?
For the remainder of the week, we focused on developing the skills necessary to reach their goals. They practiced setting a study schedule to better manage their time. The workbook showed them how to plot action steps and assignments on a calendar.
Next, they learned a method of study called PQRST (Preview, Question, Read, State, Test). We used books from our shelves and forms from the workbooks to practice each step.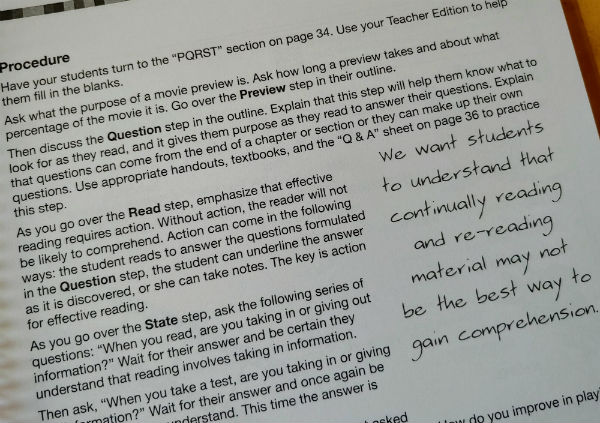 We discussed ways to listen actively and learned how to take notes.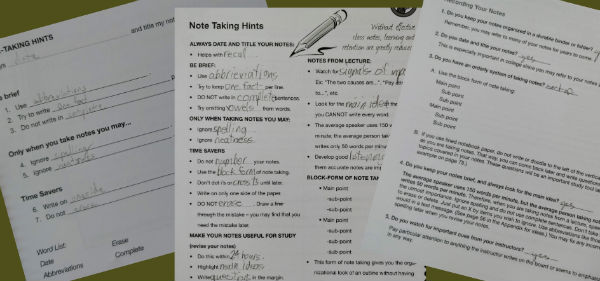 The workbooks provided passages for note-taking practice. Unfortunately, the note-taking page was on the flipside of the reading selection. To make the process easier, I allowed one of my daughters to read the passage from the Teacher Edition.
"It teaches a lot about note-taking, which is important in life."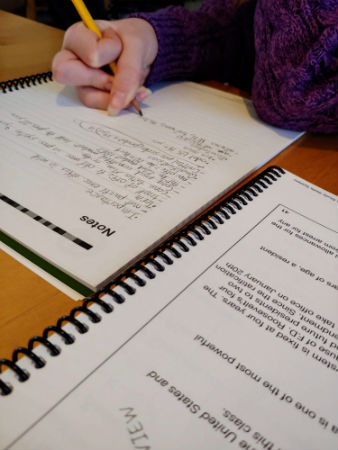 We spent one session addressing test-taking strategies. The girls learned the importance of preparing for a test ahead of time. After learning about types of test questions, we discussed keywords to look for and strategies for answering each variety.
My daughters rarely need to budget their time when taking a test since I allow them to take as much time as they need. However, this is an important skill to learn when preparing for standardized tests, which usually are timed.
To wrap up the test-taking section, the twins completed a Study Skills Test, which helped them review what they had learned throughout the course.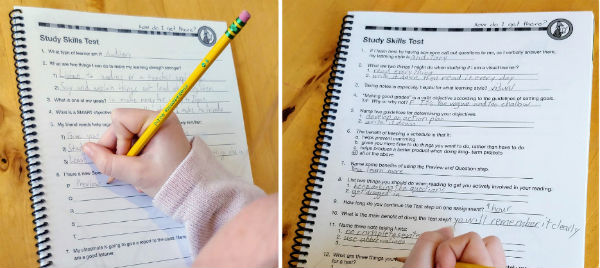 Our final session was shorter than others since it included no written portion. The Teacher Edition helped us discuss the major things they had learned in the course. We spent a few minutes examining the supplemental material in the appendices of their workbooks. Finally, we evaluated the course itself.
What Did They Learn?
The course covered so much ground in a short period of time. Did the girls learn anything they felt was important?
All three girls appreciated discovering their learning strengths.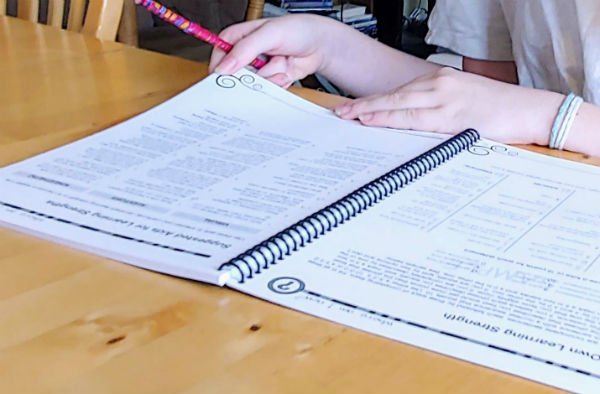 Since we encourage our girls to take notes in church and at youth group, they found the note-taking section especially helpful. The workbook's suggestions dovetailed nicely with what the girls have been learning in our writing curriculum.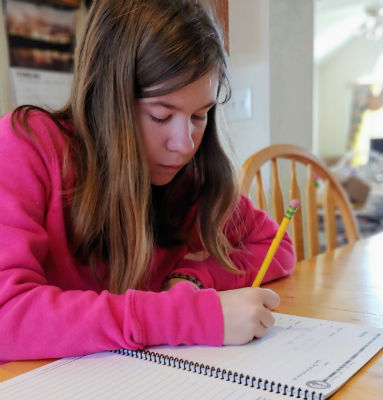 "I got to see how my skills all work together to get me to my goal."
What was their favorite section?
The learning strengths survey was a favorite for the whole family. Even my two graduates completed the learning strengths exercise by writing their answers on a post-it note.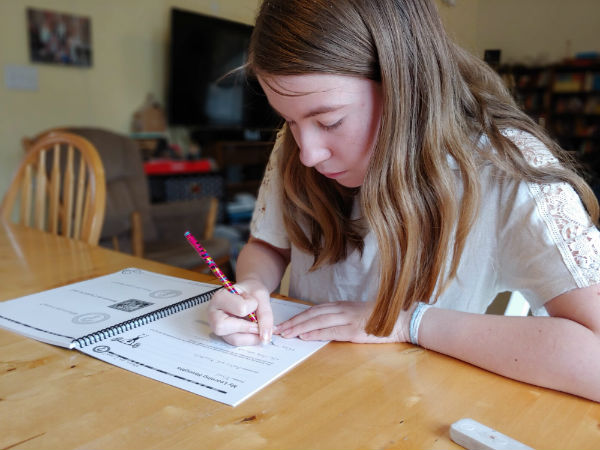 Both of the twins enjoyed the process of creating their own mission statement. The workbook gave them space to draw pictures of their past, present, and future selves. This exercise helped them focus their thoughts and develop their statement of purpose.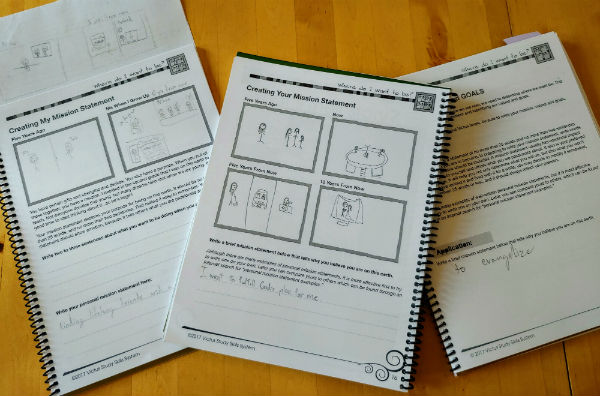 One of the girls found this activity more helpful than a career-exploration resource we used last year.
"It made me notice I had all the skills I'd need in adulthood to become a writer."
What was their least favorite aspect?
Even though the workbooks do not insist on an overwhelming amount of writing, my girls would have preferred less writing. The workbooks designed for younger kids require less writing while covering the same material. Middle schoolers who don't like to fill in a lot of the blanks may learn just as effectively with the Elementary Student Workbook.
Although they liked setting goals, creating action steps from them seemed laborious. Each girl only developed an action plan for a couple of goals.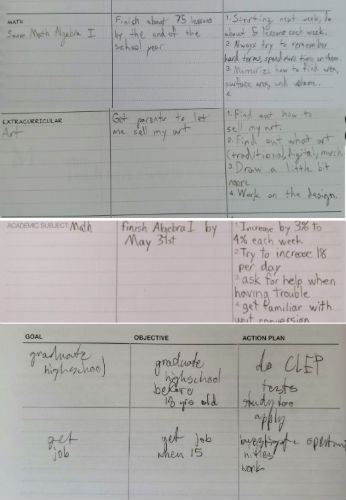 Only one girl, who used the Elementary Student Workbook, enjoyed filling in the sample planner. This calendar page was different for each level. My older daughter, who used the College Student Workbook, found it tedious to fill three months' worth of dates in her book.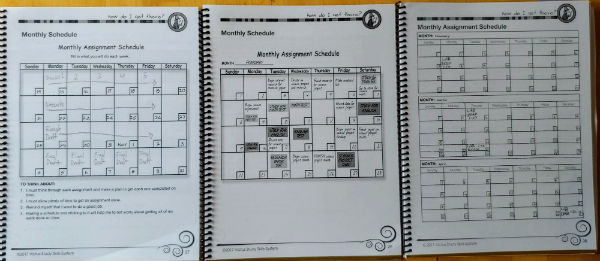 "At some parts it's hard, and at others it's easy"
None of the girls were fans of the PQRST study method. In particular, they disliked writing down questions before reading the text, then answering them while reading. I am glad that they learned about this study method anyway. Even if they don't use it "to the letter," I am sure some aspects will stick with them over time.
Is there Christian content?
The Teacher Edition refers to Christian concepts while never explicitly mentioning the Bible. God and faith are addressed as values in a generic sense.
Several explanations in the Teacher Edition allude to Scripture verses. However, they never acknowledge the Bible as the source.
For example, the first key concept in the course begins, "Zeal without knowledge is not good…" (see Proverbs 19:2, Romans 10:2). I failed to recognize that foundational point as a biblical concept until I started writing this review. I wish I had noticed it earlier so that I could have drawn my daughters' attention to the source.
In the section on developing a mission statement, the Teacher Edition includes a direct quote from Proverbs 29:18: "Where there is no vision, the people perish." Instead of including the reference, the text merely refers to it as "a proverb."
The lesson on listening loosely alludes to scripture, advising students to be "quick to hear and slow to speak" (James 1:19). I was disappointed that there was not even a footnote or endnote with an actual Scripture reference, though these verses are clearly from the Bible.
Parents looking for a secular resource will appreciate the religious neutrality, but the inclusion of the references would enrich the program for Christian families.
Which level should you buy?
Victus Study Skills System is available at four different levels and can be used from Kindergarten to College. If your child is new to the concepts introduced in Victus, I recommend that you use the workbook slightly below their grade level.
As I mentioned earlier, one of my 8th-graders used the Elementary (Level 2) Student Workbook. For her, the course was more enjoyable at the lower level, but the content seemed just as rich as the Level 3 Student Workbook her twin sister used.
My 10th-grade daughter, who really did not like the College Student Workbook, suspects that one level down may have been more appropriate for her. However, if your student is a high school senior or beginning college-level work through dual enrollment, the topics in Level 4 will be very helpful.
No matter which level you choose, be sure to purchase the Teacher Edition. This great resource explains the philosophy of the course and walks you through teaching the material. Levels 1 and 2 also require a Teacher Supplement specific to those workbooks.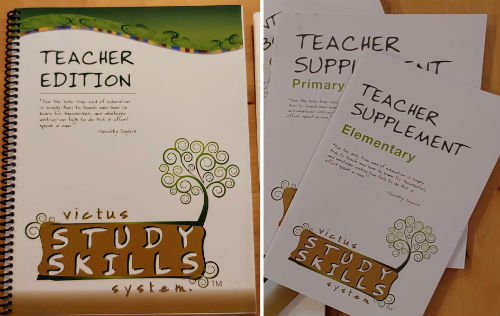 Does your student need help setting goals and learning how to study more effectively? Spending a week or more with the Victus Study Skills System could help your child plot a course toward success.
How do other homeschool families use the Victus Study Skills System? Read more Crew Reviews to find out.