When I looked at the crew review calendar a couple of months ago and discovered CrossWired Science, I started to get excited. Though the site had not been released yet at that time, I loved the philosophy behind it. I could hardly wait to see what their program would be like.
CrossWired Science will be a complete creation-based online science curriculum that integrates a number of science disciplines in each of their Global Topics. Sound, and Fluid Dynamics are the first units to be released.
I am so glad our family was chosen to review CrossWired Science. As the twins have explored science using their materials, their enthusiasm and interest in God's creation have grown.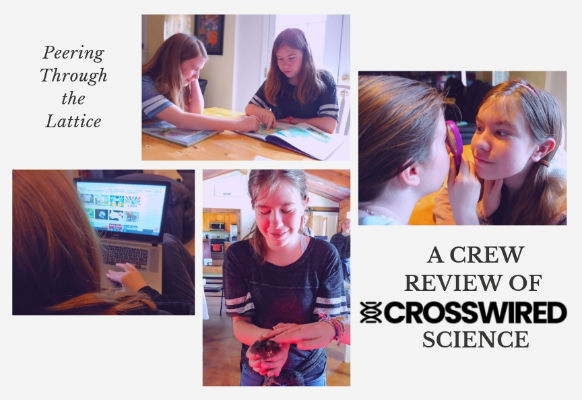 Although my 15-year-old daughter was hesitant to try something new, my twin 13-year-olds couldn't wait to get started. So far, CrossWired Science has released two units, each of which could span a month or more—Sound, and Fluid Dynamics.

Which one did the girls want to start with? They chose Sound.
Getting Started
On our first day checking out the site, we weren't quite sure where to begin. Thankfully, CrossWired provides a proposed schedule to help get your students started.

First-Timer Core Videos
Since the professionally-produced videos form the heart of each Global Topic, we watched those first. These information-packed presentations are full of eye-catching animations. Sitting on the sofa, we watched a few of them together using my teacher account.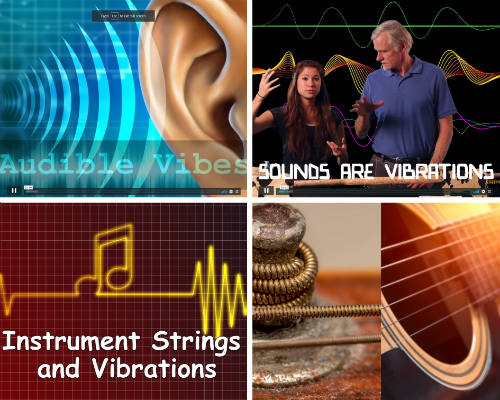 At the bottom of the video page, there is an automatically graded true/false quiz, which we completed together. A day or two later, the girls reviewed the lesson by repeating the quizzes on their student accounts.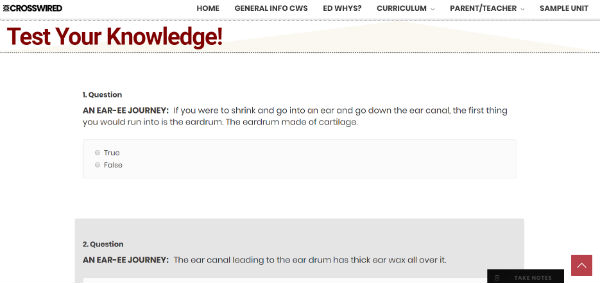 Read A Book
CrossWired Science recommends students read about science in an actual book at least one day each week. They suggest several books on their site, but any science book, especially if it includes creation science, is fair game.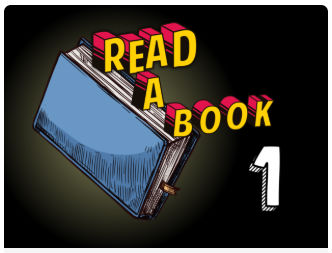 On our third day using the program, I pulled a variety of creation science books off of our shelves. I was amazed at the huge stack!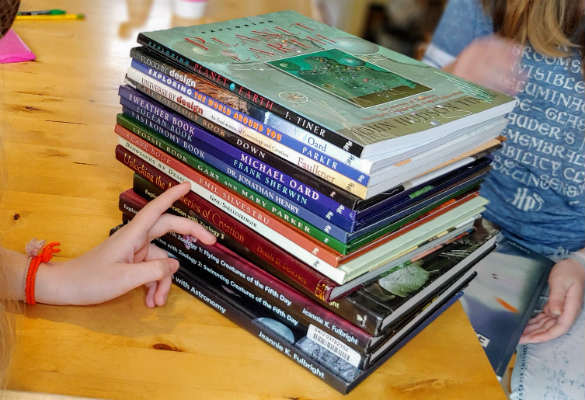 I allowed each girl to choose one she was interested in. One chose Exploring Creation Science with Botany.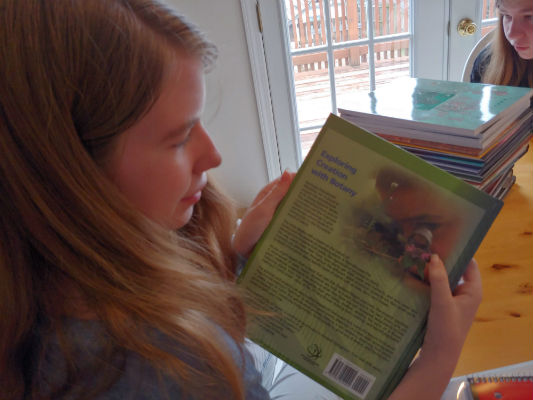 The other picked up The Weather Book, which actually fascinated both girls.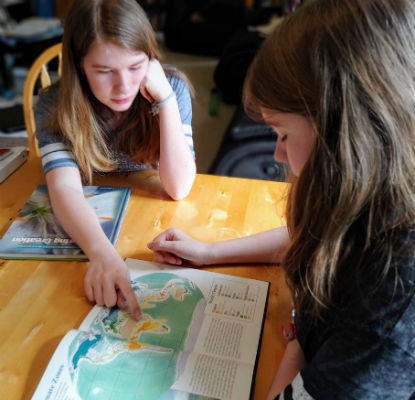 Experimenting and Investigating
We started our second week by selecting some experiments. We could choose from a smorgasbord of 17 different projects, which varied in length from 10 minutes to 2 hours. Since long, involved, and messy experiments which require hard-to-find supplies completely intimidate me, I was glad to find many manageable options on the list.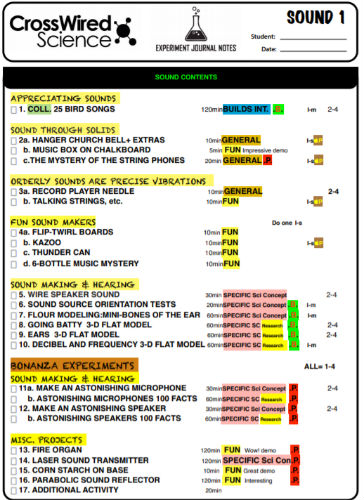 Church Bells and String Phones
Choosing 2 simple experiments, we set to work. The experiment journal page guided the girls as each hung a metal hanger from a string and held the other end of the string to her ear. Striking the hanger with a spoon, she could hear a sound like a church bell as the sound traveled through the string to her ear.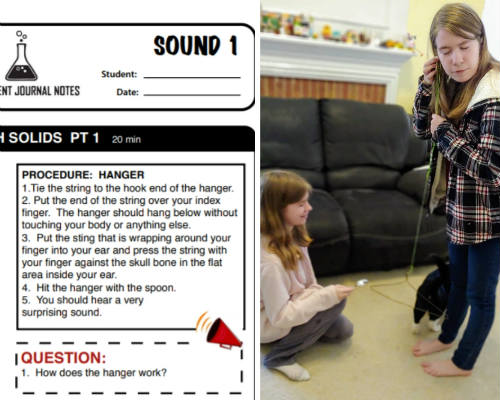 Next, we gathered cups, wire, and string and headed outside to create a string phone. Do you remember doing that when you were a kid?
"I've had a long-standing desire to make a string phone."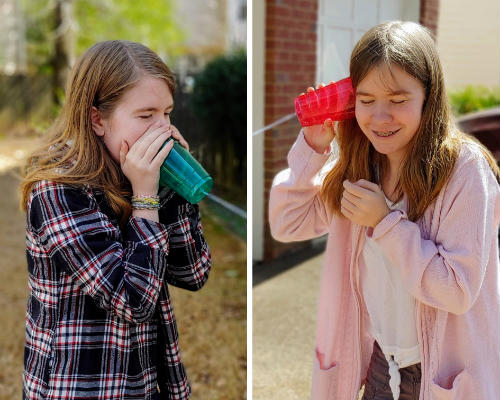 "I finally got to make a string phone, so it was very exciting… I'm finally hearing mom say, 'Let's do a string phone for schoolwork.' Before she's always said 'no' when I asked if I could make a string phone."
The young girl who lives next door was curious and tried out the string phone too!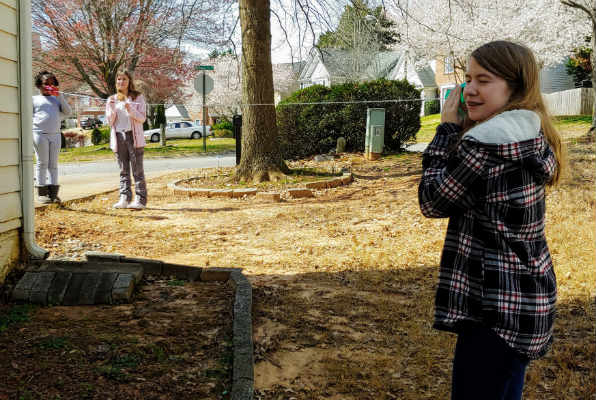 Research
The next day, I assigned the girls some research on a topic of their choice. CrossWired suggests several research topics. A few were related to the experiments.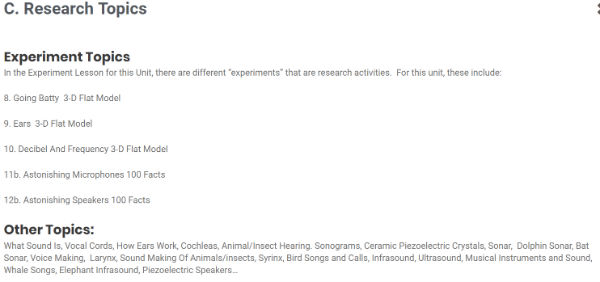 Since both girls had become fascinated with bird songs, they scoured the web for examples and began to catalog them in an online journal.
"I liked it because it gave me a reference that I can print out."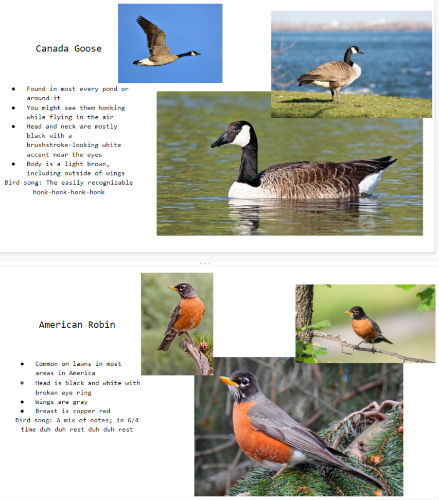 "It's a life skill, so it was good to try things like that."
General Links Videos
We spent several days absorbing a variety of videos recommended on the General Links page.
At first, I was confused. None of the links appeared to work. Then I realized that for our students' internet safety, the links are not clickable. We needed to copy the URL of each video and paste it into the location bar of the browser.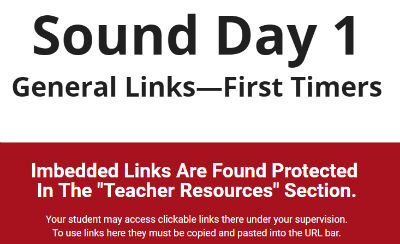 By design, the majority of the videos had little or nothing to do with the Global Topic. The girls could have spent an entire week just watching these interesting educational videos curated from around the web.
The links appear to be arranged by level. The videos near the top are perfect for younger students, though my 13-year-old daughters didn't mind watching some of these more juvenile episodes.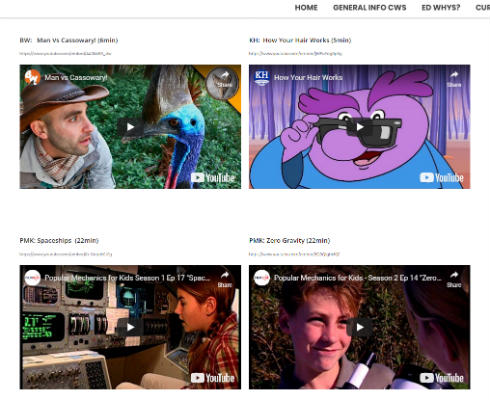 We learned about such varied topics such as hair growth, zero gravity, butterfly scales, cat whiskers, and kangaroo pouches. The girls loved the variety of topics and presentation.
At the bottom of the page, there is space for students to write about and submit what they learned in the videos.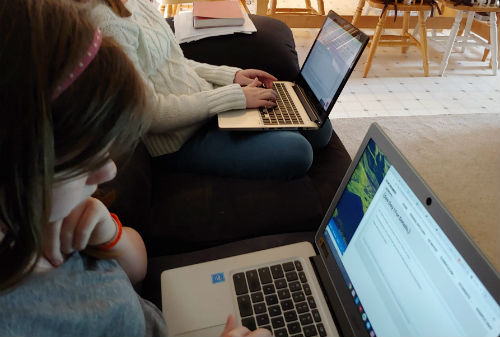 Reinforcing and Exploring
Entering our third week, we explored the Reinforcement section.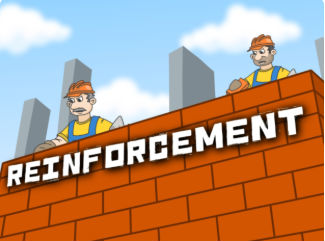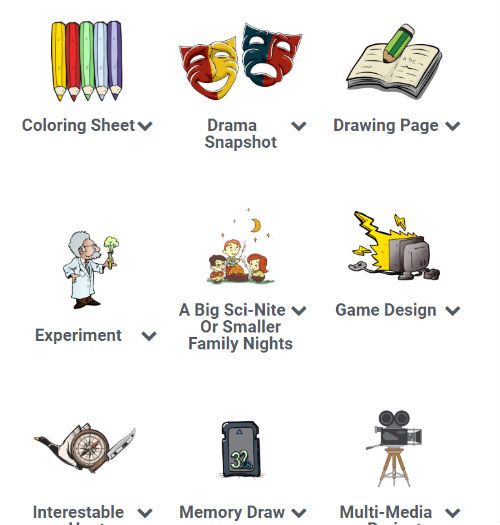 Although we started looking for bird coloring pages, we got sidetracked. We ended up YouTube, where we watched videos about bird songs and identification.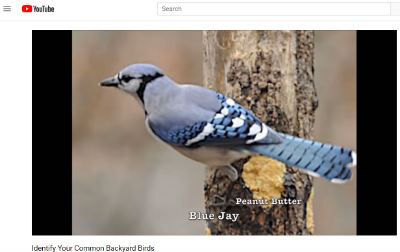 Of course, the girls followed up the video with a trip to the backyard to see what birds they could identify. They also added to their bird song research journal.
Field Trip
That weekend when we visited friends in Alabama, we took a field trip to a farm, where the girls picked up baby chicks, gathered eggs in a barn of 200 chickens, and petted horses and cats.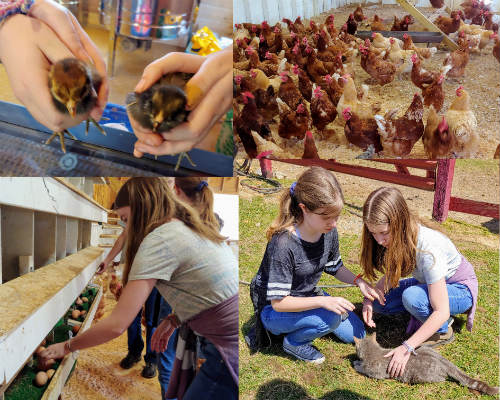 "The hens sounded like old ladies. Some sounded like they were growling. I never knew they could do that!"
Since we had been studying sound, we paid close attention to the sounds we heard. While the girls picked flowers in a field, we listened to the birds singing in the nearby trees. The girls could pick out the call of a cardinal amongst the other songs.
When we began school the next week, we checked off the Field Trip section of the Sound unit.
Reviewing and Deepening
Second-Timer Core Videos
Entering our fourth week, we watched the core videos a second time to see what new information we could glean.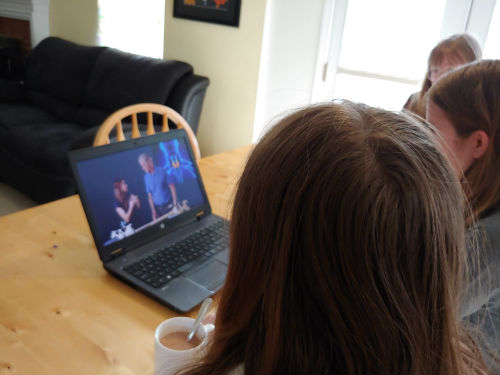 I was going to print out the corresponding worksheets from the website, but when the girls voiced their complaints, I decided to use the questions for discussion instead. After watching the video, I used an online PDF annotator to record their responses to each question.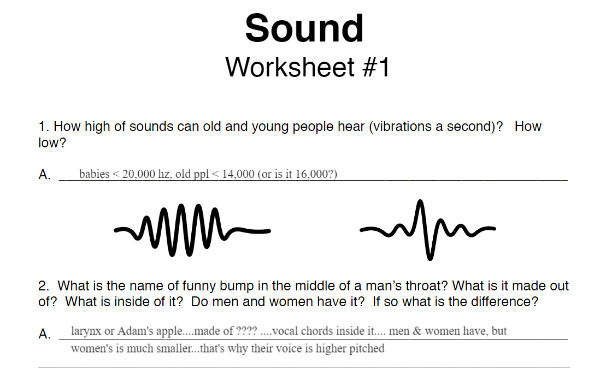 Although these worksheets cannot be automatically scored, the answers are available in the parent/teacher section of the site.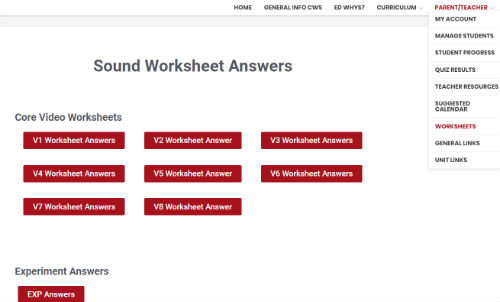 For most of the videos, the girls opted to complete the challenging Second-Timer Quiz questions.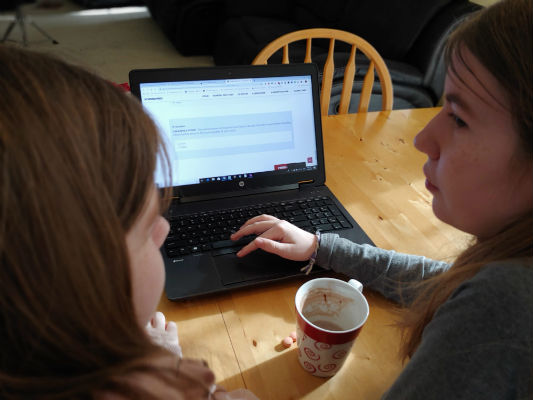 Why Watch Them Again?
Because so much information is packed into each video, I definitely recommend a second viewing. The girls particularly enjoyed the "Wow Bird Songs" and "Cochleas & Whale Belting" videos because they were already interested in those topics.
"The core videos told me about topics I had never thought of and really gave me a lot more information about how sound works… and I mean a lot!"
It's amazing how so many apparently unrelated topics all fit within the context of a unit on sound!
Devotionals
Near the bottom of the Sound Unit page, we discovered the Devotionals. These inspiring treasures connect science with Scripture. The girls especially enjoyed reading about a student who compassionately rescued frozen frogs which were set aside for dissection.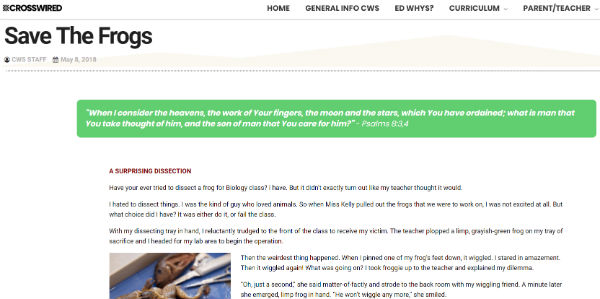 The devotional reminded us that in the vast universe of God's creation, He loves and cares for us. Just like the person in the story rescued the frogs from death, God rescued us when Jesus took our place on the cross. How cool!
"I really liked the devotionals; they were interesting!"
An enlarged picture of an eye on the devotional page caught my girls' attention and inspired them to take a closer look at each other's eyes.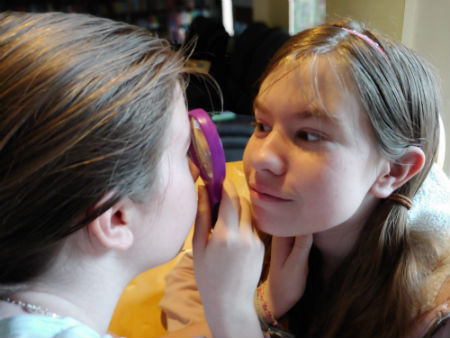 The Devotionals are one of our favorite elements on CrossWired Science. Make sure you scroll to the bottom so you don't miss them!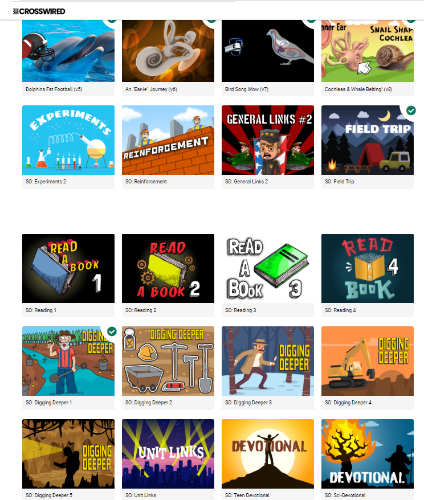 Digging Deeper
The Digging Deeper sections are hiding down by the devotionals. When we clicked through to Digging Deeper 1, we discovered a goldmine of information that reinforces the facts from the core videos.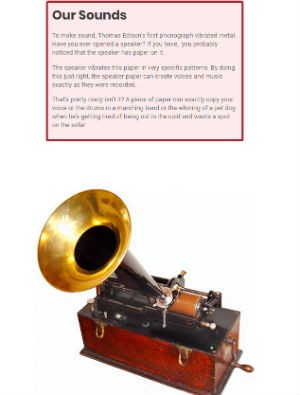 Full-screen, eye-catching pictures combine with short reading sections to expand on what students have already learned about sound. We spent two days reading through the first one, and we're looking forward to digging even deeper in the other 4 sections.
Since the site is still being developed, we did discover a few typos in this section. With the great content already there, I am excited to see what the final version will be like.
Click here for more complete overview of the Digging Deeper sections.
Unit Links
Yesterday, we discovered another "favorite section"—the Unit Links. This page is full of video links related directly to the Global Topic—Sound.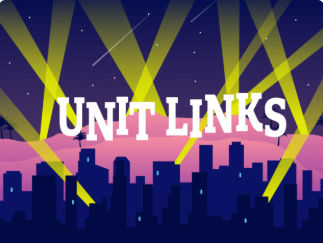 "They show some really cool experiments."
I'm glad we delayed science until the end of our homeschool day because we got a bit carried away binge-watching the videos. Since these videos are produced by different people, there is a greater variety in topic and presentation, which helps retain my daughters' interest.
After watching two entire hours of science videos, I abandoned the girls to go make dinner while they continued checking out the links. Even so, they've explored less than a third of the videos on the page, and they can't wait until I finish editing and posting this blog so they can watch some more today.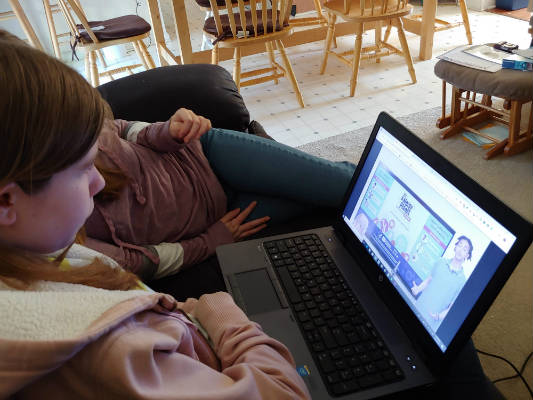 "They answer interesting science questions.""
Issues & Hiccups
Since CrossWired Science is still in beta, there are some typos and mistakes. We alerted the staff to several issues, which they promptly fixed. When we first began using the site, some material was unavailable. Since then, more material has been added, and it has been worth the wait.
The teacher area is a bit clunky and was difficult to navigate at first. Unless I know exactly what I am looking for, it can be hard to locate my students' work. Even then, I have to keep on clicking to see their freewriting responses. There was a steep learning curve at the beginning, but I am getting used to it.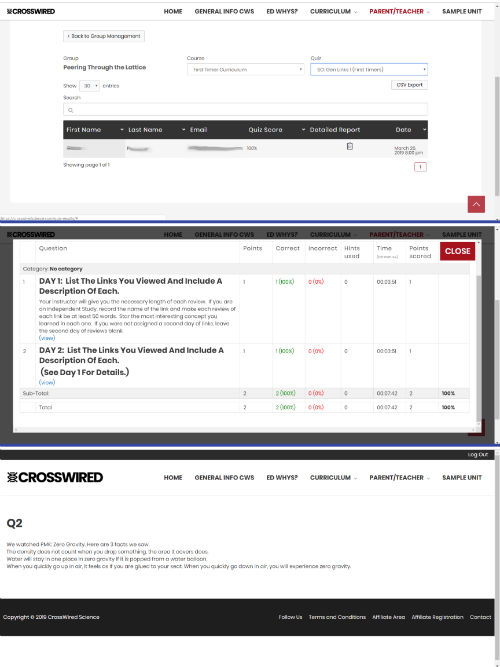 There is no way to submit a second response to the online quizzes. The video links, research, and field trip pages may take multiple days to complete. I'm so glad my girls opted to use Google Drive to create their bird research journal instead of filling in the quiz at the bottom of the Research page.
The biggest dilemma we encountered, however, was a positive one. Using CrossWired Science, we get carried away and spend far more time studying science than our schedule typically allows. Inspired by the materials on the website, the girls want to keep on going. To avoid spending an entire school day on this fascinating subject, I try to save science for the last subject of the day. After all, we need to cover English, math, and history as well!
Loving to Learn
If, like me, you prefer a textbook approach with clearly laid out lesson plans, using CrossWired Science may be challenging at first. It's been amazing to see my girls' love for science come alive as I've allowed them to think outside the textbook. After spending an entire month, we haven't finished our first unit yet, but the twins are still learning new things.
Each unit is structured around a main topic which relates to a variety of scientific disciplines. At the same time, it allows freedom and gives direction to encourage students to explore other areas of interest through delight-directed learning.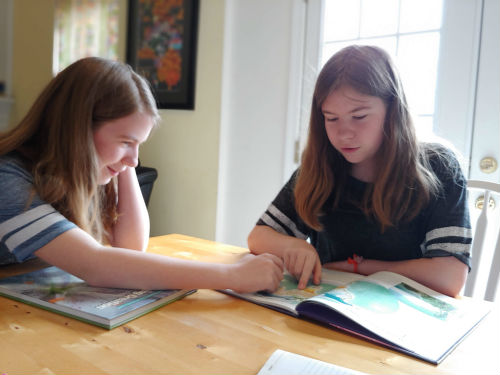 When CrossWired encouraged my girls to explore areas of science not directly related to the Global Topic, I was surprised. I had expected everything in the unit to be related to Sound. What I first thought was a deficiency in the design is actually a brilliant idea. It fed my children's inquisitive nature by encouraging them to freely explore areas of science they find interesting.
I love the flexibility of the curriculum. It can be used with kids of all ages—either as a stand-alone program or to supplement another curriculum. Kids can work through the material independently, or you can explore them together.
When we first started using CrossWired Science, we spent no more than twenty minutes each day studying science. Now it can be hard to wrap up our science lesson in under an hour since we all enjoy exploring and discovering new things.
Is CrossWired Worth the Investment?
CrossWired Science provides an enormous buffet of great educational resources which appeal to my young teens. As of now, the first two units—Sound, and Fluid Dynamics—are available. Soon Phase 2 will be launched. This update will add six more Global Topics, to fill out an entire year or more of homeschool science for students of all ages.
The most unbelievable aspect of CrossWired Science is the low price. An annual subscription to the curriculum site is $27 for the first student and $10 for each additional student, assuming you enroll your kids at the same time. The staff has generously given me a coupon code (ptl4) to share with you for an additional $5 off. Compared to the average price of a science textbook, it's a steal!
What a privilege it's been to try out this awesome new creation-based science curriculum! I've enjoyed watching my daughters' excitement about science grow as we've progressed through our first month of CrossWired Science.
Can I give you a more detailed tour of the deep science sections? See my recent post: Digging Into Sound with CrossWired Science.
Other families on the Review Crew had different experiences using CrossWired Science. Be sure to check out their reviews.