At the beginning of our first full week in Taiwan, Grammy returned to her teaching duties, and we began exploring Taipei on our own. On Monday, we stayed close to home and wandered through Zhishan Park. Eager for more adventure, we started the following day with a hike up Elephant Mountain. The view was gorgeous. After a restful afternoon, we returned to downtown Taipei to sample delicious street food at the Raohe Night Market.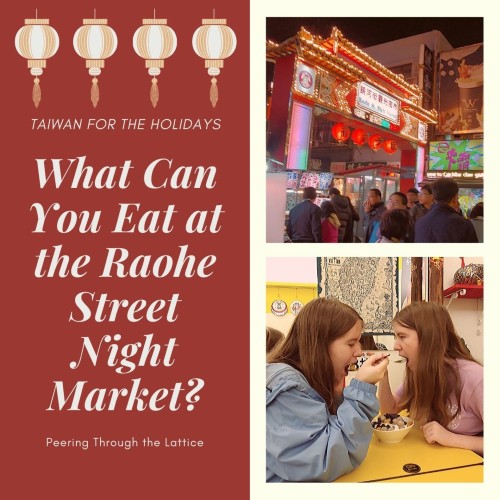 We rode the MRT (Taipei's subway system) to the end of the Green Line—Songshan. A few steps outside the station, we crossed the street to the Night Market entrance.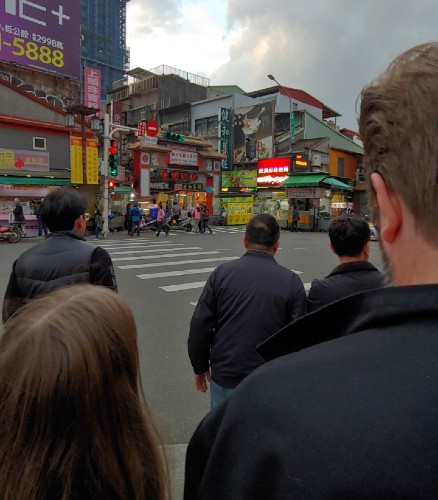 Entering the night market, we began scanning the stalls for tantalizing local foods.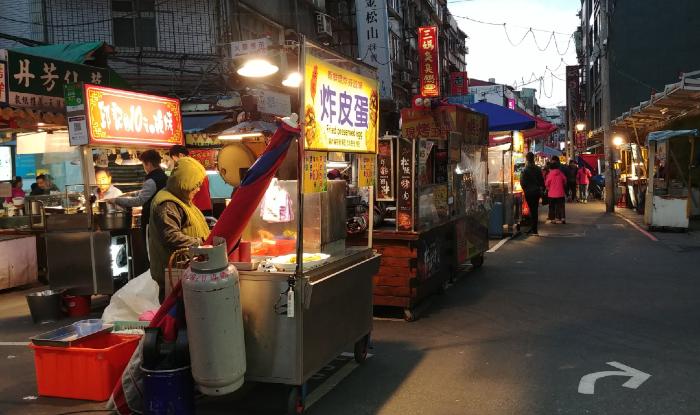 One of the twins paused at a cart that sold fresh fruit milk. Should she order something exotic like kiwi milk, papaya milk, or even dragonfruit milk? Opting for a familiar flavor, she ordered banana milk.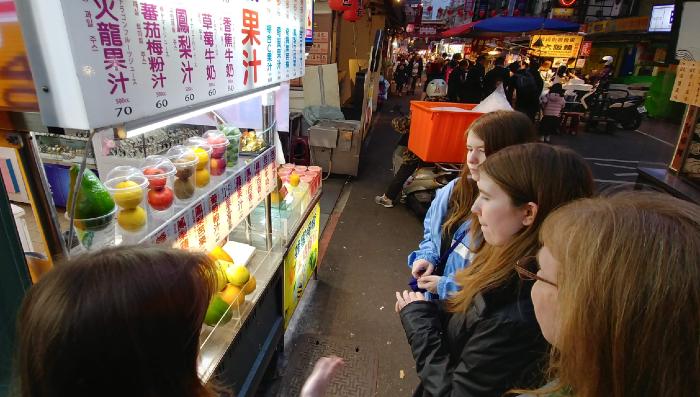 As we watched, the vendor began preparing her drink. He placed two peeled bananas, a small amount of milk, and a swirl of honey into a blender. Adding some ice, he blended it into a frothy beverage, poured it into a cup, then handed it to my daughter.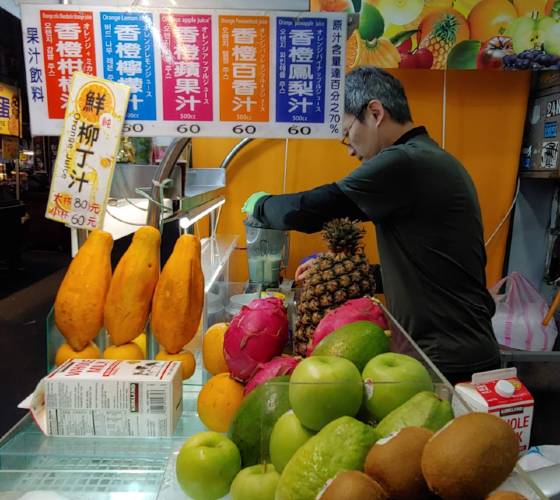 We all wanted to try it. Since my daughter was fighting a bit of a cold, she generously allowed us each to have a sip before she did.
Continuing down the street, we passed stalls selling a variety of foods—fried preserved eggs, tofu pudding, and peanut brittle.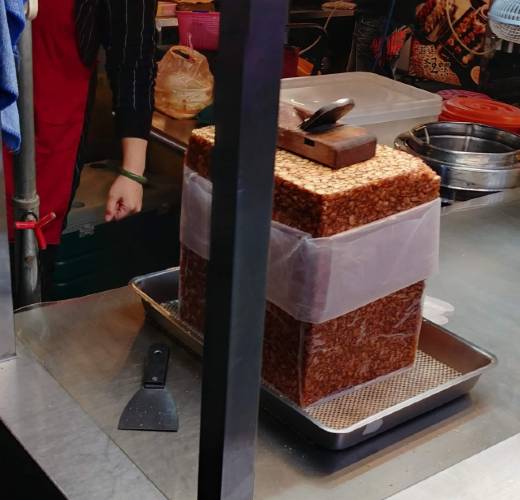 Rounding the corner, we discovered a noodle shop, where we had dinner.
Excited to try more Taiwanese street food, we left the shop and retraced our steps. As darkness descended, more stalls were opening. Near the night market entrance, one vendor was selling deep fried milk. We watched him dip skewered cubes resembling cheese into batter and drop them into hot oil.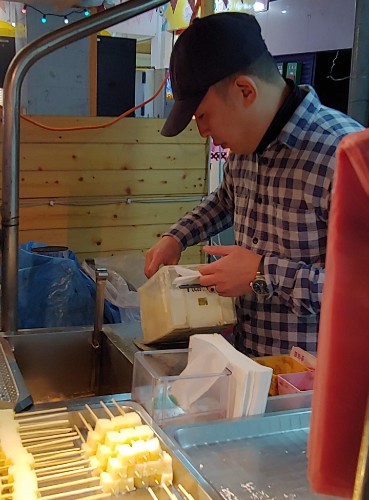 When the coating was golden brown, he lifted them out with tongs and set them on a tray, ready for his next customer. One of the twins enjoyed this creamy concoction as we walked.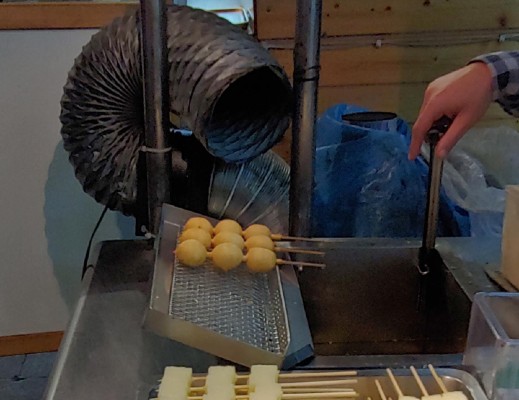 Spying a stall selling sweet potato balls, I stopped to snag some. The deep-fried pastries are made of sweet potato and glutinous rice flour. Though crisp and chewy on the outside, the inside is hollow. Quickly, we devoured this slightly-sweet night market favorite.
Further on, we discovered a dessert we hadn't yet sampled—Taiwanese shaved ice. The menu featured many options.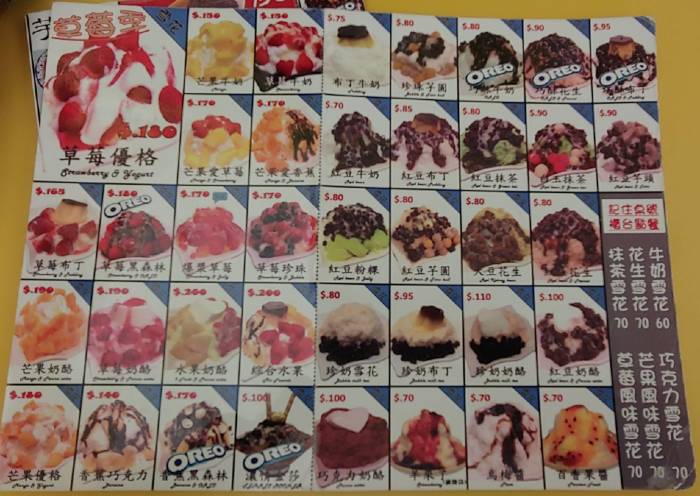 The twins ordered their dessert topped with taro.
While my older daughter sipped a bubble tea she had bought earlier, my husband and I shared a mango shaved ice. Atop a pile of snow-like ice drizzled with sweetened condensed milk, partially frozen mango chunks threatened brain freeze. Small bites were a must as we enjoyed this sweet treat.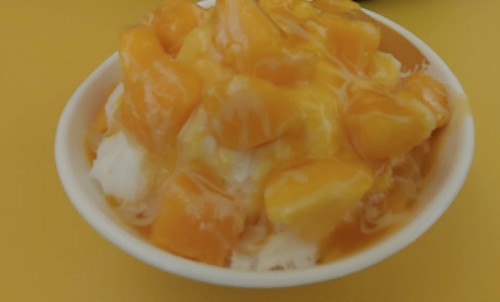 The frozen desserts were the perfect way to end our night market adventure. After scraping our bowls clean, we retraced our steps to the night market entrance, past the ornate Daoist temple, and back to the MRT station.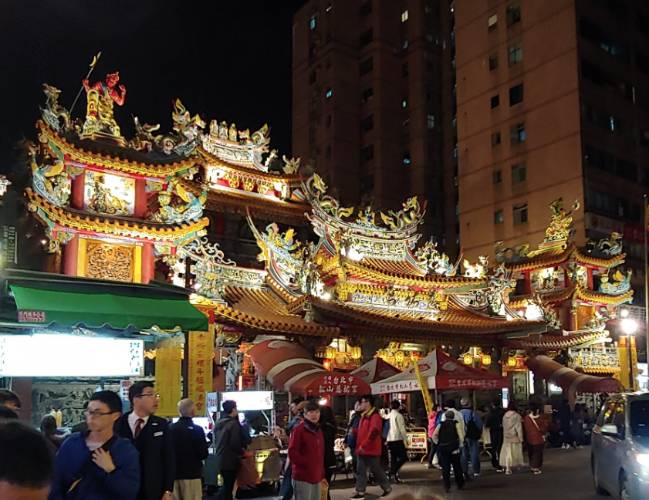 Exploring different parts of Taipei was exciting. Amazingly, ordering food from the various vendors, few of whom actually spoke English, was quite simple. Though we had only been there for a few days, we were already feeling reasonably comfortable, even in such a foreign culture.
As I update the blog, it's exciting to reminisce about the places we visited in Taiwan. New posts will be coming soon! Meanwhile, find more pictures of our adventures on Instagram with our hashtag #Taiwan4theHolidays.