Less than a week into our Taiwan adventure, my husband suggested that we explore trails at Zhishan Park, which was a short walk from our Airbnb. Immediately, I recalled the walk in the park we had taken several days earlier. The "Monkey Trail" we ended up on had consisted of stairs heading straight up a mountain! Exhausted, we had given up. Could we successfully navigate the trails at Zhishan?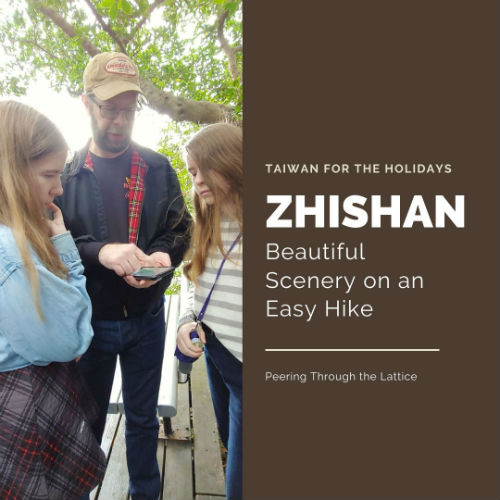 From Zhongcheng Park, we used Google maps to find our way to Zhishan.
When we saw a bicycle covered in flowers alongside a path, we knew we had found what we were looking for.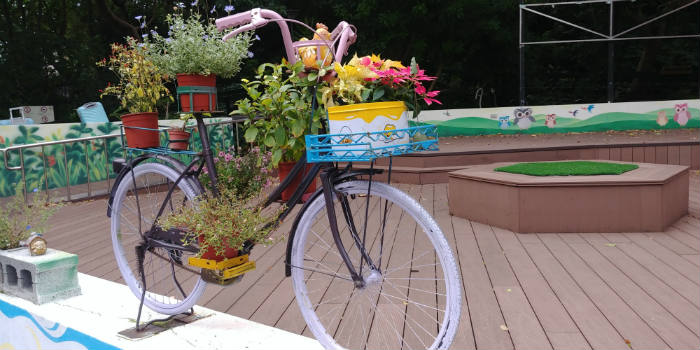 The walking trail took us past houses and through a garden-like area.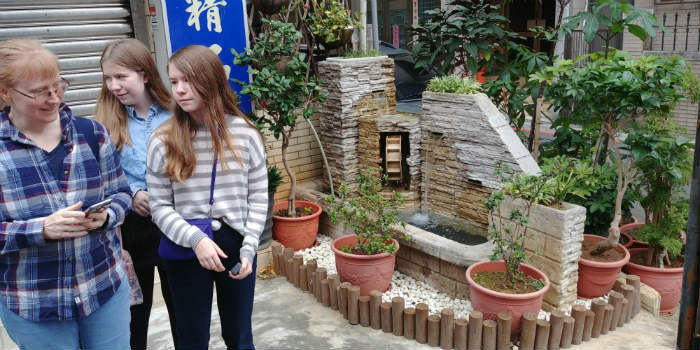 On the trail, my daughter found a leaf as big as her face!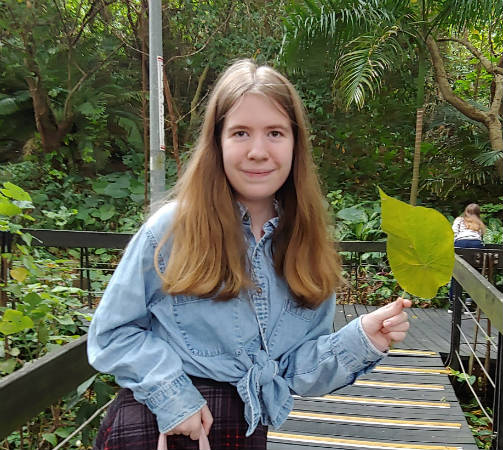 When confronted with pillars nearly as tall as they were, two of my daughters acted like the teenagers they are. They eagerly climbed on top of them to pose for pictures.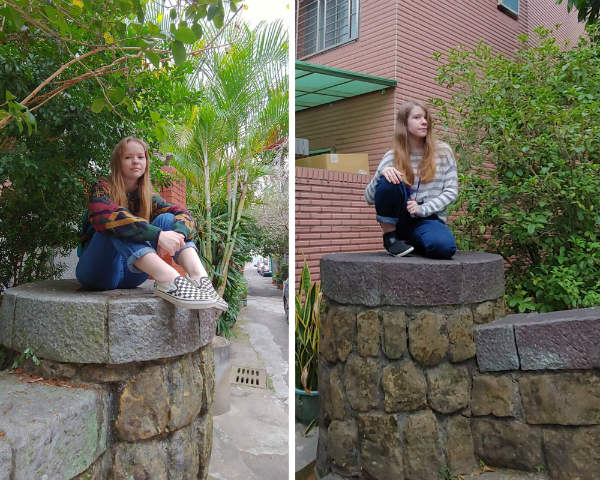 As we continued down the path, a variety of plants caught our eye. Broad leaves, small buds, and tiny berries greeted us.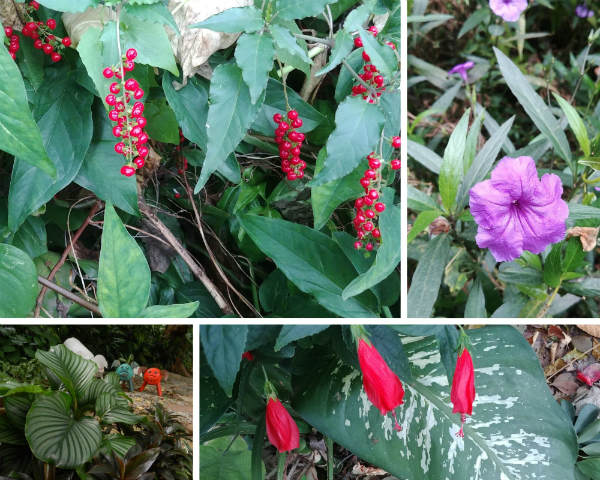 After exploring the path for about half an hour, we were surprised to find a towering gateway and Chinese lanterns on an intersecting trail.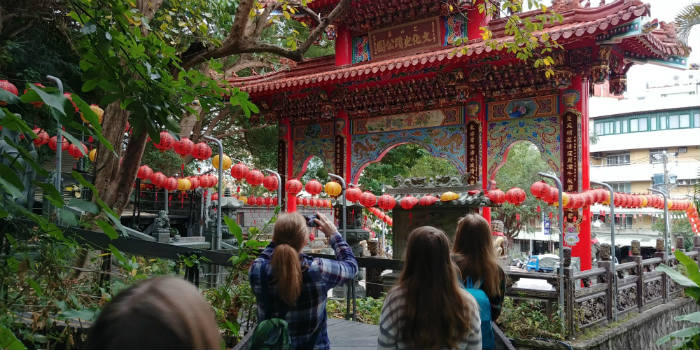 I descended through the gateway to the street to take it all in. From there, all I could see were steps ascending the mountain. Where would it lead?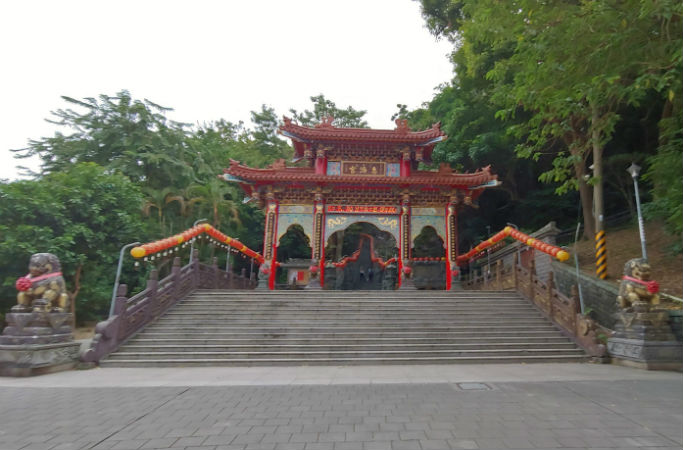 With determination, we climbed all the way up and were rewarded with a view of the city below. Behind us, an old temple was shrouded in scaffolding.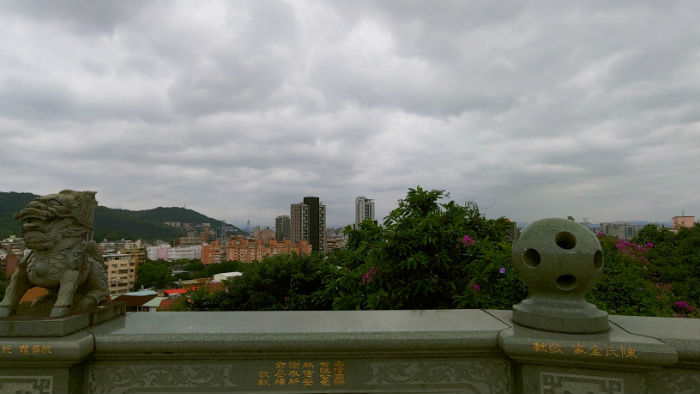 My husband drew our attention to a stone ball that was carved inside another sphere. The girls enjoyed putting their hands through holes to maneuver the smaller globe.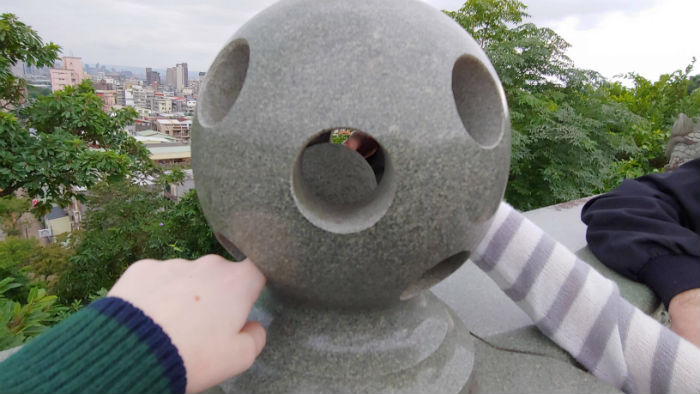 Leaving the temple area, we followed an adjacent trail past bamboo. Pieces of bamboo bark littered the ground nearby. My husband picked up a piece of bark and recounted a story he'd heard as a boy: A resourceful Taiwanese boy who was lost in a forest was determined to be found. He used the reflective interior of a piece of bamboo bark to magnify a small light. The brightness helped the rescue party find him.
We continued down the path, which was now a wooden walkway, through a tunnel of greenery.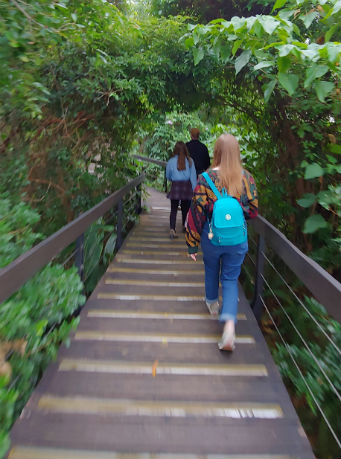 Further on, we passed a temple where incense was burning.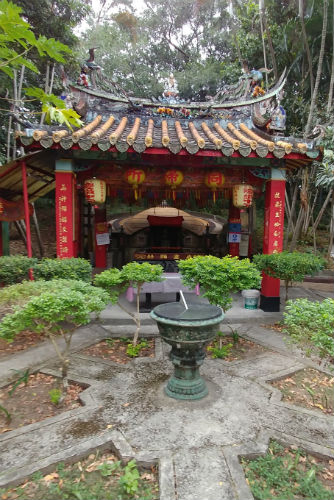 Mere steps from a pagoda, we stopped to check the map. Where were we? Was it time to head home or explore another area?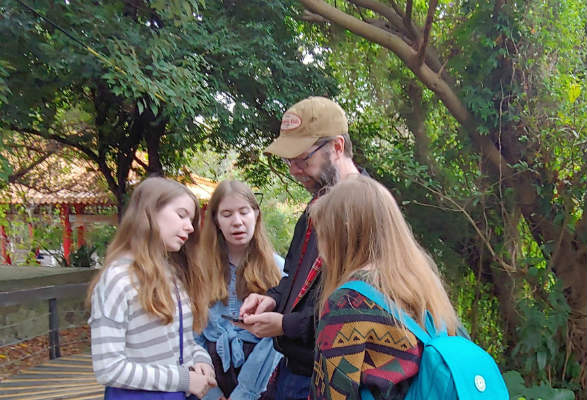 The path out of the park led us down 120 steps to the street.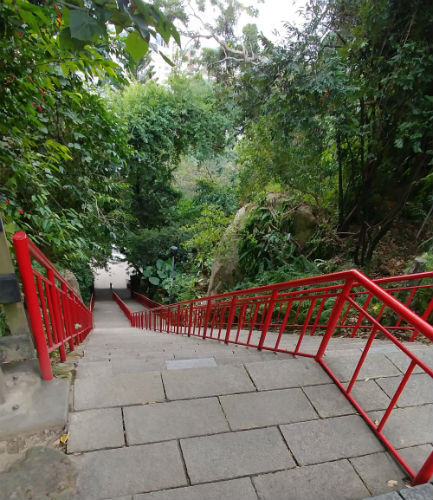 From there, we headed up the sidewalk, looking for the Zhishan Cultural and Ecological Garden.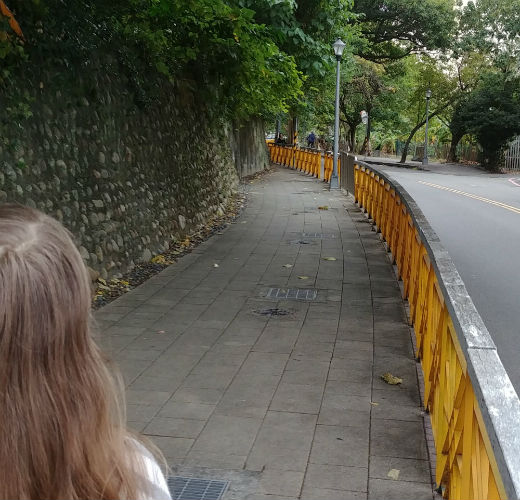 Although we eventually found the garden, it was closed.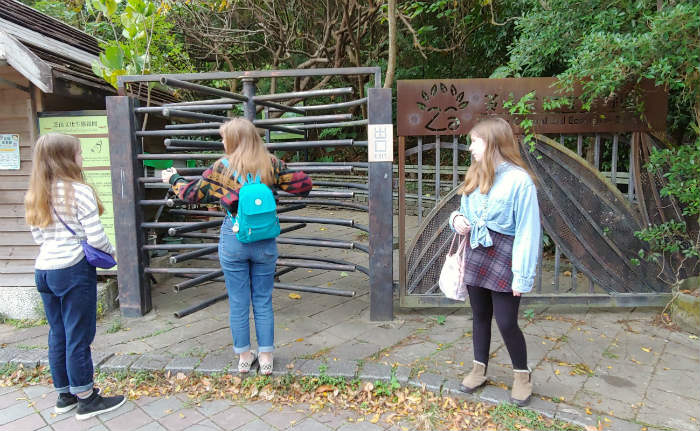 It was time for Plan B. Since we were all getting a bit thirsty, perhaps we could find a nearby coffee shop. We paused for a moment and used Google maps to locate one.
Following our phone's GPS, we traveled down a street lined with tall palm trees and short motor scooters.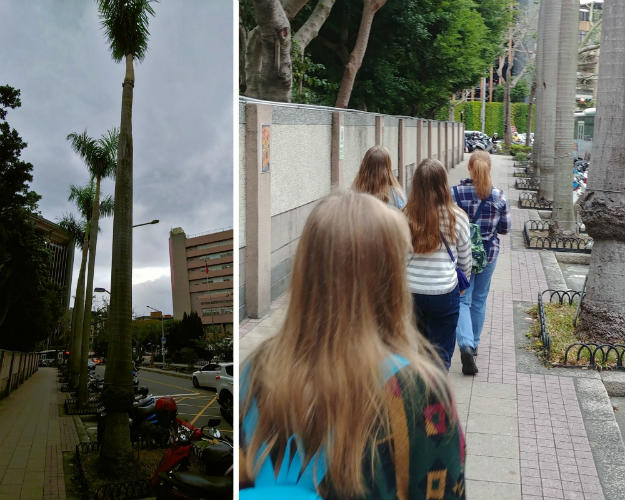 We ended up at R. U Coffee. Although the girls ordered iced drinks, my husband and I opted for hot salted caramel lattes. A cute little Taiwanese boy kept us entertained while his dad expertly prepared each of our drinks. The delicious refreshments were worth the small detour. If we hadn't ventured to Zhishan Park that morning, we would never have discovered this delightful coffee shop.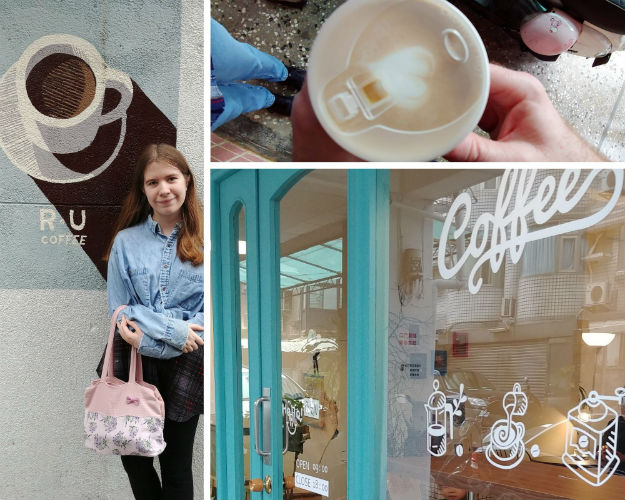 Our excursion had been successful. We had investigated tropical plants, viewed the city, walked past temples and pagodas, and enjoyed excellent coffee. Satisfied, we headed home for lunch.
Are you enjoying our Taiwan for the Holidays blog posts? Follow our Instagram hashtag #Taiwan4theHolidays for a sneak peek at what I'll be writing about in upcoming weeks.