When a wedding invitation arrived in the mail, I was excited for my cousin-in-law, Cyndi. She was marrying the man she fell in love with eight years ago. My husband and I debated whether we could make the trip to Arizona to attend this momentous event. Thanks to frequent flyer miles and low airfares, we made it work.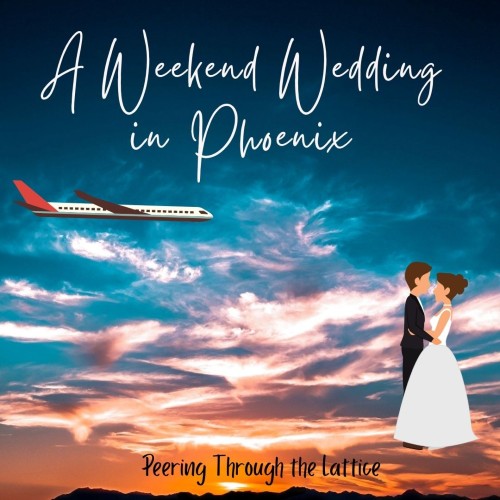 What is it like to travel during the COVID-19 pandemic? Tag along and see for yourself!
Friday Flight
Our adventure began at the Atlanta Airport on Friday afternoon. The terminal was slightly less crowded than usual, but we had to wear masks wherever we went.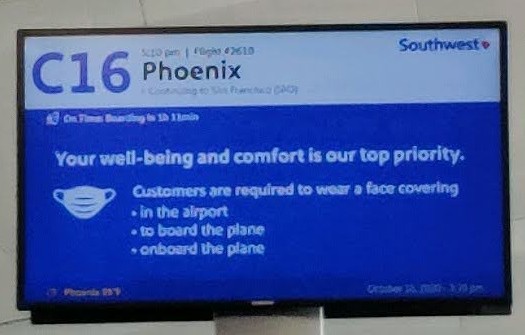 Since we were flying on Southwest Airlines, we had extra breathing room on the plane. No one sat in the middle seats, so we could stretch out.
As the sun was setting, we landed in Phoenix.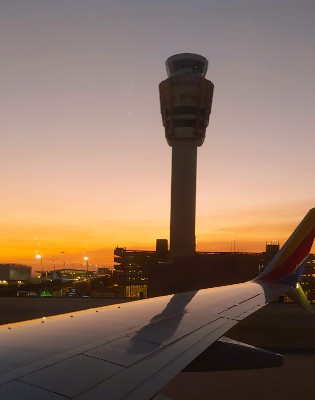 Bypassing baggage claim, we headed straight to the Car Rental Center shuttle. On the sidewalk outside, a socially-distanced line stretched as far as I could see. When we finally approached the shuttle, we discovered the reason for the delay. Due to COVID, only ten passengers at a time were allowed aboard the bus.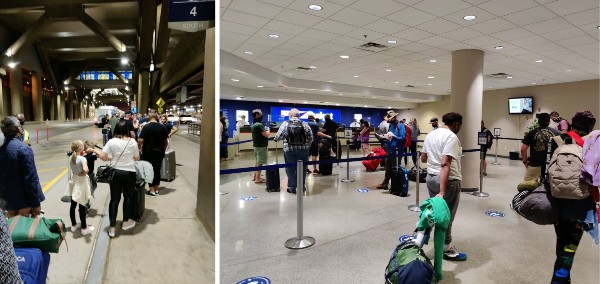 My husband stood in yet another line at the rental center while I waited on a nearby bench. Obediently, my mask remained on my face.
At last, we climbed into our rental car and drove towards Surprise, Arizona. On the way, we paused for sustenance from one of our west-coast faves—In-N-Out Burger. Even there, masks were required until we sat down to eat.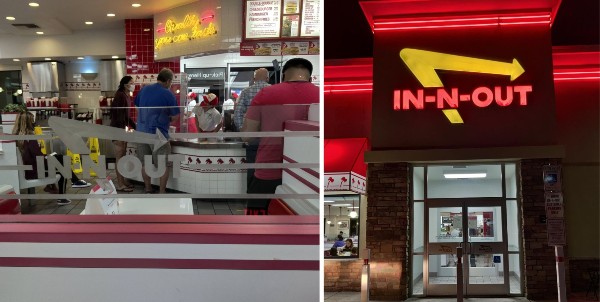 My husband was able to check into Hampton Inn remotely. After arriving, we headed straight to our room—his phone doubled as a key. Collapsing into bed, I prayed that my circadian rhythm would allow me to sleep in for once.
Saturday Adventures
Thankfully, I snoozed well enough not to mind the morning mask mandates in the hotel's public areas. We headed downstairs, wondering whether breakfast would actually be available onsite. It was!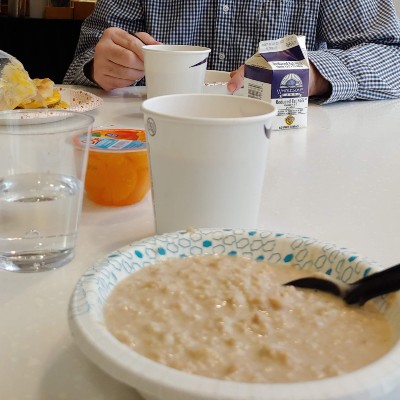 Although the waffle maker and toaster were out of commission due to COVID, cereal, fruit, oatmeal, juice, coffee, and bagels were up for grabs. Upon request, I even secured some peanut butter for my oatmeal and a breakfast sandwich for my husband.
We made a quick run to the neighboring grocery store for necessities like water and chocolate—as well as wrapping materials for the wedding gift. Meanwhile, my husband made plans to meet up with Patrick Marks—one of his college roommates who lives in the area and pastors Calvary Chapel 14:6.
As the comfortably cool morning was overtaken by hot, dry midday, we drove to a nearby Thai restaurant to have lunch with Pat.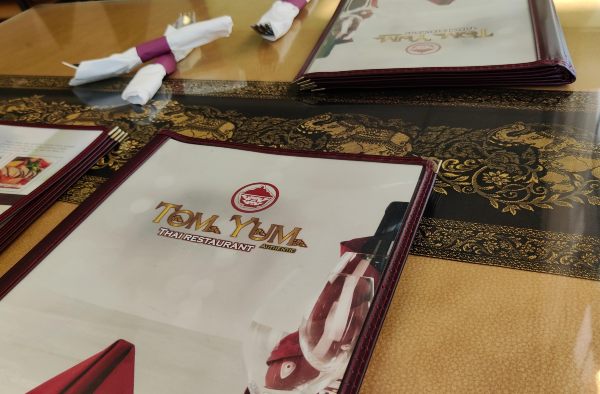 After a satisfying meal of Pad Thai with Duck, we drove to Pat's church, took a brief tour, and then hung out in his office. As Pat does for all visitors to his church, he offered us a copy of his latest book: Understanding Evolution & Creation. Would he sign it for us? Absolutely!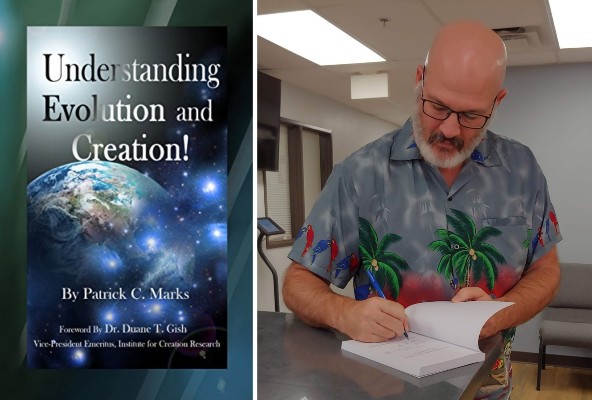 My husband had a great time catching up with his college friend, and I enjoyed meeting him for the first time.
As Pat headed home to relax before preaching at the Saturday evening service, we swung by a bubble tea shop for some icy refreshment. My husband ordered a mango shaved snow that reminded us of Taiwanese treats, and I grabbed a mocha smoothie. What a great way to beat the heat in the desert climate!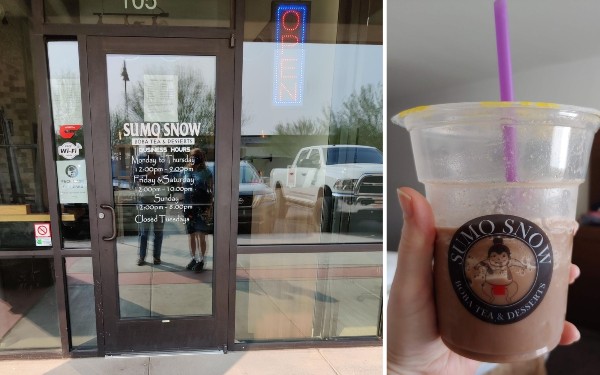 Soon it was time to prepare for the wedding. Carefully, I wrapped the name plaque I ordered from CrossTimber (read full review) while my husband signed and sealed the card.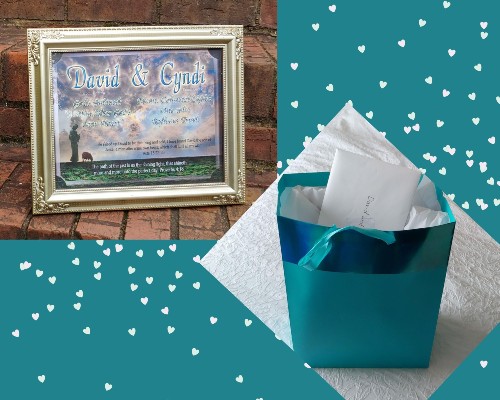 A Simple Wedding
The wedding was in Buckeye, AZ, about 20 minutes west of Surprise. The landscape along the route was peppered with cacti. On the horizon, distant mountains resembled low clouds.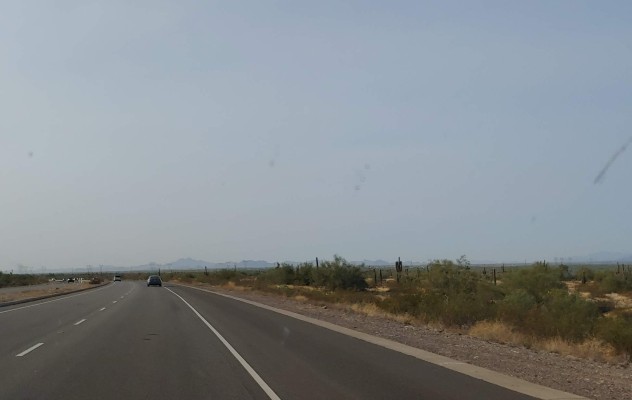 After parking along the street outside Cyndi's house, we made our way toward her yard.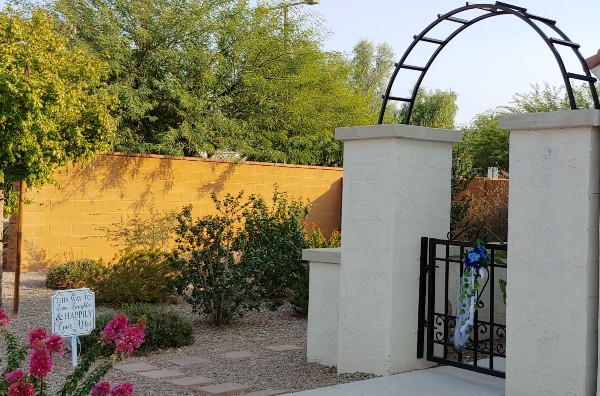 Pausing briefly to sign the guest book, we passed through the side yard, set up for the reception.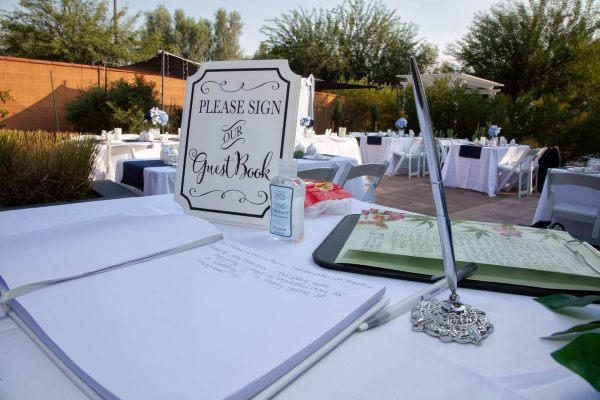 Photo Credit: Cindy Romano
The small ceremony was held in her beautiful backyard with just close family members and a few of Cyndi's coworkers.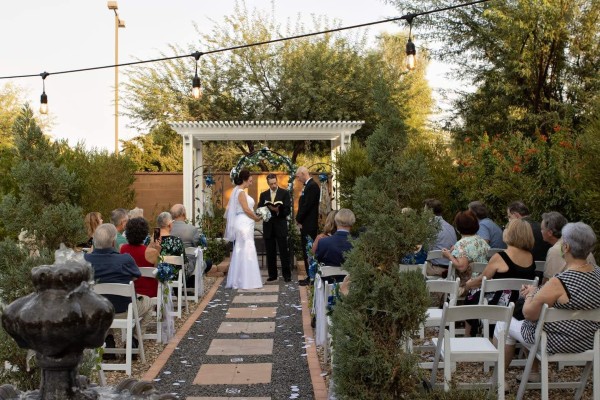 Photo Credit: Cindy Romano
Next, we returned to the reception area. After a delicious Italian dinner, the dance floor filled up—first with couples slow-dancing, then with ladies moving and grooving to faster tunes.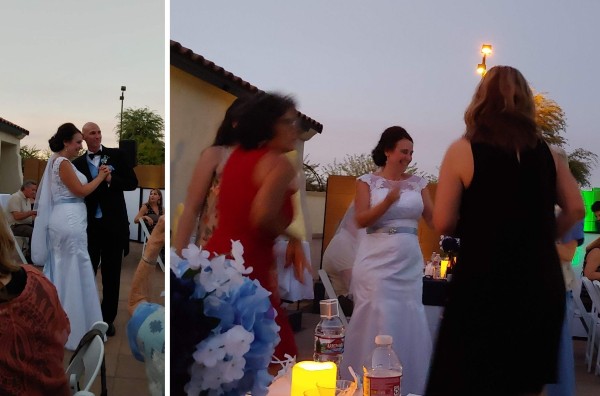 Rather than aggravate my sore foot on the dance floor, I chatted with some of the other guests. Not having met any of my husband's cousins before, it was exciting to finally have the opportunity. Hopefully, we can keep in touch and build on the relationships that began on this trip.
As night set in, the festivities drew to an end, and we headed back to our hotel.
Sunday Morning in Surprise
So that we could hear our friend Pat preach at Calvary Chapel FourteenSix, we had arranged a Sunday afternoon flight. Having been warned that parking was limited, we arrived half an hour early for the 9AM service. I had enough time to meet some friendly people and enjoy a complimentary cup of coffee before worship began.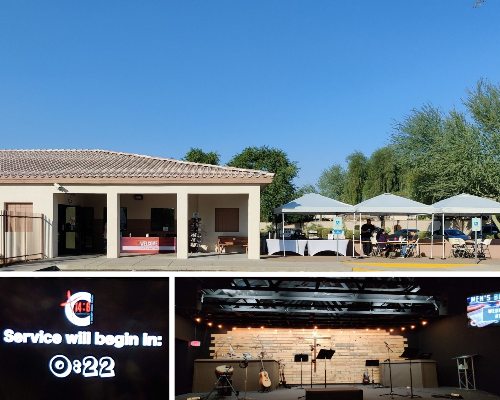 Church in Arizona was much like it is at home in Georgia. The service was held indoors, and I didn't see anyone with a mask on. The worship team played several songs I knew before Pat preached on a passage from Revelation.
When church was over, we said our goodbyes, checked out of our hotel, and headed toward the airport. We needed to grab an early lunch before we got there. Wouldn't Arizona be a great place to enjoy some southwestern cuisine? Our lunch stop did not disappoint us.
As in all the other businesses we entered in Arizona, masks were required until we were seated.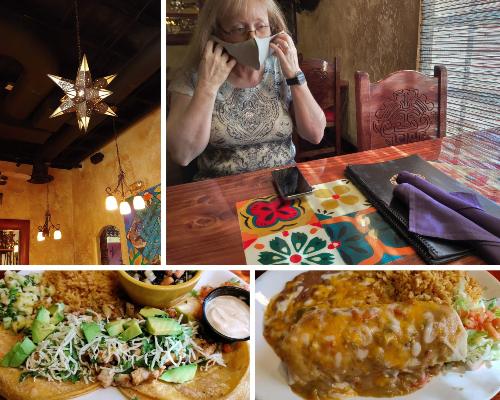 While enjoying the lovely ambiance at Rio Mirage, we feasted on mahi-mahi tacos and a steak burrito.
The Return Trip
Compared to our arrival in Arizona, departure was a breeze. After returning our rental car, we quickly boarded the airport shuttle.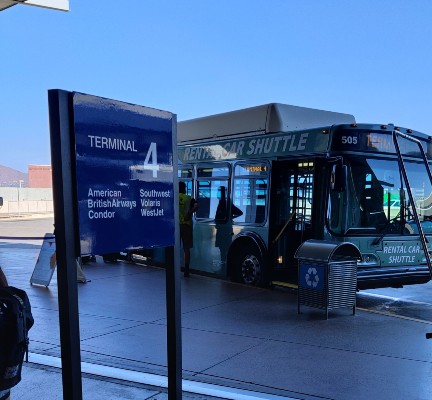 Thankfully, there were no long lines there or at security. With masks in place, we quickly found our gate.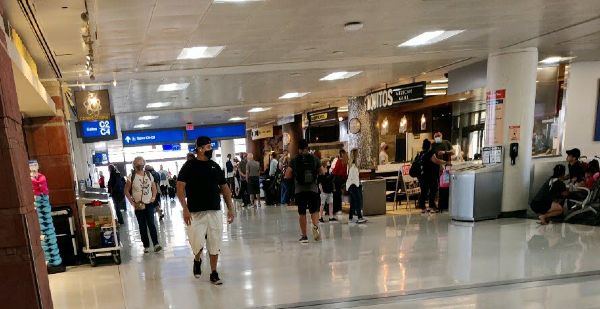 By 3PM, we were on board the plane, taking off for Atlanta.
It was night when we landed in Georgia. While preparing to exit the aircraft, I reflected on our travels.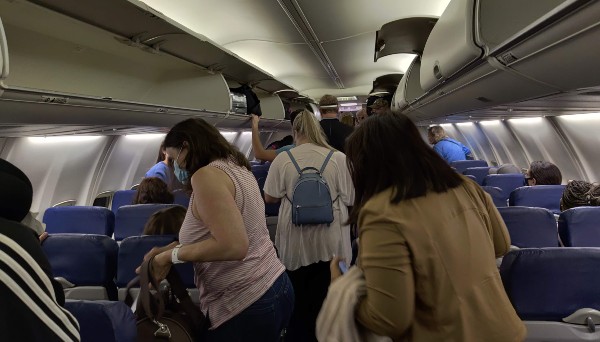 Although the mask I had to wear was tremendously annoying, the lack of crowds in most places was refreshing. Even when social distancing required longer waits, everyone kept upbeat attitudes.
Would I want to live in Arizona? Certainly not. The high temperatures, dry air, and lack of greenery in Arizona would not suit me. Grateful for the cool autumn evening, I was was glad to be home.
I am so glad could fly across the country and meet the rest of the family I married into. The wedding provided the perfect opportunity to get to know them. I treasure the new friendships I made during our trip to Phoenix.