On our first Sunday in Taiwan, we weren't quite sure what to expect. We planned to attend church in the morning, have a restful afternoon, and eat an evening potluck meal at Grammy's apartment. What would our day actually be like?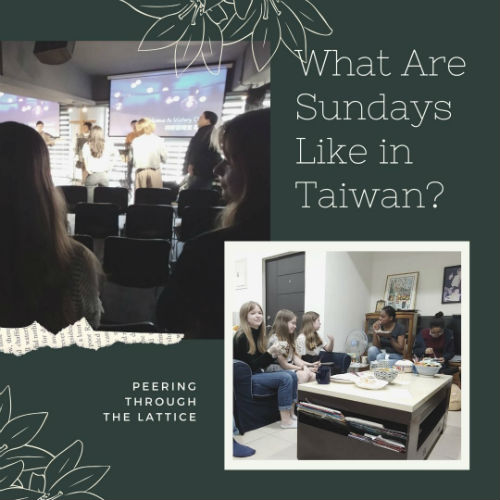 After a quick breakfast in our Airbnb, we waited with the locals at the closest bus stop. Although the church is only a sixteen-minute walk from our house, we opted to rest our feet and rely on convenient and inexpensive public transportation.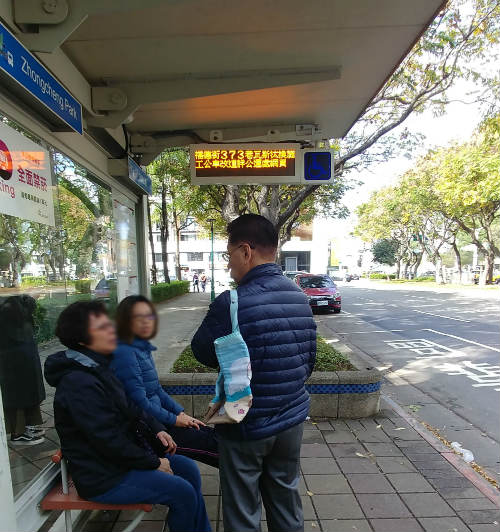 Near the Dayeh Takashimaya department store, we exited the bus. We took the elevator to the tenth floor of the adjacent parking garage. Walking past empty parking spaces, we found our way to the church.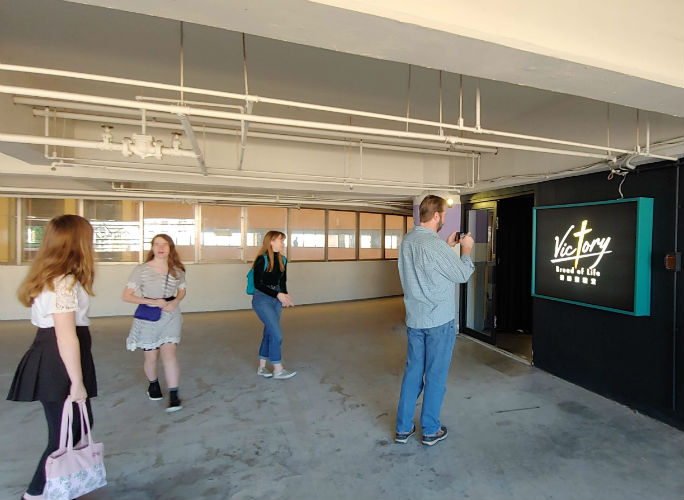 Though the exterior seemed pretty foreign, inside, we felt at home. After chatting briefly with some of the church members, the lights dimmed, and the music began.
We all stood as the worship band played familiar songs. Although we sang most of the songs in English, a few of them tested my Chinese reading skills. It was strange and exciting to sing songs I knew so well in a language that is relatively new to me.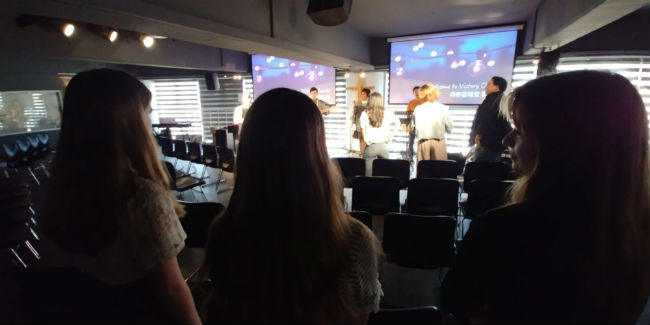 As in our home church, the sanctuary was rather empty at the beginning of the service. But by the time the final notes rang out, most of the seats were full. In the missions-themed service, we learned how the church in Taiwan is sending short-term mission teams to Africa and other places.
After the service ended, we chatted with some of the members before heading to the department store's basement. There, we explored the food court with Grammy. Dad and the girls purchased some pastries at the bakery while I ordered fried rice from at a nearby counter. Since the restaurants are used to serving foreigners, there was a visual menu.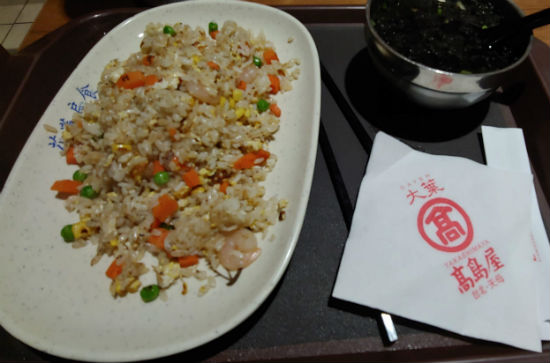 Even though I started studying Mandarin Chinese in February, my speaking vocabulary is minimal. It's hard to think of the right words at the appropriate times. Thankfully, I could easily communicate by pointing at pictures.
After lunch, we headed back to our apartment to do laundry and relax.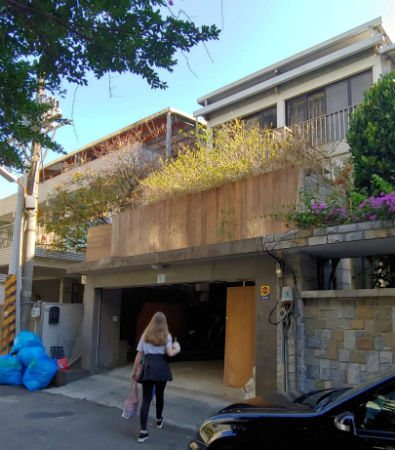 Later, we ventured out again. Night had descended on Taipei, and lights from one of the buildings cast a purple glow on our street.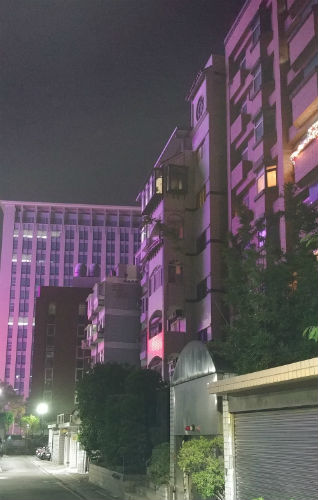 Arriving at Grammy's, we were excited about the Thanksgiving-themed potluck dinner. We contributed jellied cranberry sauce and pecan pie M&M's.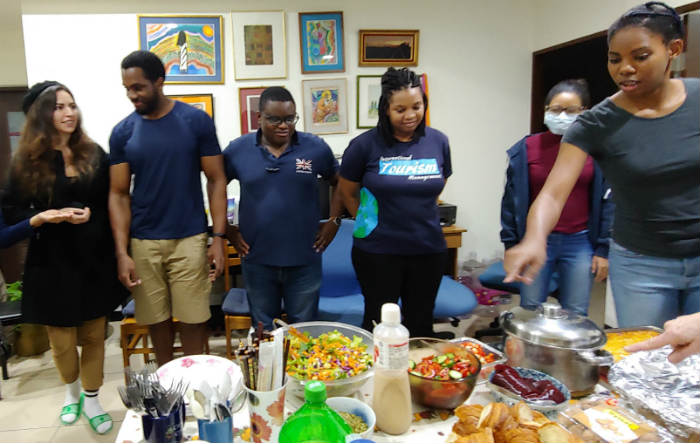 It was fun to introduce people from Taiwan, Nigeria, Venezuela, and the Caribbean to American Thanksgiving foods. Alongside traditional foods like turkey, corn, and mashed potatoes, we sampled local foods like steamed dumplings.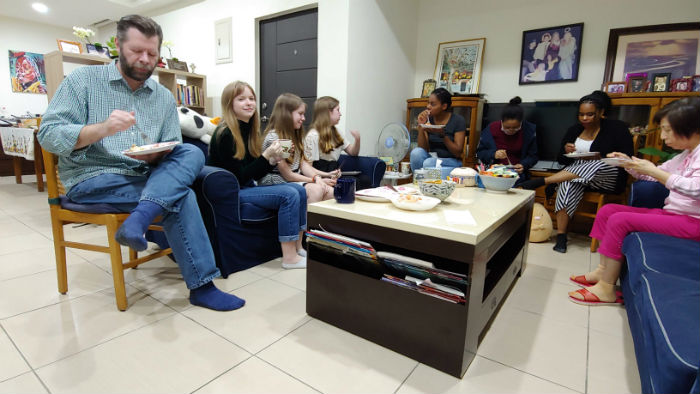 No Thanksgiving dinner is complete without the traditional pumpkin pie. We had searched for it at several nearby bakeries without success. To our surprise, Grammy's teaching partner brought a homemade pie to share.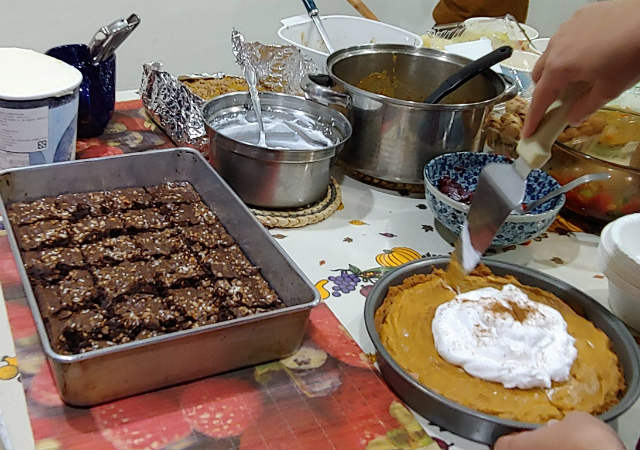 Since we are in Taiwan, one of my daughters attempted to eat her entire meal with chopsticks—even ice cream!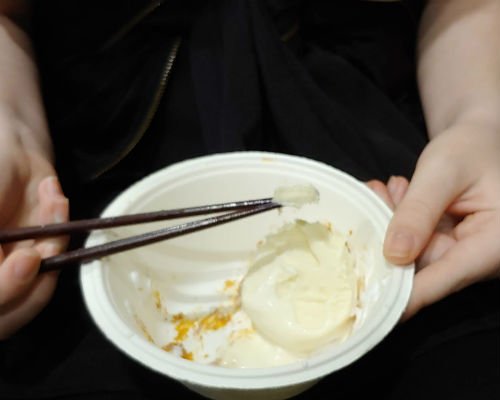 The girls were excited to make new friends from different countries. They instantly struck up conversations with some of the college students who attended the potluck.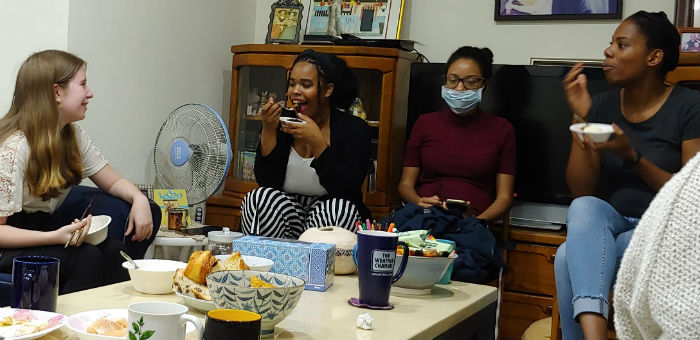 My older daughter took time to help a Taiwanese boy find Wally in the British version of Where's Waldo?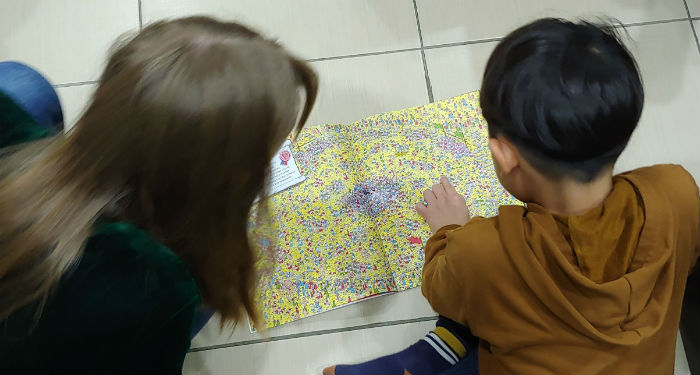 After dinner, we all played a Gratitude card game. It was fun to share things we were thankful for. Of course, we were all thankful for the new friends we had met that day.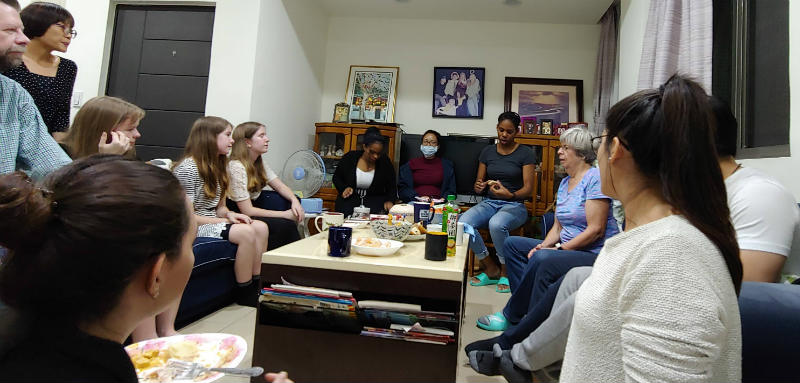 The simple activities of sharing food and playing a game helped us connect with other people. As the evening's organized activities ended, our conversations continued. Our new friends were already like an extended family to us.
Though the day had started out with some uncertainty, we were sorry to see it end. As the last guests left the potluck, we realized we needed to head home as well. We could build on these new friendships in the weeks to come.
Don't forget to follow our adventures on Instagram!