A few weeks ago, most of our family spent a week at my parents' house. We enjoyed connecting with extended family, researching our ancestry, and exploring the C & O Canal. Since my nineteen-year-old daughter has a full-time job, she stayed home to exercise her independence.
While shopping for groceries one day, she spotted a can of coconut milk. Her mouth watered as she imagined how delicious it would be. After bringing it home, though, she could not decide how to use it. When we returned from our trip, it was still sitting unused on the kitchen counter.
For two full weeks, I contemplated an appropriate use for the coconut milk. My fourteen-year-old daughter was considering it as well. One day, she decided to take action.
"Can I make something with that coconut milk?"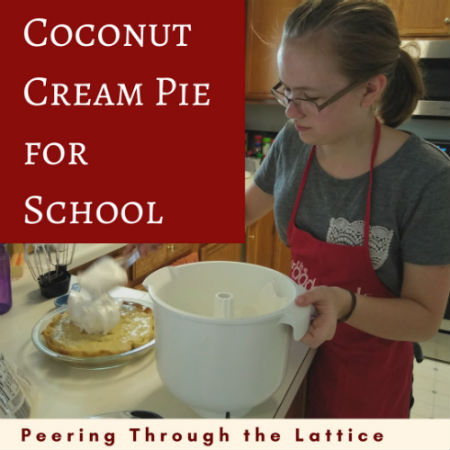 "Sure!" Her older sister quickly responded before heading off to work. My budding chef had completed her schoolwork early that day, so I allowed her to use the kitchen. What would she make?
She searched online for recipes. Finally, she decided to make a coconut cream pie. Since baking a homemade cream pie is pretty complicated, I was skeptical that she would succeed on her own. I allowed her to try anyway.